Currently Unavailable
PharmaFreak
VITA FREAK PACKS
, 30 Packs
Vitamins, Minerals & Micronutrients!
High Quality & The Most Complete Multi-Nutrient Pack We've Ever Developed!
Product Overview
VITA FREAK™ PACKS - HYBRID MULTI-VITAMIN / MICRO-NUTRIENT SUPPLEMENT
High-Quality Vitamins & Minerals!*
10 Products Combined in 1 Complete Formula!*
1 Sprouted Super Grains
2 Complete Superfoods
3 Red Superfoods
4 Full Spectrum Antioxidants*
5 Immune Support*
6 Adaptogen & Adrenal Support*
7 Proprietary Probiotic Cultures
8 Proprietary Digestive Enzymes
9 Liver Support*
10 All-Natural Flavoring
VITA FREAK™ PACKS – THE MOST COMPLETE MULTI-NUTRIENT PACK WE'VE EVER DEVELOPED!
VITA FREAK™ PACKS are engineered to provide your body with high-quality vitamins, minerals and micronutrients! If you want to support superior-quality health, then you need to provide your body with superior quality nutrients.* VITA FREAK's gold-standard formula is designed to promote overall health and prime your body to support performance, muscle growth, strength and recovery!* VITA FREAK is a multi-vitamin/mineral stacked with 7 to 8 other health-promoting supplements!* Nothing is more complete!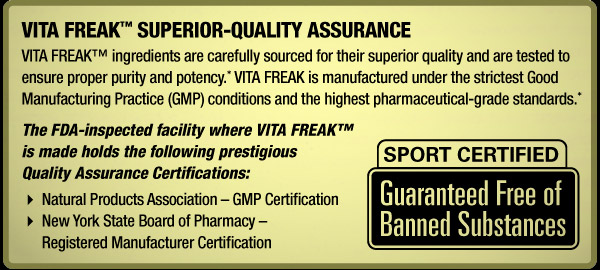 ACCURATE DOSING GUARANTEED!
To ensure accurate dosing of every ingredient in each VITA FREAK Pack, the 10 different ingredient complexes are strategically divided into 2 white tablets, 2 green tablets, 2 red capsules, and 2 yellow tabs. Using this 4 color coding system ensures that the accuracy of the ingredient dosages are maintained throughout the entire manufacturing process right up until the packs are sealed in air-tight canisters.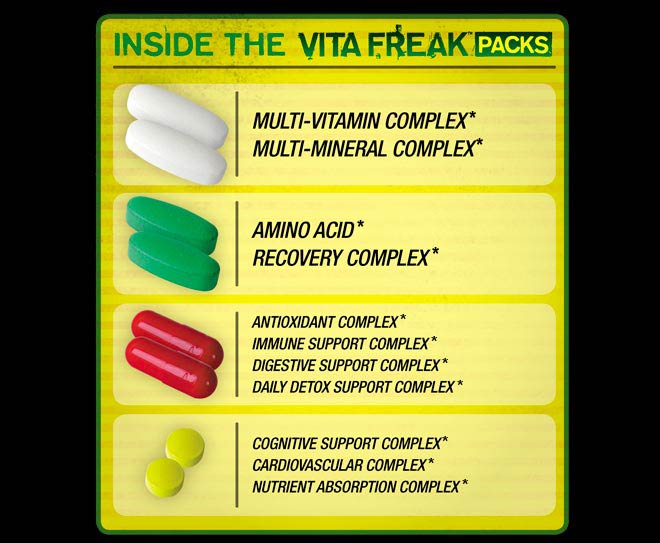 TABLET COATING TECHNOLOGIES
The VITA FREAK tablets are designed with a combination of 2 different coating technologies:
1) Anti-Oxidation Coating
The Anti-Oxidation Coating technology preserves the bio-activity of the ingredients inside the tablets. Without the use of this coating technology the oxidation of certain vitamins, minerals and nutrients would occur and their effectiveness would decrease.
2) Optimal Disintegration Coating
The Anti-Oxidation Coating technology helps preserve the bio-activity of the ingredients inside the tablets.
Ratings & Reviews
What's in PharmaFreak VITA FREAK PACKS
30 Packs

Serving Size: 1 Pack (6 tablets)

Servings Per Container:

30

Amount Per Serving

% Daily Value

Vitamin A (as Beta-Carotene and Vitamin A Palmitate)

5,000 IU

267%

Vitamin C (as Ascorbic Acid)

250 mg

277%

Vitamin D (as Cholecalciferol)

400 IU

50%

Vitamin E (as D-Alpha Tocopherol Succinate)

30 IU

133%

Thiamine (as Thiamine HCI)

1.5 mg

125%

Riboflavin

1.7 mg

131%

Niacin (as Niacinamide)

20 mg

125%

Vitamin B6 (as Pyridoxine HCI)

10 mg

588%

Folate (as Folic Acid)

400 mcg

100%

Vitamin B12 (as Cyanocobalamin)

10 mcg

417%

Biotin

100 mcg

333%

Pantothenic Acid (as D-Calcium Pantothenate)

10 mg

200%

Calcium (as Dicalcium Phosphate)

1,300 mg

100%

Phosphorus (as Dicalcium Phosphate)

961 mg

77%

Iodine (as Potassium Iodide)

150 mcg

100%

Magnesium (as Magnesium Citrate)

200 mg

50%

Zinc (as Zinc Citrate)

20 mg

182%

Selenium (as Sodium Selenite)

50 mcg

91%

Copper (as Copper Sulfate)

2 mg

22%

Manganese (as Manganese Sulfate)

2 mg

87%

Chromium (as Chromium Amino Acid Chelate)

40 mcg

114%

Molybdenum (as Molybdenum Amino Acid Chelate)

75 mcg

167%

Whey Protein Concentrate

995 mg

∆

Acai Fruit Powder

100 mg

∆

Grape Seed 4:1 Extract

50 mg

∆

Ginger Root Powder

50 mg

∆

Echinacea purpurea Herb Top

50 mg

∆

American Ginseng Root

50 mg

∆

Astragalus Root

50 mg

∆

Alpha Lipoic Acid

30 mg

∆

Ginkgo biloba Leaf Extract (24% Flavone Glycosides & Terpene Lactones)

15 mg

∆

Bilberry Fruit

10 mg

∆

Resveratrol 50% Extract

10 mg

∆

Quercetin (as Quercetin Dihydrate)

10 mg

∆

L-Glutamine

5 mg

∆

Coenzyme Q-10

5 mg

∆

Lycopene 5% Beadlets

5 mg

∆

Lutein 5% Beadlets

5 mg

∆

BioPerine® Black Pepper Extract

5 mg

∆

∆ Daily Values not established.

Other Ingredients:

Microcrystalline Cellulose

, Stearic Acid

, Croscarmellose Sodium

, Magnesium Stearate

, Silicon Dioxide

, Pharmaceutical Glaze.

Contains Milk and Soy.
Directions For VITA FREAK PACKS: As a dietary supplement, adults take 1 pack (6 tablets) daily to support your vitamin, mineral and essential micronutrient requirements.
Warnings: KEEP OUT OF REACH OF CHILDREN. Do not use if pregnant or nursing. Not intended for use by persons under the age of 18 years. Consult a physician before using this product if you have any medical condition, if you require surgery, or if you are taking any over-the-counter or prescription medication. Use only as directed. Do not exceed recommended serving, as improper use of this product does not enhance results. Store in a cool, dry place.
* These statements have not been evaluated by the Food and Drug Administration. This product is not intended to diagnose, treat, cure, or prevent any disease.
---