Product Overview
AMINO FREAK® DELIVERS CLINICALLY-VALIDATED AMINO ACID DOSAGES!
1,470mg L-Carnitine L-Tartrate!
45:30:25 BCAA Ratio!
Enhances Amino Acid Absorption!*
Enhances Muscle Recovery*
Decreases Catabolic Hormone Release!*
AMINO FREAK™ – ONE OF THE MOST ANABOLIC AMINO ACID FORMULAS EVER CREATED!*
AMINO FREAK™ is definitely not your basic amino acid formula. The AMINO FREAK formula cutting-edge! The AMINO FREAK formula is made up of clinically-suggested dosages of the world's most research-backed anabolic/anti-catabolic amino acids!*
WHY IS AMINO FREAK BETTER THAN OTHER AMINO ACID FORMULAS?
AMINO FREAK delivers clinically-suggested ingredient dosages

1,470 mg L-Carnitine L-Tartrate (when taking 2 servings daily)
45:30:25 Branched-Chain Amino Acid Ratio

Many Other Amino Products: No clinically-suggested formulas or clinically-suggested ingredient combinations.

AMINO FREAK contains high-quality and cutting-edge amino acid forms!

Many Other Amino Products: Contain cheap, low-quality, basic amino acid blends.

AMINO FREAK has high bioavailability and absorption because

it uses a special technology to reduce amino acid degradation in the stomach, and
it uses the patented ingredient, AstraGin™, which is clinically suggested to increase specific amino acid absorption!*

Many Other Amino Products: No special technologies are used and no amino acid absorption enhancers are included.
AMINO FREAK™ – SCIENTIFICALLY ADVANCED AMINO ACID FORMULA
1) ANABOLIC HORMONE AMINO ACID COMPLEX*
CarniFlex™ L-Carnitine L-Tartrate (Anabolic Amino Acid)
Recent research studies surmise that only ONE specific form of L-Carnitine can upregulate anabolic hormone receptor sites: L-Carnitine L-Tartrate!* In addition, clinical studies also suggest that L-Carnitine L-Tartrate is the only form of L-Carnitine that helps reduce exercise-induced muscle tissue damage and speed recovery!* 1,2 Clinical research suggest that you need to take in at least 1,000 mg of L-Carnitine daily for maximum benefits! AMINO FREAK delivers a daily dose of precisely 1,470 mg of L-Carnitine L-Tartrate, which yields the exact 1,000 mg clinical dose of pure elemental L-Carnitine and 470 mg of L-Tartrate! 2
This Clinically-Validated ingredient:
Supports key anabolic hormone receptor sites!*
Helps reduce post-exercise muscle tissue damage!*
Enhances muscle recovery* 1,2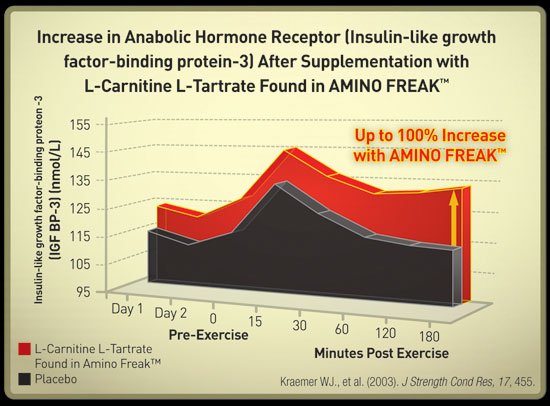 2) ANABOLIC / ANTI-CATABOLIC AMINO ACID COMPLEX
45:30:25 Clinically-Validated BCAA Ratio + L-Glutamine & Calcium
Branched-Chain Amino Acids (BCAAs) are the most important anabolic and anti-catabolic amino acids found in muscle tissue. Research suggests that a BCAA ratio of 45:30:25 (Leucine, Valine, Isoleucine) is EFFECTIVE in promoting muscle growth, and that's the exact BCAA ratio that AMINO FREAK delivers!* 3
This Clinically-Validated ingredient:
Helps decrease muscle protein breakdown!*
Maximizes muscle tissue repair & growth!* 3
3) ANTI-CORTISOL AMINO ACID COMPLEX*
L-Theanine (Anti-Catabolic Amino Acid)
L-Theanine is a very unique free form amino acid with very powerful anti-catabolic properties*. Research studies suggest that oral administration of L-Theanine may support the production of alpha waves in the brain, and in turn, reduce catabolic hormone release and prevent muscle breakdown!* 4
This Clinically-Validated ingredient:
Decreases catabolic hormone release!*
Supports healthy cortisol levels, already in normal range!*
Helps reduce muscle stress and helps speed recovery* 4
4) PATENTED AMINO ACID ABSORPTION ENHANCER
AstraGin™ (Panax notoginseng – Astragalus membranaceous)
AstraGin is the ONLY absorption-enhancing ingredient that is clinically suggested to enhance the absorption of certain amino acids in humans!* 5 AMINO FREAK is the one and only amino acid formula that uses this powerful new ingredient!
This Clinically-Backed ingredient:
REFERENCES:
Kraemer WJ., et al. (2003). J Strength Cond Res, 17, 455.
Spiering BA., et al. (2007). J Strength Cond Res, 21, 259.
Blomstrand E., et al. (2001). Am J Physiol Endocrinol Metab, 281, E365.
Juneja LR., et al. (1999). Trends in Food Science & Technology, 10, 199.
Chang TC., et al. (2007). J Agric Food Chem, 55, 1993.
Ratings & Reviews
45 Hybrid Tablets
15 Servings | $1.02 Per Serving
What's in PharmaFreak AMINO FREAK
Serving Size: 3 Tablets

Servings Per Container: 15

Amount Per 3 Tablets

% Daily Value

Calcium (as Carbonate)

169 mg

17%

45:30:25 Ratio BCAA / Amino Complex*

1.1g

L-Leucine

**

L-Valine

**

L-Isoleucine

**

L-Glutamine

**

L-Theanine

**

L-Carnitine L-Tartrate

735 mg

**

AstraGin™ Patented Absorption Support Complex*+

3mg

Tienchi Ginseng (Panax notoginseng) (Root)

**

Astragalus (Astragalus membranaceous) (Root)

**

** Daily Values not established.

Other Ingredients:

Microcrystalline Cellulose

, Di-Calcium Phosphate

, Stearic Acid

, Croscarmellose Sodium

, Magnesium Stearate

, Silicon Dioxide

, Hydroxypropyl Methylcellulose

, Polyethylene Glycol

, Titanium Dioxide

, Blue 1

, Blue 2

, Red 3.

AstraGin™ is a trademark of NuLiv Science.

+ TW Patent No. 271195
Directions For AMINO FREAK: As a dietary supplement, take 3 tablets twice daily, or take 6 tablets once daily. Take prior to, during or after exercise.
Warnings: Keep Out Of Reach Of Children. Do not use if you are pregnant or nursing. Not intended for use by persons under the age of 18. Consult a physician before using this product if you have been treated for, or diagnosed with, or have a family history of any medical condition or if you are taking any over-the-counter or prescription medication. If you are under medical supervision, consult with your physician before use. Use only as directed. Do not exceed recommended serving, as improper use of this product does not enhance results.
* These statements have not been evaluated by the Food and Drug Administration. This product is not intended to diagnose, treat, cure, or prevent any disease.
---