Onnit
Emulsified MCT Oil
100% Coconut Sourced And Deliciously Flavored
Serves As A Vital Source Of Energy*
Product Overview
Just Stir & Go ...
Emulsified MCT Oil Benefits
Emulsified MCT Oil gives you all the benefits of MCT oil in the most convenient way possible. No need to uncoil your Vitamix, simply stir in this delicious almond milk flavor, and it blends evenly and instantly. This instant delivery is not at the loss of taste either. Our Almond Milk EMCT Oil is sweetened with stevia and monk fruit for a nutty, aromatic experience like no other. And to top it off, MCT Oil is one of the fastest sources of clean fuel for the body and the brain. With fewer steps to convert into caloric energy than carbohydrates, it is hands down one of the best ways to power up your performance or kick-start a nutrition program.
1.7

g
Capric Acid
per serving
1.9

g
Lauric Acid
per serving
2.7

g
Caprylic Acid
per serving
The
1•2•3
of
MCT
1)
MCT Stands for Medium Chain Triglycerides. Fats like these are important to support a healthy brain and multiple body systems. They play a particularly valuable role in weight management because of a positive effect on leptin receptors, assisting in keeping you feeling full and satisfied for hours.*
2)
For high intensity athletes and those following a higher fat, lower carbohydrate diet, MCTs can serve as a vital source of energy to fuel yourself through even the most intense workouts.*
3)
Onnit's MCT is 100% coconut sourced and contains a high amount of lauric acid, an important nutrient for human optimization.† In addition, by sourcing our MCT oil from coconuts, we prevent the deforestation of palm forests – a natural habitat for endangered orangutans.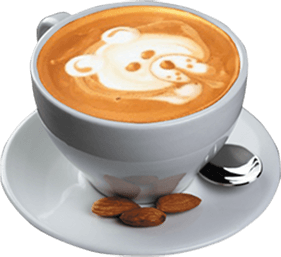 Just Add
Coffee
MCT Oil is one of the best fuels you can blend into a good cup of coffee or any beverage of your choosing. But the problem with MCT oil as opposed to something that is naturally emulsified like cream, or a non-dairy creamer, is that traditional MCT oil requires a blender to mix evenly.
We just solved that problem. Onnit's Emulsified Almond Milk Latte MCT oil stirs into hot or cold smoothly and evenly. Emulsifying is a process of utilizing a combination of air and water to allow fats to disperse evenly in water. No more MCT oil slicks on the top of your coffee!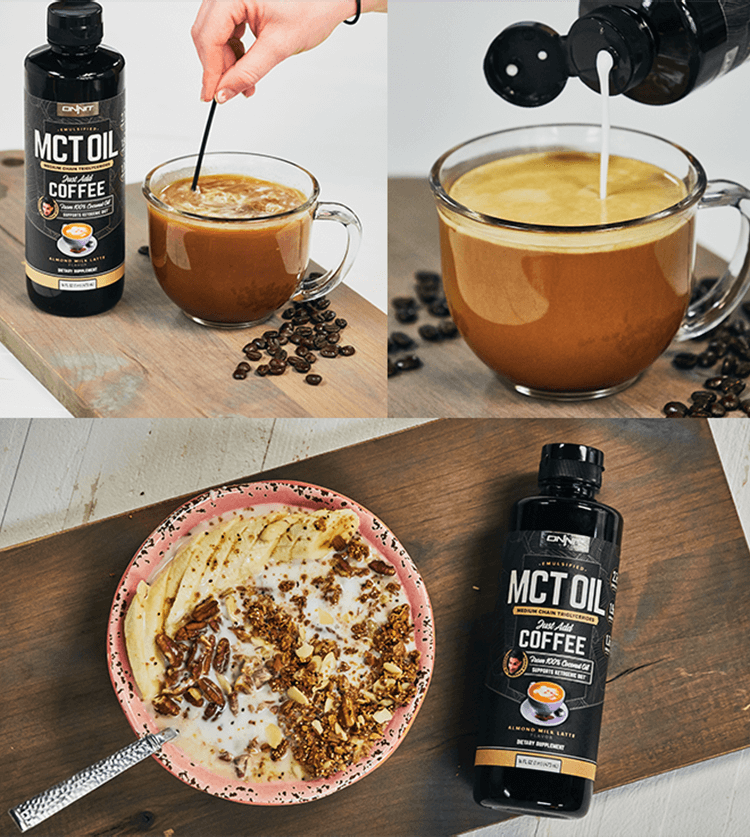 Ratings & Reviews
What's in Onnit Emulsified MCT Oil
16 Fl. Oz.

Almond Milk Latte

Serving Size 1 Tablespoon (15 mL)

Servings Per Container about

31

Amount Per Serving

% DV

Calories

70

Calories from Fat

70

Total Fat

7 g

11%††

Saturated Fat

7 g

35%††

Polyunsaturated Fat

0 g

Monounsaturated Fat

0 g

Total Carbohydrate

1 g

<1%††

Sugars

0 g

Medium Chain Triglycerides (MCTs) (from Coconut Oil)

6.9 g

*

Caprylic Acid

2.7 g

*

Lauric Acid

1.9 g

*

Capric Acid

1.7 g

*

†† Percent Daily Values (DV) are based on a 2,000 calorie diet.

* Daily Value not established.

Other Ingredients:

Water

, Gum Arabic

, Almond Milk Latte Flavor (Ethyl Alcohol

, Glycerin

, Natural Flavors

, Smoke)

, Sorbic Acid (Preservative)

, Stevia (leaf) Extract

, Monk (fruit) Extract

CONTAINS TREE NUTS (COCONUT)
Directions For Emulsified MCT Oil: As a dietary supplement, take one tablespoon. May be taken alone or mixed with your favorite hot or cold beverage. Shake well before each use.
Warnings: Consult a medical doctor before taking this or any other nutritional supplement. IF you are pregnant, nursing, have or suspect a medical condition or are taking any medications. KEEP OUT OF REACH OF CHILDREN.
* These statements have not been evaluated by the Food and Drug Administration. This product is not intended to diagnose, treat, cure, or prevent any disease.
---