Nutrex
Lipo-6 Dynamix
Thermogenic powder for fat loss*
Supports appetite suppression, lasting energy and provides 50mg of Dynamine™ in every serving *
Product Overview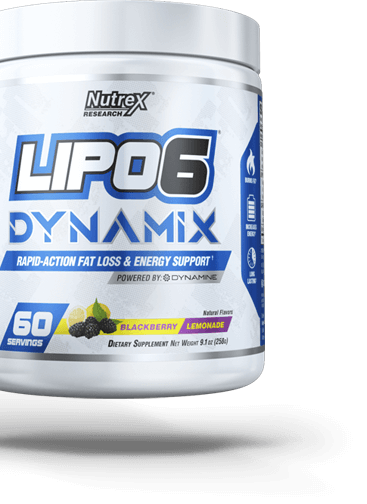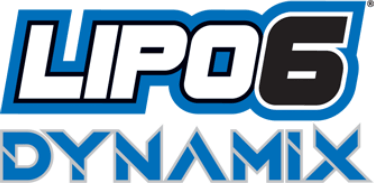 Rapid-Action Fat Loss & Energy Support*
LIPO-6 Dynamix is an advanced thermogenic fat burner that can help you reach your weight loss goals. Using a synergistic matrix of scientifically-researched compounds, LIPO-6 Dynamix helps you shed those unwanted pounds by igniting fat loss through multiple pathways, resulting in faster fat loss.*
LIPO-6 Dynamix is unlike anything you've tried before. We've included a robust combination of ingredients to boost metabolism, increase fat burning, reduce fat storage, and enhance energy levels. We've also included a high dose of Dynamine™ to deliver intense, long-lasting energy with no jittery feelings. You'll be able to work harder each day and still have the energy to crush it in the gym, burning even more calories and losing weight faster than ever.*
Use in combination with a healthy diet and exercise regimen.
Ratings & Reviews
What's in Nutrex Lipo-6 Dynamix
Serving Size 1 Scoop (4.3g)

Servings Per Container

60

Amount Per Serving

% DV

Cognitive Enhancing Nootropic Blend†

926

mg

*

Dimethylaminoethanol Bitartrate (DMAE), Choline Bitartrate, Alpha Glycerylphosphorylcholine (as AlphaSize®), Toothed club moss extract (whole plant) (Huperzia serrata)

Lipo6Lytic Blend†

327

mg

*

Theobromine, Green coffee bean extract, L-Carnitine L-Tartrate, L-Theanine, Black pepper extract (fruit) (as BioPerine®), Rauwolfia vomitoria extract (root)

Caffeine (Active)

175

mg

*

Caffeine Citrate (as Kaff2 Citrate™ yielding 100mg caffeine per scoop) , Caffeine Anhydrous (Yielding 75mg caffeine per scoop)

Methylliberine (as Dynamine™ 40%)

125

mg

*

Daily Value (DV) not established.

Other Ingredients:

Citric Acid

, Natural Flavors

, Malic Acid

, Sucralose

, Silica

, Calcium Silicate

, Gum Arabic

, Mannitol

Allergen Warning: Manufactured on equipment which processes products containing milk, egg, soy, wheat, fish, shellfish, peanuts, and tree nuts.
Directions For Lipo-6 Dynamix: Shake container before each use. Individual tolerances vary. Ensure you assess your tolerance before increasing your dosage. Start by mixing 1 serving (1 Scoop) into 10-12 oz of cold water 30-45 min before working out. More advanced users may prefer the effects of 2 servings (2 Scoops) in 16-18 oz of water. Never take more than 2 scoops within a 24 hour period.
Warnings: Not to be used by anyone under the age of 18. Do not use if pregnant or nursing, currently taking PDE5 inhibitors or other nitrates for chest pain. Never exceed the recommended maximum dosage. Do not consume synephrine, yohimbe, caffeine, thyroid-boosting compounds from other sources including but not limited to coffee, tea, soda, energy drinks and other dietary supplements or medications containing phenylephrine, caffeine, or any stimulants whatsoever. This product contains caffeine. Do not use product for longer than 4 weeks and make sure that usage is followed by 2 weeks off period. Consult your physician prior to use if you are taking any medication, including but not limited to MAO inhibitors, anti-depressants, aspirin, non-steroidal anti-inflammatory drugs or products containing phenylephrine, ephedrine, pseudoephedrine, phenylethylamine or other stimulants. Consult your physician prior to use if you have a medical condition, including but not limited to heart, liver, kidney or thyroid disease, phychiatric disorders, difficulty urinating, diabetes, high blood pressure, pernicious anemia, cardiac arrthmia, hyper beta-alaninemia recurrent headaches, enlargement prostate or glaucoma. Discontinue or shortness of breath. This product contains ingredients that may banned by some sports organizations. As individuals vary so may result from using this product. Store out of sunlight in a cool, dry place (60ºF to 80ºF). Do not use if outer safety seal is broken. Keep out of reach of children.
* These statements have not been evaluated by the Food and Drug Administration. This product is not intended to diagnose, treat, cure, or prevent any disease.
---