Nutrex
Lipo-6 Black Ultra Concentrate
, 60 Capsules
Ultra Concentrated, Powerful, All-Out Fat Burning Formula*
Designed to Assist Your Body in Destroying Fat Deposits*
Product Overview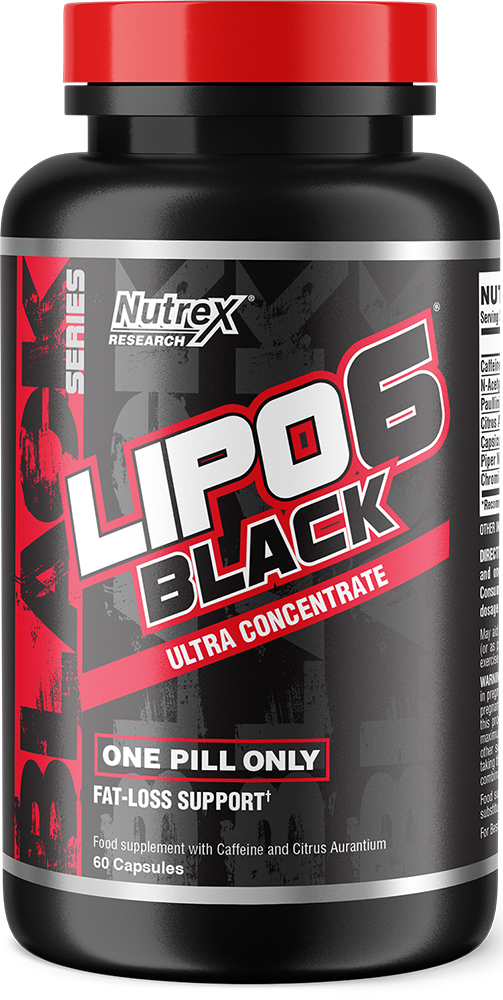 Serious About
Results?
Ultra concentrated fat burner for super effects*
Only one pill needed*
Activates metabolism & burns extra calories*
Fat-absorbing liquid capsules*
Full 30 day Supply*

One Pill Only
Starts it all!
EXTREME CAUTION ADVISED: This is by far the strongest LIPO-6 fat burner we have ever released. It's so strong that you can never take more than one pill. This is an ultra concentrated super powerful one pill only fat burner that is designed to assist your body in rapidly destroying fat deposits.*
To help ensure that your diet and weight loss goals become a huge success, LIPO-6 Black Ultra Concentrate exerts a powerful appetite suppressing effect. It further ignites an extreme feeling of energy and alertness that will keep you going for hours. To ensure optimum effects, the powerful ingredients of LIPO-6 Black Ultra Concentrate are embedded in fast-absorbing liquid capsules.*
Just one pill will set the stage for all-out fat burning. Be warned: LIPO-6 Black Ultra Concentrate is an intense product: A fat destroyer unlike anything else.*
IFBB Pro
Men's Physique
Anton Antipov
Ratings & Reviews
What's in Nutrex Lipo-6 Black Ultra Concentrate
Serving Size: 1 Capsule

Servings Per Container:

60

Amount per serving

% RDA

Caffeine Anhydrous

200 mg

*

N-Acetyl-L-Tyrosine

110 mg

*

Paullinia Cupana (seed)

100 mg

*

Citrus Aurantium (fruit)

60 mg

*

Capsicum Annuum (fruit)

5 mg

*

Piper Nigrum (fruit)

5 mg

*

Chromium (as Chromium Picolinate)

100 mcg

250%

* Recommended daily Allowance not Established.

OTHER INGREDIENTS:

Glycerin

, Water

, Hypromellose and

, Titanium.
Directions For Lipo-6 Black Ultra Concentrate: Adult dose is one (1) capsule in the morning and one (1) capsule in the afternoon. Do not take with meals. Consume at least 1 hour before a meal. Do not exceed recommended dosage. Do not take within six hours of sleep. Use only as directed. May aid or assist weight loss by suppression of appetite in conjunction with (or as part of) a kilojoule/calorie controlled eating plan and an appropriate exercise plan.
Warnings: Weight reduction using appetite suppressants is not recommended in pregnancy or nursing. Consumers who are pregnant, or who may become pregnant should consult with a doctor or pharmacist before taking or using this product. Not intended for children or those sensitive to caffeine. The maximum daily dose of this product contains 444mg of caffeine. Monitor other sources of caffeine such as medications, foods or beverages while taking this product. Do not exceed the recommended serving. Do not use in combination with alcohol. Food supplements are intended to supplement the diet and should not be a substitute for a varied diet. For Best Before Date, see bottom of container.
* These statements have not been evaluated by the Food and Drug Administration. This product is not intended to diagnose, treat, cure, or prevent any disease.
---