NutraKey
BCAA Optima
Promote Muscle Growth And Recovery*
Formulated To Increase Strength And Endurance*
Product Overview
PROMOTE


MUSCLE GROWTH AND RECOVERY*
Reduce muscle soreness from exercise, burn more fat & recover faster*
While BCAAs alone are a great way to prevent muscle catabolism, increase strength, prioritize fat utilization, and enhance your ability to recover, BCAA Optima enhances these properties with the ingredients taurine and glutamine.*
This means that not only will your body have the essential building blocks it needs to create lean mass (BCAAs), but that you'll support muscle recovery from all of your workouts.*
Are your workouts backfiring?
You see, our bodies can only get Branch Chain Amino Acids (the building blocks of protein and muscle) from diet or supplementation. When our bodies don't have enough, we enter what's called a catabolic state. This means that our bodies actually start breaking down amino acids and protein from our lean muscle mass to free up the necessary amino acids in our bloodstream for fuel.*
So even if you're working hard at the gym and staying disciplined in the kitchen, your hard earned gains may simply be wasting away.
Adding BCAAs to your supplement and nutrition regime may help ensure that you the muscle and lean body mass that you've worked so hard for stays that way.*
Promote Muscle Growth & Recovery*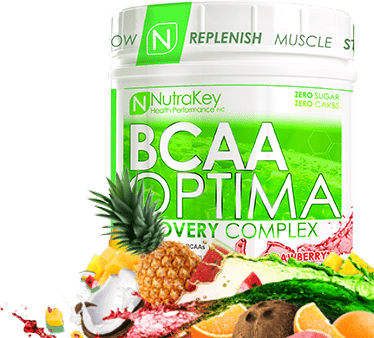 BCAAs assist in boosting recovery by flooding your body with the key building blocks of protein*
As an added bonus, some studies show that BCAA supplementation may even activate the primary muscle growth pathway in your muscle tissue and while increasing protein synthesis.*
Ultra Premium Formula
BCAA Optima is a specific ratio of BCAAs, taurine, and glutamine that have been dosed to maximize absorption and muscle availability.* Each serving provides the three free form branched chain amino acids; L-Leucine, L-Valine and L-Isoleucine in the proper 2:1:1 ratio, along with 1.9 grams of Taurine and 2.6 grams of Glutamine.
In short, adding BCAA Optima to your supplement and nutrition regimen may help ensure that you the muscle and lean body mass that you've worked so hard for keeps on performing at the highest levels.*
Ratings & Reviews
What's in NutraKey BCAA Optima
Serving Size: 1 Scoop (14.7 grams)

Servings Per Container: 30

Amount Per Serving

%DV

Calories

0

Total Fat

0 g

0%

Total Carbohydrate

0 g

0%

Sugars

0 g

Vitamin B6 (Pyridoxine HCI)

1,000 mcg

50%

Sodium

80 mg

3%

Potassium

90 mg

3%

BCAA Recovery Matrix

12,000 mg

Leucine

3,500

mg

**

Isoleucine

1,750

mg

**

Valine

1,750

mg

**

Citrulline Malate

500

mg

**

Taurine Electrolyte Blend

1,900

mg

**

Taurine, Sodium Chloride, Potassium Chloride

Glutamine Advanced Matrix

2,600

mg

**

Glutamine, Glutamate, Glutamine Alpha-Ketoglutarate (AKG)

** Daily Value not established.

Other Ingredients:

Citric Acid

, Natural And Artificial Flavors

, Sucralose

, Malic Acid.
Directions For BCAA Optima: Take 1 serving (1 scoop) with 16 ounces of water or your favorite beverage. For maximum results, take 1 serving 30-60 minutes prior to exercise and 1 additional serving immediately after exercise. Non-Training Days: Take 1 serving with first meal of the day.
Warnings: Pregnant or lactating women, diabetics, hypoglycemics, & people with known medical conditions and/or taking drugs should consult with a licensed physician and/or pharmacist prior to taking dietary supplements. Do not use if seal is broken.
* These statements have not been evaluated by the Food and Drug Administration. This product is not intended to diagnose, treat, cure, or prevent any disease.
---