NutraBio
NutraBio MRP - Meal Replacement
A Complete Meal Replacement Shake to Fuel Your Day and Muscles*
40-40-20 Profile That helps to maintain a healthy Insulin Response*
Product Overview
With a very specific ratio of macronutrients and micronutrients, Muscle Matrix MRP provides you with high-quality protein sources coming from whey protein isolate and micellar casein, highly branched cyclic dextrin as your carbohydrates, and MCT coconut powder as your healthy fats. Muscle Matrix MRP is the perfect on-the-go meal solution, middle of the day snack, and pre-workout meal. It contains no fillers, amino spiking, excipients, dextrose, added sugar or carbs, artificial colors, or GMOs.
Product Benefits
Complete meal replacement formula (40-40-20)
Promotes muscle growth and recovery*
Prevents muscle breakdown*
Supports heightened performance levels*
Helps keep you full and satiated*
Supports a healthy blood sugar response*
Key Ingredients
Muscle Matrix MRP utilizes patented ingredients that are backed by research. ClusterDextrin® and Fibersol®-2 are two key ingredients that separate this MRP from the sugar-filled shakes that spike insulin. This profile includes both fast- and slow-digesting proteins, a low glycemic carb source that can boost performance, a healthy fat that is used as energy and is less likely to be stored in fat cells, and a digestion-resistant soluble fiber that helps keep things regular and controls normal blood sugar.*
Supports Your Goals
Keep your goals in check, and don't allow a busy schedule to cause you to lose focus. Muscle Matrix MRP is the perfect solution to those times where you need a quick meal but don't have the ability to sit down or even prepare something. The specific profile used is designed to provide your body with all the critical macronutrients, vitamins, and minerals necessary to meet your nutritional needs and help satisfy your hunger. Stay on track with this delicious and low sugar treat!
Good to Know
Muscle Matrix MRP supports muscle growth and repair, replenishes glycogen (energy) stores, enhances lipolysis (the speed at which fats are broken down), and helps keep blood glucose levels in check. The full spectrum vitamin and mineral profile helps perform hundreds of vital roles in the body, such as strengthening the immune system, bone formation and strength, wound healing, and helps fill any nutritional gaps you may have from your diet.
---
About the Brand
NutraBio Labs has a "No Compromise" commitment to producing the purest, cleanest, and most effective supplements on the market. Our products include fully transparent labels featuring clinical doses of the highest quality ingredients available.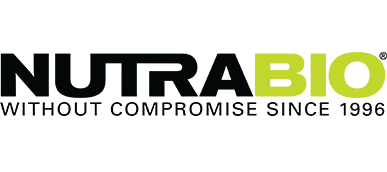 Ratings & Reviews
What's in NutraBio MRP - Meal Replacement
NUTRITION FACTS

Serving Size: 2 scoops (60.87 g)

Servings Per Container

18

Amount Per Serving

% Daily Value

Calories

240

Total Fat

5 g

6%*

Saturated Fat

5 g

24%*

Cholesterol

10 mg

3%*

Sodium

70 mg

4%*

Total Carbohydrate

26 g

9%*

Dietary Fiber

5 g

17%*

Total Sugars <1 g

*

Includes 0 g Added Sugars

0%*

Protein

25 g

50%

Vitamin D 5 mcg (200 IU)

25%*

Potassium

120 mg

2%*

Vitamin C

30 mg

35%*

Vitamin K

40 mcg

35%*

Riboflavin

850 mcg

70%*

Vitamin B6

1 mg

60%*

Vitamin B12

3 mcg

130%*

Pantothenic Acid

5 mg

100%*

Iodine

75 mcg

50%*

Zinc

8 mg

70%*

Copper

1 mg

110%*

Calcium

419 mg

30%*

Vitamin A 750 mcg RAE

80%*

Vitamin E

7 mg

45%*

Thiamin

750 mcg

60%*

Niacin 10 mg NE

60%*

Folic Acid 340 mcg DFE

90%*

Biotin

150 mcg

500%*

Phosphorus

184 mg

15%*

Magnesium

12 mg

2%*

Selenium

35 mcg

60%*

Chromium

60 mcg

170%*

* The % Daily Value (DV) tells you how much a nutrient in a serving of food contributes to a daily diet. 2,000 calories a day is used for general nutrition advice . Not a significant source of iron, trans fats.

Ingredients:

Highly Branched Cyclic Dextrin (ClusterDextrin®)

, Whey Protein Isolate 90% (instantized)

, Micellar Casein (instantized)

, MCT Coconut Powder

(Medium chain triglyceride oil from coconut,

Soluble corn fiber,

Sodium Caseinate,

Sunflower Lecithin,

Silicon Dioxide)

, Digestion Resistant Maltodextrin (Fibersol-2)

, Natural Flavor

, Xanthan Gum

, Salt

, Sucralose

, DL Alpha Tocopheryl Acetate

, Ascorbic Acid

, Zinc Citrate

, Vitamin A Palmitate

, Niacinamide

, Copper Bisglycinate Chelate [TRAACS™]

, Vitamin K1

, Selenium Glycinate Chelate [Albion™]

, Potassium Iodide

, Chromium Nicontinate Glycinate Chelate [TRAACS™]

, Pyridoxine Hydrochloride

, Thiamine Mononitrate

, Cholecalciferol

, Methylcobalamin

Contains: Milk, Coconut.
Directions For MRP - Meal Replacement: Using the dosage chart, add 1-2 scoops of MRP to 6-12 ounces of cold water or your favorite beverage and stir, shake, or blend. To make a creamy smoothie, add 2-3 ice cubes and put into blender for 20-30 seconds. Vary the amount of liquid to meet your desired taste and consistency. For delicious pudding: Spoon stir water slowly into MRP powder until you achieve a pudding consistency. Place in a refrigerator or freezer for 20 minutes
* These statements have not been evaluated by the Food and Drug Administration. This product is not intended to diagnose, treat, cure, or prevent any disease.
---