Novex Biotech
Growth Factor-9
, 120 Capsules
May Help Promote HGH Levels*
Clinically Tested Human Growth Hormone Support*
Product Overview
Now Even Better.
Just Sayin'
NOW EVEN BETTER. Novex Biotech's Growth Factor-9 is the only US patented, tested by human clinical trial, scientifically-backed product suggested to support mean, serum (blood) growth hormone levels.* It promotes your natural HGH levels.*
Growth Factor-9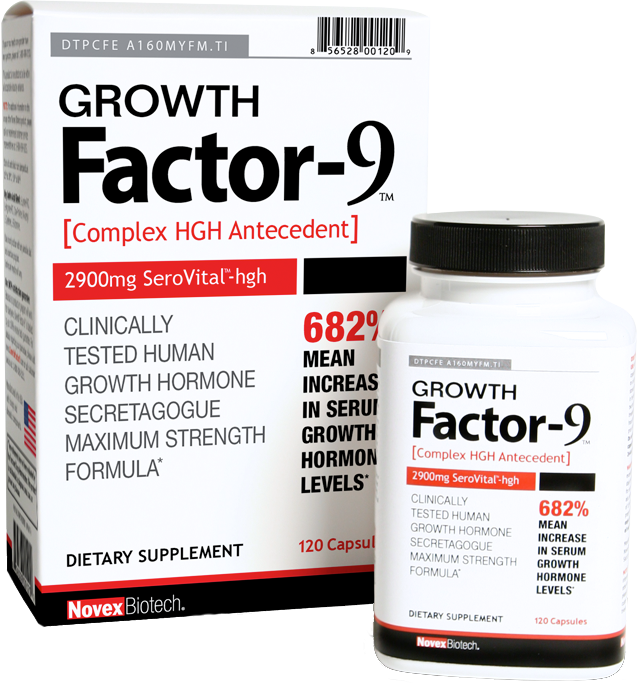 The HGH
Revolution
has begun!
Always Keep Your Best Weapons Secret
Why HGH?
Human Growth Hormone is a naturally occurring part of our body's chemistry. Manufactured by the pituitary gland, it plays a critical role in many important metabolic functions. Unfortunately, the body's production of HGH peaks in adolescence, then takes a rapid nosedive after that.
The Growth Factor-9 Revolution
Growth Factor-9 changes everything. The result of three decades of research, GF-9 is a novel, patent-pending dietary supplement that promotes pituitary health to encourage your body to produce optimal levels of its own, natural growth hormone.*
Methods: This cross-over, placebo-controlled, double-blind study involved healthy subjects [males and females; mean age=32±14 years; body mass index=26.4±5.0 ranging from 19.1 to 36.8kg/m2] (Study ID Number: PBRC10043). Each subject reported to the Inpatient Unit on two occasions one week apart. After an overnight fast, subjects had an IV line placed and baseline blood samples were drawn at -30, -15, and 0 minutes. Subjects were then asked to swallow the capsules of Growth Factor-9 supplement or an identical-looking placebo. Blood was drawn at 15, 30, 60, 90 and 120 minutes for assay.
Results: After 120 minutes, mean GH levels had increased from baseline (0.17 to 1.33ng/ml) and were significantly higher than placebo (P=0.01). In addition, a significantly higher mean AUC was observed after taking the supplement [20.4 (95% CI: 19.9-21.0ng/ml) vs. 19.7 (95% CI: 18.7-20.6ng/ml); P=0.04].*
Clinically Tested:
In a double-blind, placebo-controlled clinical trial of men and women ages 18-70, GF-9 was suggested to support bioactive, serum (blood) growth hormone levels.* Results indicated that GF-9 is effective on both males and females, across an appropriately wide age range. The study's findings have been reviewed by The Obesity Society and were accepted for public presentation at the Obesity Society's prestigious 30th Annual Scientific Meeting.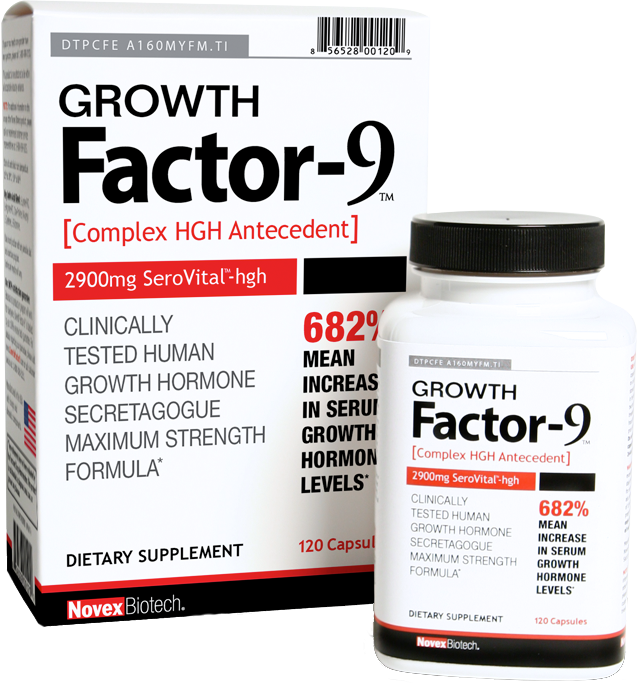 Unleash Your Total Performance...
and potential with Growth Factor-9, our first – and only –supplement suggested to support the natural production of HGH in both male and female, young and old.* Get Growth Factor-9 today – and join the HGH revolution.
Ratings & Reviews
By clicking the button above, you agree to entering the Bodybuilding.com Reviews section. Products in the Store are not intended to diagnose, treat, cure, or prevent any disease.
It failed too I would recommend it to everyone that is not you buy this product.
Great product. Had a sore shoulder for months that kept me from lifting heavy. I stacked this with Testrovax and the soreness went away
Testrovax and Growth Factor 9, I would highly recommend. First off, Testrovax: I have used many test boosters and this has enhanced my mood, energy and gym time. After reading the many reviews about aggressive behavior, I have to say for the first few days, I tended to be slightly aggressive. Perhaps that was an adjustment period. I am always in a great and happy mood, always have lots of energy-- don't feel run down whatsoever. My occupation is food service and can be quite grueling! But on testrovax, I can go to the gym directly after work feeling refreshed and full of vigor! My strength has increased and do has my muscularity. One more thing about Testrovax- super *****! So be sure to take care of that aspect! Growth Factor 9- I sleep very well and deep; I awake fresh and am excited to start the day. I will be using this stack more regularly, for sure! My age is 55 and truly age is just only a number. I consider each day to be in better fitness shape than the day before!

I am becoming massive. My muscles are showing in the shoulders, traps, triceps, biceps, and lats, and other areas. I am doing better than I ever have. I have a v shape, and matching shoulders. I think I am going to have a big year. In addition, i feel good, in fact , i feel very good. Consequently, I am surprised by some of the other reviews.

I skeptically purchased this product because of the negative reviews... I figured it would only be $100 if it actually doesn't work. Then I thought: "scientists and lab studies matter more than upset customer reviews." So I bought it. I have only 4 days left to finish the product. I have followed the directions exactly. I take the product after I wake up with a glass of water, and wait two hours before eating breakfast as instructed. I have shed almost all of my body fat, and I have built lean muscle. There is a definite (positive) difference in my energy levels, my ability to exercise, and my ability to recover. If you purchase this product... You have to be willing to FOLLOW THE INSTRUCTIONS. Only purchase if you are willing to take the product on an empty stomach for a month straight. Growth Factor 9 worked for me. I'm sure it'll work for you, too, if you use it properly.
I think the product did have a positive impact, but REALLY expensive for a "amino acid proprietary blend." Capsules were easy to swallow - another plus. Real problem was timing of the dosage: have to take 4 capsules on an empty stomach 2 hours before breakfast, or two hours after dinner before bedtime. I work out in the afternoons, so 2 hours after dinner was out. I wake up late, so I found I was taking capsules at 10m and having breakfast at noon - or had to wake up early at 6 to have breakfast at 8: a royal pain. Product label said it "led to a 682% increase in serum HGH levels at 120 minutes" - meaning my HGH peaked well before my workout. This product is probably best used by those who work out fasted in the morning, and can work out 2 hours after taking the product. Had a lingering cough that started shortly after taking this product the first time - was testing it again to see if it happened again, and (thankfully) it didn't. Discontinuing use of it today, due to expense and fact dosage timing doesn't work for my schedule.

I've been using this for about a month now and I do see a significant improvement in my size. As with everything I'm going to take 2 to 4 weeks off of using it once complete. Then I'll pick it up again. In conjunction with a 5 meal/day diet you will grow nicely.
Solid product, but very expensive I will be trying some cheaper ones next week. Can't you guys drop the price a bit or what?
It failed too I would recommend it to everyone that is not you buy this product.
† This price is the retail price for this product found at one or more retail websites in the last 30 days. The price may not include shipping cost, tax, sale or promotional prices, or discounts such as member pricing. Prices may change. Bodybuilding.com verifies this price every 30 days.
120 Capsules
30 Servings | $2.67 Per Serving
What's in Novex Biotech Growth Factor-9
120 Capsules

Supplement Facts

Serving Size:

4

Capsules

Servings Per Container:

30

Amount Per Serving

% Daily Value

SeroVital™-Hgh A Proprietary Blend Containing

L-Lysine HCl

†

L-Arginine HCl

†

Oxo-Proline

†

N-Acetyl L-Cysteine

†

L-Glutamine

†

Schizonepeta (Aerial Parts) Powder

†

† Daily Value not established
Other Ingredients:
Rice Flour
, Gelatin
, Magnesium Stearate
, Microcrystalline Cellulose
, Silicon Dioxide
, Titanium Dioxide.
Directions For Growth Factor-9: Adults take 4 capsules by mouth on an empty stomach, either in the morning two hours before breakfast or two hours after dinner prior to bedtime. Do not exceed 4 capsules in any 24-hour period.
Warnings: Do not exceed suggested daily serving. Not for use by individuals under the age of 18 years. Do not use if pregnant or nursing. Use only as directed. Keep out of reach of children.
* These statements have not been evaluated by the Food and Drug Administration. This product is not intended to diagnose, treat, cure, or prevent any disease.
---