Currently Unavailable
Nordic Naturals
Omega-3 Liquid
, 8 Oz. Lemon
Natural Triglyceride Form!
Purified Fish Oil For Optimal Wellness!*
Product Overview
Nordic Naturals Omega-3 provides the expert-recommended daily minimum of the essential fatty acids EPA+DHA in a non-concentrated formula with wholesome, natural balance.
Potent liquid formulation*
Supports a healthy heart*
Promotes brain health*
✝based on SPINS scan data
WHY NORDIC NATURALS®
---
Superior Absorption Proven Results
All products in triglyceride form

70% better absorption

Superior results
The vast majority of fish oil concentrates on the market are in the ethyl ester form, a synthetic fat considered "new to nature." Nordic Naturals produces omega-3 fish oil exclusively in the highly bioavailable triglyceride form.
---
Proven Purity Exceptional Freshness
Purified of toxins

Exceed international standards

All oils independently tested
Nordic Naturals has full control over every step of production of our fish oils from boat to bottle. That's how we deliver products with industry-leading purity and freshness levels.
---
Backed by Research Demonstrated Efficacy
Research leader

25 published studies

30 studies in progress
Omega-3 fish oil is one of the most researched substances in modern medicine. Because of their purity and stability, Nordic Naturals products are consistently chosen without solicitation by independent research institutions and universities.
---
Responsible Dosing Contains EPA+DHA
Minimum 500 mg EPA+DHA

Expert-recommended dose

More omega-3s per serving
Experts agree that adults need a minimum of 500 mg daily of the essential fatty acids EPA and DHA found in omega-3 fish oil. Nordic Naturals delivers more omega-3s per serving than most other fish oils.
---
Great Taste No Fishy Burps
No fishy smell, taste, or aftertaste

100% natural fruit flavors

Award-winning taste
A patented flavoring process gives our oils a light, clean, fruity flavor. Years of feedback from customers and health professionals confirm that people of all ages enjoy the taste of Nordic Naturals products!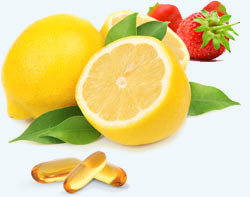 ---
Healthy People Healthy Planet
100% wild-caught fish

Flourishing fish stocks

MSC-certified processing plant in Norway
Since our founding, Nordic Naturals has always been deeply committed to the health of our oceans. We employ sustainable fishing practices and process our oils with minimal environmental impact.
Ratings & Reviews
What's in Nordic Naturals Omega-3 Liquid
8 Oz.

Lemon

Supplement Facts

Serving Size:

1

Teaspoon

(5

ml)

Servings Per Bottle:

48

Amount Per Serving

% Daily Value*

Calories

45

Calories From Fat

45

Total Fat

5

g

8%

Saturated Fat

1.5

g

8%

Trans Fat

0

g

†

Vitamin E (D-Alpha Tocopherol)

30

IU

100%

Weight‡

Volume %

Omega-3s

EPA (Eicosapentaenoic Acid)

825

mg

18

%

DHA

(Docosahexaenoic Acid)

550

mg

12%

Other Omega-3s

225

mg

8%

Total Omega-3s

1725

mg

38%

Oleic Acid

(Omega-9)

290

mg

6%

* Percent Daily Values are based on a 2,000 calorie diet

† Daily Value not established

‡ Natural triglycerides

Less than 5 mg of Cholesterol per serving.
Ingredients:

Purified Deep See Fish Oil (From Anchovies And Sardines)

, Natural Lemon Flavor

, D-Alpha Tocopherol

, Rosemary Extract.

No Gluten, Milk Derivatives, Or Artificial Colors Or Flavors.

Contains Vitamin E Derived From Refined Soybean Oil.
Directions For Omega-3 Liquid: One teaspoon daily, with food, or as directed by your health care professional or pharmacist.
Warnings: Consult with your physician before using this product if you are allergic to iodine, use blood thinners, or anticipate surgery. Keep out of reach of children.
* These statements have not been evaluated by the Food and Drug Administration. This product is not intended to diagnose, treat, cure, or prevent any disease.
---