Currently Unavailable
NLA for Her
Her Carnitine
, 60 Capsules
Carnitine Capsule Designed For Fat-Burning*
Promotes Stored Fat Loss*
Product Overview
NLA for Her
Her
Carnitine
Premium l-Carnitine/ALCAR Blend
Stimulant Free Fat Metabolizer*
Promotes Stored Fat Loss*
Utilization of Fatty Acids for Fuel and Energy*
Improved Athletic Performance*
Her Carnitine is designed to help promote fat loss, simply by converting fat into fuel. Her Carnitine facilitates the transfer of fatty acids into the mitochondria for cellular energy production. This process provides muscular energy by burning fat, which may also create a positive environment for an improved body composition.*
Her Carnitine when combined with regular exercise and a healthy diet is designed to support:
Increased energy and physical performance*
Stored fat loss*
Boosting your metabolism*
Enhances ATP production and mental focus*
We take pride in quality here at NLA For Her and guarantee that each batch of Her Carnitine is manufactured under strict quality control standards. Each batch is tested to be free of potentially harmful levels of any contaminants (metals, PCB's, dioxins, mercury, heavy metals, and other harmful contaminants).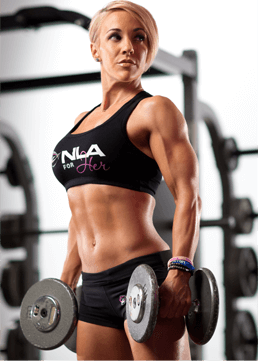 FAQ
with IFBB Figure Pro & NLA for Her athlete Jessie Hilgenberg
What type of Supplement is Her Carnitine and what are its benefits?
Her Carnitine contains a high potency blend of l-Carnitine and Acetyl l-Carnitine (ALCAR). L-Carnitine is a non-essential amino acid found primarily in red meat and other animal sources. L-Carnitine is extremely effective at assisting the breakdown of energy stores in cells and utilizing fatty acids for cellular energy production. Acetyl-l-Carnitine is the more bioavailable form of l-Carnitine and helps with improving energy, mental focus, and weight loss.* Essentially, supplementing with Her Carnitine will help your mitochondria produce more energy in your body by converting fat into fuel, promoting a leaner body composition.*
How can Her Carnitine help you achieve your fitness goals?
Her Carnitine is our stimulant free weight loss and energy supplement. When you supplement with Her Carnitine, your body will utilize long-chain fatty acids for energy by transferring them into the mitochondria which can be used at the cellular level for energy production. Burning up and utilizing these free fatty acids for energy will expedite your fat loss goals, promoting a leaner and healthier body composition. To increase results, we definitely recommend stacking Her Carnitine with other fat burners or fat burning ingredients. The ideal fat burning combo is stacking Her Carnitine with Her CLA, Her Garcinia, and Shred Her. This combo will increase the body's thermogenesis, help utilize free fatty acids and use them for energy, inhibit the absorption of carbohydrates, and rev your metabolism into a fat incinerating machine.cardio, long distance running and/or high intensity lifting.*
Ratings & Reviews
What's in NLA for Her Her Carnitine
60 Capsules

Serving Size: 1 Capsule

Servings Per Container: 60

Amount Per Serving

Carnitine Body Sculpting Proprietary Blend

600

mg

*

N-Acetyl L-Carnitine, L-Carnitine HCL

Alpha Lipoic Acid

100

mg

*

* Daily Value Not established

Other Ingredients:

Vegetable Capsule (capsule)

, Microcrystalline Cellulose

, Magnesium Stearate

, Silicon Dioxide

VOLUNTARY ALLERGEN STATEMENT - Manufactured in a facility and equipment that handles: Eggs, Wheat, Milk, Tree Nuts, Peanuts, Soybeans, Crustacean Shellfish and Fish.
Directions For Her Carnitine: As a dietary supplement for women, take 1 per day.
Warnings: This product is intended for healthy adults only. Do not use if pregnant or nursing. Do not use if you have a medical condition or are taking any prescription medication. If you experience any adverse reaction discontinue use immediately and consult a physician.
* These statements have not been evaluated by the Food and Drug Administration. This product is not intended to diagnose, treat, cure, or prevent any disease.
---