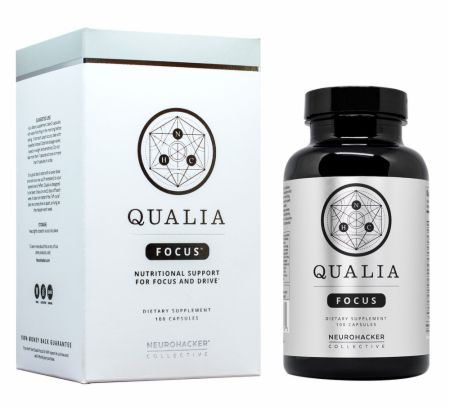 Neurohacker Collective
Qualia Focus
, 100 Capsules
Nootropic capsules for focus & cognitive support*
Contains vitamins, amino acids, choline donors, and herbal adaptogens
Product Overview
Qualia Focus is your daily nutritional support for on-demand focus and concentration.* Designed to enhance the brain's adaptive capacity and up-regulate the entire body for optimal well-being.*
BEAT BRAIN FOG*: Qualia Focus was designed by taking into account key neural pathways and processes. It contains nootropic compounds, neuro-vitamins, amino acids, choline donors, and herbal adaptogens to promote clear-headed concentration. *
CAREFULLY CHOSEN INGREDIENTS WITH A PURPOSE: We know you care about what goes into your body (we do too!). Our principles derive from complexity science—the science of complex adaptive systems—and guide how we factor research and approach formulation and dosing. It's these principles that have made Qualia a top-rated nootropic. Qualia Focus is vegan, gluten-free, non-GMO.
SHARPENED MENTAL PERFORMANCE*: A premium formulation loaded with fast-acting, high-purity nutrients to support focus and mental clarity. *
PROMOTE BRAIN WELL-BEING*: In addition to immediate neurochemical and physiological effects, Qualia Focus goes a step further addressing long-term cognitive health benefits. *
Ratings & Reviews
What's in Neurohacker Collective Qualia Focus
Serving Size 5 Vegetarian Capsules

Servings Per Container 20 (28 day supply)

Amount Per Serving

%DV

Vitamin C (as ascorbic acid)

100 mg

111%

Vitamin D3 (as cholecalciferol)

25 mcg

125%

Thiamine (as thiamine HCl)

50 mg

4,167%

Niacin (as niacinamide)

50 mg

313%

Vitamin B6 (as pyridoxal 5'-phosphate)

20 mg

1,176%

Vitamin B12 (as methylcobalamin)

1,000 mcg

41,667%

Pantothenic Acid (as calcium pantothenate)

50 mg

1,000%

Artichoke Leaf Extract (4% cynarin and related flavonoids

300 mg

**

Bacopa monnieri Leaf Extract (40% bacosides)

300 mg

**

Alpha-Glycerylphosphorylcholine (alpha GPC)

300 mg

**

DL-Phenylalanine

300 mg

**

Acetyl-L-Carnitine HCl

250 mg

**

N-Acetyl-L-Tyrosine

250 mg

**

Uridine-5'-Monophosphate heptahydrate disodium

200 mg

**

Taurine

200 mg

**

L-Theanine

200 mg

**

Rhodiola rosea Root Extract (3% rosavins; 1% salidrosides)

150 mg

**

Organic Coffeeberry® (90 mg caffeine) Whole Coffee (Coffea arabica) Fruit Extract

129 mg

**

Velvet Bean (Mucuna pruriens) Seed Extract (50% L-Dopa)

100 mg

**

Theobromine

100 mg

**

Celastrus paniculatus Seed Extract

60 mg

**

Ginkgo biloba Leaf Extract (24% glycosides)

50 mg

**

Coleus forskohlii Root Extract (20% forskolin)

20 mg

**

Huperzia serrata Leaf Extract (1% Huperzine A)

5 mg

**

** Daily Value (DV) not established

Other Ingredients:

Hypromellose

, Organic Rice Concentrate

, Organic Rice Extract Blend

, Silicon Dioxide
Directions For Qualia Focus: As a dietary supplement, take 5 capsules with water first thing in the morning before eating. If stomach upset occurs, take with breakfast instead. Optimal dosage varies based on weight and sensitivity. Do not take more than 7 capsules at once or more than 9 capsules in a day. Focus is designed to be taken up to 5 days per week.
Warnings: Do not take if you're under 18 years old, take an MAO inhibitor, SSRI, or any other psychiatric medicines, are pregnant or nursing, sensitive to caffeine, or if you have Phenylketonuria. Do not take with recreational drugs or alchohol. If you have any other conditions please review our full medical disclaimer on our website and consult with a physician before taking. If any uncomfortable symptoms occur, discontinue immediately.
* These statements have not been evaluated by the Food and Drug Administration. This product is not intended to diagnose, treat, cure, or prevent any disease.
---