MuscleTech
NITRO-TECH Crunch Bar
, 1 x 65g Bar Birthday Cake
22G Of High-Quality Protein In A Gourmet, Gluten Free, Performance Protein Energy Bar*
Each Gluten-Free Bar Contains 5G Of Fiber
Product Overview
On-The-Go Muscle Building*
The Superior Baked Protein Bar
Amazing Taste, More Protein, Less Carbs Than The Other Guys
High-Performance Protein Energy Bar
NITRO-TECH® CRUNCH bars are a gourmet, high-performance protein energy bar from MuscleTech® – America's #1 Selling Bodybuilding Supplement Brand. Featuring 22g of high-quality protein, 5g of fiber and gluten free, these bars offer guilty indulgence without the guilt. And since it's from MuscleTech – the brand with over 20 years of excellence and industry-leading innovation – you know it's a formula you can trust!
7 Amazing Flavors!
Chocolate Mint
Refresh your taste buds with the elegance and indulgence of our Mint Chocolate NITRO-TECH® CRUNCH bar. With the combination of peppermint and rich, fudgy chocolate, your taste buds won't know what hit them.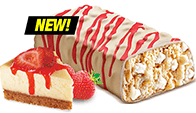 Strawberry Cheesecake
If you love everything about strawberries and cheesecake, then you will absolutely love our Strawberry Cheesecake NITRO-TECH®CRUNCH bar. It's an amazing combination of creamy cheesecake filling with strawberry swirl, all baked into a delicious bar. Each bite is bursting with that ripe strawberry flavor!
Vanilla Birthday Cake
Let them eat cake – Birthday Cake! With vanilla, the most fluffy, delicious birthday cake batter you've ever tasted and tons of rainbow sprinkles, you'll feel like you're celebrating every day with this out-of-this-world new flavor!
Chocolate Peanut Butter
Irresistible chocolate and peanut butter make everything better – including NITRO-TECH® CRUNCH. You'll be sure to love this classic flavor!
Cookies & Cream
Pieces of rich, chocolate cookie dunked in delicious, creamy vanilla ice cream – the new Cookies & Cream NITRO-TECH® CRUNCH will satisfy the milk-and-cookies kid in all of us.
Chocolate Chip Cookie Dough
Soft, thick, chocolate chunks and buttery dough baked into a crumbly, milk-loving, cookie-flavored center – the Chocolate Chip Cookie Dough NITRO-TECH® CRUNCH is better than licking the cookie dough off the spoon!
Cinnamon Bun
A swirl of soft dough oozing with buttery brown sugar and cinnamon, thickly gobbed with cream cheese frosting – cinnamon buns are every athlete's favorite cheat food! Now you can have the amazing cinnamon bun flavor guilt free, without the extra calories and sugar!
Superior Formula
NITRO-TECH® CRUNCH bars deliver premium quality protein, including whey and milk protein isolate. The combination of milk protein isolate and whey proteins also allows NITRO-TECH CRUNCH bars to be not only soft and delicious, but to maintain their softness on the shelves, so when they reach you, they taste as good as they did when they first rolled off the line!
Best-In-Class Taste
Enjoying a delicious formula doesn't mean you have to deal with excess carbs and fat. For some companies, the taste of their protein bar is the only thing they have going for them, so they load up their protein formulas with cheap proteins that are easy to flavor, and then chase that with a load of flavoring in the form of sugar, carbs and fat. Whether you choose Birthday Cake, Cookies & Cream or any other delicious flavors, you can count on a clean, gourmet and delicious flavor experience from every bite!
Ratings & Reviews
1 x 65g Bar
1 Servings | $2.79 Per Serving
What's in MuscleTech NITRO-TECH Crunch Bar
Serving Size: 1 Bar (65g)

Servings Per Container: 1

Amount Per Serving

% Daily Value *

Calories

240

Calories From Fat

60

Total Fat

7 g

11%

Saturated Fat

4 g

20%

Trans Fat

0 g

Cholesterol

20 mg

7%

Sodium

350 mg

15%

Total Carbohydrate

24 g

8%

Dietary Fiber

5 g

20%

Sugars

7 g

Sugar Alcohol

3 g

Protein

22 g

44%

Vitamin A

2%

Vitamin C

2%

Calcium

6%

Iron

4%

* Percent Daily Values are based on a 2,000 calorie diet.

Ingredients:

Premium Protein Blend (Whey Protein Isolate

, Whey Protein Concentrate

, Milk Protein Isolate)

, Isomalto-Oligosaccharides

, Vegetable Glycerin

, Vegetable Oils (Palm, Palm Kernel

, and Soybean Oil)

, Soy Protein Isolate

, Maltitol

, Sugar

, Birthday Cake Flavor-ettes (Sugar

, Corn Syrup

, Corn Cereal

, Corn Starch

, Hydrogenated Palm Oil

, Natural Flavor

, Artificial Flavor

, FD&C Red No. 40

, FD&C Blue No. 1

, FD&C Yellow No. 5)

, Water

, Mono and Diglycerides

, Natural Flavors

, Salt

, Soy Lecithin

, Potassium Sorbate

, Citric Acid

, Whey

, Beta-Carotene (Color)

, Pink Drizzle Color [Palm Kernel Oil

, Beet (Color)

, Rice Bran Extract

, Annatto (Color)

, Turmeric (Color)]

, Vitamin A Palmitate

, Almonds

, Peanuts

, and Sucralose.

ALLERGY ALERT: THIS PRODUCT CONTAINS MILK, SOY, ALMOND AND PEANUT INGREDIENTS AND IS PROCESSED IN A FACILITY THAT PROCESSES TREE NUT, EGG AND WHEAT INGREDIENTS.
* These statements have not been evaluated by the Food and Drug Administration. This product is not intended to diagnose, treat, cure, or prevent any disease.
---