MuscleTech
naNOX9 Next Gen
, 120 Rapid Caps
Hard-Hitting Nitric Oxide Pump Amplifier*
Designed to Support The Most Extreme Pumps, Vascularity and Hardness*
Product Overview
The most extreme pumps, vascularity & hardness*

Scientifically studied for muscle performance*

Advanced pre-workout formula for powerful sensory effects*

Rapid diffusion technology
---
INTRODUCING THE HARDEST-HITTING NITRIC OXIDE PUMP AMPLIFIER!*
If you've ever felt a pump while training, then you've experienced the unexplainable muscular expansion that takes place as muscles are flooded with anabolically charged blood. In that very moment, you're primed for unrestrained growth – the normal slow and steady supply of nutrients your muscles received throughout the day is dramatically cranked up as your muscle fibers become engorged with blood!
Now, if you really want to want to unlock the anabolic floodgates to massive growth and extreme, vein-swelling vascularity, you need to harness the power of nitric oxide.* The ability of nitric oxide to produce and sustain pumps is no secret – and nitric oxide products have been on the market for well over a decade – however, the true potential that was there was not known until Team MuscleTech® unleashed the original naNOX9® formula in 2006. Suddenly, bodybuilders and other athletes everywhere no longer had to wait for their nitric oxide supplement to kick in. naNOX9 diffused so quickly and delivered such a strong surge of nutrient-rich blood to the muscles that it left athletes raving about their dramatic increases in the size of the muscles and in vascularity to this day!*
And now, 10 years after reinventing the nitric oxide category with the most powerful pill of its kind, Team MuscleTech proudly introduces naNOX9® Next Gen – the next generation of this incredible nitric oxide amplifier! naNOX9 Next Gen is a superior nitric oxide powerhouse that also delivers the performance booster beta-alanine and unique sensory effects compared to the other guys.* After your very first dose, you'll experience the craziest pumps, fullness and vascularity!*
THE POWER OF THE PUMP
When you're training, you want to maximize blood flow into the region you want to build. Simply put, if you deliver more oxygen and nutrients to the exercising muscle and get rid of waste products, your training will be more effective and you will recover from the set more quickly. And all of this blood works to remove the lactic acid, carbon dioxide and any other byproducts of the muscular contraction, and to exchange these waste products for the energy and nutrients the muscle needs to continue the muscular contraction process. The result? Totally amazing pumps during your workouts.
Here we see how the pump happens. When you train, various physiological triggers cause a release of calcium in the endothelial cells that line the blood vessels, which causes the enzyme nitric oxide synthase to make nitric oxide from the amino acid arginine. The nitric oxide then leaves the endothelial cell to facilitate relaxation of the smooth muscle cells lining the blood vessels, allowing for vasodilation and more blood to enter the skeletal muscle, leading to a pump!
HOW NANOX9 NEXT GEN WORKS: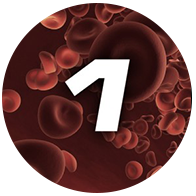 RAPID INCREASES IN NITRIC OXIDE (NO) PRODUCTION*
The dose of Nitrosigine® powering naNOX9® Next Gen gets absorbed into the bloodstream, where it increases plasma blood arginine levels that enter the endothelial cells and get converted to nitric oxide via the process of nitric oxide synthase.
ACTIVATION OF KEY SIGNALING ENZYME*
Newly formed NO molecules rapidly diffuse from the endothelium into the smooth muscle cells that make up the blood vessel, where they bind to and activate enzyme guanylyl cyclase (GC).
VASCULAR SMOOTH MUSCLE RELAXATION*
The enzyme GC converts guanosine triphosphate (GTP) to cyclic guanosine monophosphate (cGMP), which serves as a messenger for many important cellular functions, such as signaling smooth muscle relaxation.
Connolly et al., 2006. British Journal of Sports Medicine. 40:679-683.
ENHANCED VASODILATION*
As a result, contractile reaction within the smooth muscle cells of the blood vessels are decreased, enhancing vasodilation and muscle pumps!*
RAPID DIFFUSION*
Caplet diffusion begins immediately after you take naNOX9® Next Gen, forcing faster, more powerful muscle-flooding pumps.* As soon as the caplet coating becomes wet, the disintegration process begins, rapidly dispersing the key ingredients for lightning-fast results. Its unique, powerful combination of ingredients quickly disperses into your bloodstream when you need it most. Nitric oxide helps to relax blood vessels and cause rapid vasodilation, massive pumps, the most extreme muscle hardness and the freakiest vascularity with every rep!* No regular nitric oxide product available even compares to the anabolic, blood-drenching power of naNOX9 Next Gen.*
UNIQUE NEUROSENSORY EXPERIENCE*
naNOX9® Next Gen is the only major nitric oxide pill to feature a powerful dose of beta-alanine, which has been connected to muscle- and strength-building in athletes.* And for a truly unique sensory experience, naNOX9® Next Gen features rhodiola, a powerful adaptogen that has been studied for its benefits to mental and physical fitness.*
---
SCIENTIFICALLY DOSED KEY INGREDIENTS
Unlike the other guys who use an inferior dose of Nitrosigine®, naNOX9® Next Gen features a full, scientifically based dose. This advanced form of arginine inositol silicate is a highly effective form of arginine for increasing serum arginine levels.* In fact, in a scientific study presented at the 2014 Experimental Biology Scientific Meeting, subjects had a significant increase in mean arginine levels in just one hour.* With more arginine in the blood, your body can make more nitric oxide. That's why, in the same study, subjects who supplemented with Nitrosigine® had significant increases in salivary nitrite levels – a key marker of nitric oxide production.* With more nitric oxide, your blood vessels will pulsate with a rush of nutrient-rich blood, which carries oxygen, amino acids and naturally occurring anabolic compounds.* naNOX9 Next Gen also features hawthorn and pomegranate, two ingredients being examined in pre-clinical and emerging studies for their effects on the nitric oxide pathway.*
NANOX9 NEXT GEN IS SUPERIOR TO THE COMPETITION
Quality
Each batch of naNOX9® Next Gen also undergoes strict quality control and is third-party tested and verified to ensure that each bottle meets the highest standards of purity, quality and consistency.
Ratings & Reviews
What's in MuscleTech naNOX9 Next Gen
Serving Size: 4 Caplets

Servings Per Container: 30

Amount Per Serving

% DV

Niacin (as nicotinic acid)

30 mg

150%

VasoPrime™ (N.O.x Maximizer)

Arginine inositol silicate (Nitrosigine®)

1,500 mg

†

Hawthorn (as Crataegus oxyacantha) (fruit)

150 mg

†

Pomegranate

100 mg

†

VasoAMP™ (Performance Matrix)

Beta-Alanine (Carnosyn®)

1,600 mg

†

Brown algae extract (as Ecklonia cava) (stem and leaf)

36 mg

†

NeuroAMP™ (Sensory Matrix)

Choline bitartrate

100 mg

†

Rhodiola extract (as Rhodiola rosea) (root)

100 mg

†

Standardized for salidrosides and rosavins

Eleuthero (as Eleutherococcus senticosus) (root)

100 mg

†

† Daily Value not established.

Other Ingredients:

Microcrystalline Cellulose

, Hydroxypropylcellulose

, Dicalcium Phosphate Dihydrate

, Coating (Titanium Dioxide

, Polyethylene Glycol

, Talc

, FD&C Red No. 40

, FD&C Blue No. 2)

, Magnesium Stearate

, Stearic Acid

, Carboxymethylcellulose Sodium

, Silicon Dioxide

, Acesulfame-Potassium.
Directions For naNOX9 Next Gen: To assess your tolerance, take 2 caplets with water 30 minutes before your workout. Once your tolerance has been assessed, take 4 caplets 30 minutes before your workout. Do not exceed 4 caplets in a 24-hour period. Since naNOX9® Next Gen is stimulant free, it can be stacked with any other MuscleTech® pre-workout. Read the entire label before use and follow directions provided.
Warnings: For adult use only. Do not use if pregnant or nursing. Do not use if you have had a myocardial infarction (heart attack). Do not refrigerate. Consult a medical doctor before starting a diet or exercise program or if you have a medical condition. Some individuals may experience a harmless tingling sensation from the concentrated performance dose of beta-alanine. May cause flushing and itching. KEEP OUT OF REACH OF CHILDREN.
* These statements have not been evaluated by the Food and Drug Administration. This product is not intended to diagnose, treat, cure, or prevent any disease.
---