Magnum Nutraceuticals
Mane Brain
, 60 Capsules
Featuring Lion's Mane Extract to Support Memory, Focus, and Concentration*
Powerful Nootropic to Support Strengthen the Mind-Muscle Connection at the Gym*
Product Overview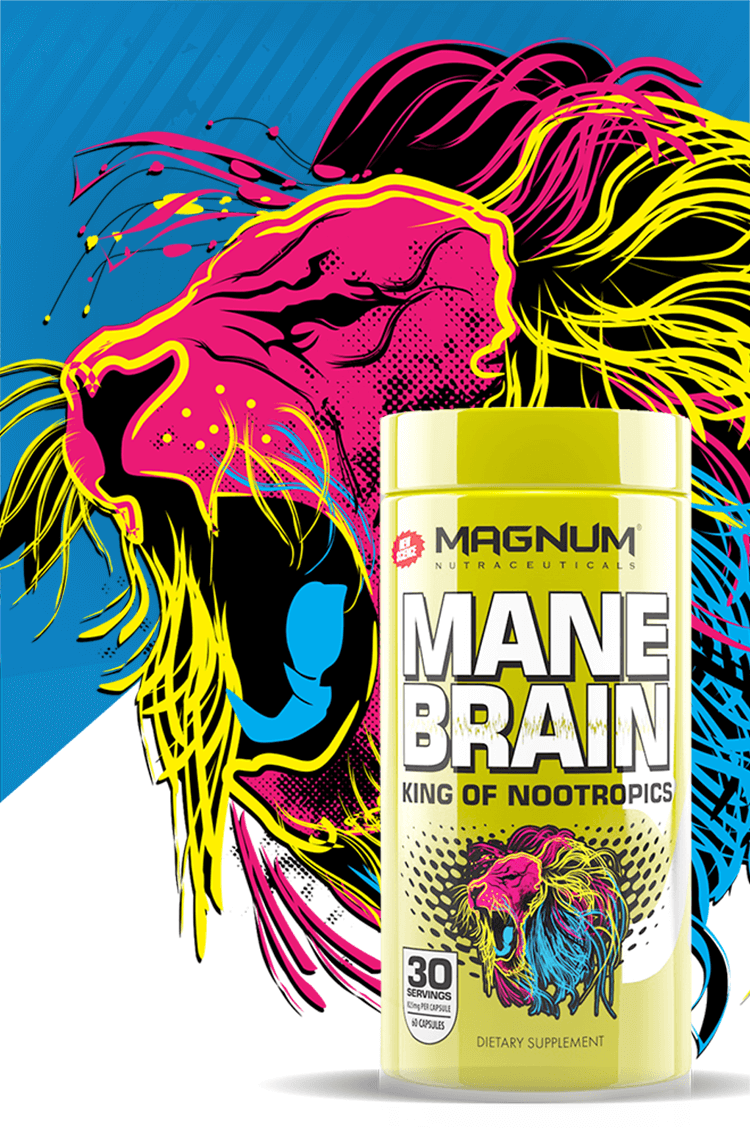 King of Nootropics
"Where are my keys?!" "I had a meeting when?!" "I feel so tired and mentally drained." "Wait, I know who was in that movie! Just give me a minute, it'll come to me. Shoot, I used to know this!" "I just can't seem to get my head into training right now."
Do any of these complaints seem familiar? We've all been there - brain fog, low energy, forgetfulness; but now you can do something about it! MANE BRAIN is formulated to support your brain's ability to process data, and may help you remember more information.* Do yourself a favor today and try MANE BRAIN. You may feel more energized, alert, and focused!*
A great nootropic will:
Strengthen the mind muscle connection at the gym*
Clear mental fog*
Accelerate the speed at which you can retain new information*
Enhance your ability to be more present*
Heighten mental energy and focus*
Increase recollection and memory*
Create a "great mood" state*
Ingredients in MANE BRAIN will support:
Your focus in the gym*
Your memory*
Your mental energy levels*
Your mood*
Why is Magnum MANE BRAIN the best choice for a nootropic product?
It contains high quality ingredients for better, faster results.
MANE BRAIN was formulated to work quickly as well as systematically to support mental clarity over prolonged usage.*
It's encapsulated for maximum absorption – delivering the same effective dose every time you take it, compared to tableted nootropic products.*
University studied and clinically proven ingredients.
The Key Ingredients In Magnum MAIN BRAIN® Are:
Organic Lion's Mane Extract
L-Tyrosine - NALT (N-Acetyl L-Tyrosine)
Alpha GPC (Glycerylphosphorylcholine)
Organic Lion's Mane Extract
One of the key ingredients in MANE BRAIN is Organic Lion's Mane Extract. Lion's Mane is a mushroom and one of nature's most powerful brain foods because it helps stimulate nerve growth factor (NGF) production. NGF is a neuropeptide that helps maintain neurons, which are the cells responsible for helping your brain process and transmit information. So, whether you need to focus better at the gym, study for an exam, game all night, write a paper, or just be more present and clear all day, the neurotrophic benefits of lion's mane mushroom can help.
Not only does Lion's Mane support memory. focus, and concentration, it's also been shown to support gut health and cardiovascular health.* Now that's one awesome mushroom!
L-Tyrosine - NALT
Another key ingredient in MANE BRAIN is the super powered form of L-Tyrosine – NALT (N-Acetyl L-Tyrosine).
NALT is a modified form of the amino acid L-Tyrosine that has better absorption and increased bioavailability. Once this enhanced form of L-Tyrosine is absorbed it's converted into the chemical L-Dopa, which is a precursor for a number of important brain chemicals associated with cognition. One of the most important of those is the neuro-transmitter dopamine, which is closely associated with memory, mental clarity/focus, and mood. L-Tyrosine potentiates the action of other nootropics as well, making it an ideal ingredient for supporting memory and learning capacity.*
In one study done at the University of Bedfordshire in the UK, the effect of L-Tyrosine on cognitive performance was measured before an exercise task.
Working memory reloaded: tyrosine repletes updating in the N-back task.
Researchers recruited 8 soccer players. And had them complete a 90-minute soccer simulation performance test in an environmental chamber set at 77 degrees Fahrenheit.
The soccer players were given either L-Tyrosine before exercise or a placebo. Cognitive performance was measured before the exercise task. Then again at "half-time", following half time, and following the entire simulation.
The cognitive performance task assessed dual-task and vigilance. The outcome revealed that cognitive vigilance (memory), and reaction time among soccer players improved following administration of L-Tyrosine.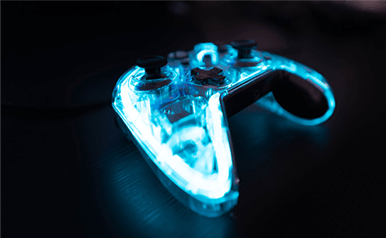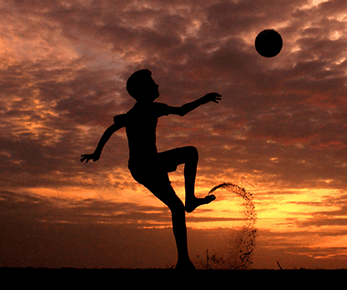 Alpha GPC
Mane Brain also has a clinical dose of Alpha GPC, an excellent source of high-quality choline, which is crucial to cognitive function. Choline is the precursor of the neurotransmitter acetylcholine, the brain chemical most closely associated with learning. By supplementing with Alpha GPC you have an increase in acetylcholine ready to enhance neuroplasticity, resulting in better cognitive function and memory.*
Huperzine A
Huperzine A is a natural plant extract that improves cognitive ability by acting as an acetylcholinesterase inhibitor. By preventing the release of a chemical that degrades and breaks down acetylcholine, the "learning neurotransmitter," Huperzine A has the effect of increasing acetylcholine in the brain and that in turn supports learning, memory, concentration, and focus. It is also believed to act as a neural protectant. It's known to be quite fast acting, crossing the blood brain barrier in as little as 15 minutes and peaking in the system within an hour. Its fast-acting effects make it ideal for situations like exams, study sessions, and high intensity workouts, when an immediate increase in cognitive ability is needed.*
Who Needs Magnum MANE BRAIN?
Anyone that wants to improve their focus and performance in the gym*
Anyone that wants to improve their memory*
Those currently suffering from brain fog*
Men and women who feel scattered or mentally tired*
Anyone that wants to improve their mood*

Magnum MANE BRAIN was formulated with three goals in mind:
To provide you with the strongest & safest natural nootropic available*
To optimize your ability to focus on any task you choose to take on*
To maximize your mental potential and ability to recall important details

Frequently Asked Questions
Are there any products you recommend to take with Magnum MANE BRAIN?
Yes, Magnum MANE BRAIN has been formulated to work synergistically with Magnum PRE-FO, Magnum ROCKET SCIENCE, Magnum OPUS, Magnum PRIMER, Magnum VOLUME, and Magnum DNA. But Magnum MANE BRAIN can also be combined with any of Magnum's products for your own unique stack.
When is the best time to take Magnum MANE BRAIN?
Magnum MANE BRAIN is best taken in the morning or 30 minutes prior to working out. Some amino acids, such as NALT, can compete with other amino acids (found in protein) for absorption, so for optimal results take MANE BRAIN on an empty stomach if possible. Avoid taking MANE BRAIN prior to bed.
How quickly can I expect results from Magnum MANE BRAIN?
MANE BRAIN was formulated specifically so some benefits, such as a boost of mental energy, would be noticed within 30 minutes of taking your very first dose! MANE BRAIN will continue to provide more and more mental performance benefits the longer you remain on it.
Is Magnum MANE BRAIN safe to use with my anti-depressant medication?
This question needs to be answered by your doctor or health care provider. We strongly recommend you consult them prior to usage as MANE BRAIN contains many ingredients that cross your blood-brain barrier and medications can cause these ingredients to perform differently than intended.
Ratings & Reviews
What's in Magnum Nutraceuticals Mane Brain
Serving Size 2 Capsules

Servings Per Container

30

Amount Per Serving

% Daily Value

Organic Lion's Mane (30% polysaccharides, 15% beta-glucan)(Fruit body) 10:1 Extract (equivalent to 5,000mg powdered Lion's Mane)

500 mg

†

N-Acetyl L-Tyrosine

350 mg

†

Alpha-GPC (L-Alpha Glycerylophosphorylcholine)

300 mg

†

Bacopa monnieri (50% Bacosides A&B) 30:1 Extract (equivalent to 9,000mg powdered Bacopa)(Herb parts)

300 mg

†

L-Theanine

200 mg

†

Huperzine Serrata 30:1 Extract 1% (Huperzine A) (equivalent to 6,000mcg powdered Huperzine Serrata) (Whole plant)

200 mcg

†

† Daily Value Not Established

Other Ingredients:

Magnesium Stearate

, Silicon Dioxide

, Microcrystalline Cellulose and Certified Halal

, Kosher Gelatin Caps

, (FD&C Yellow #5

, FD&C Yellow #6)
Directions For Mane Brain: Take 2 capsules daily. Avoid taking at bedtime.
Warnings: Consult a healthcare practitioner prior to use if you are pregnant or breastfeeding, or have liver disease, kidney disease, migraines or a psychiatric or neurologic disorder such as, but not limited to, depression, schizophrenia, seizure disorders, epilepsy, affective disorder, or parkinson's disease. May cause digestive disturbances. Hypersensitivity has been known to occur, in which case, discontinue use. Sealed for your protection. Keep out of reach of children. Store in a cool, dry place.
* These statements have not been evaluated by the Food and Drug Administration. This product is not intended to diagnose, treat, cure, or prevent any disease.
---