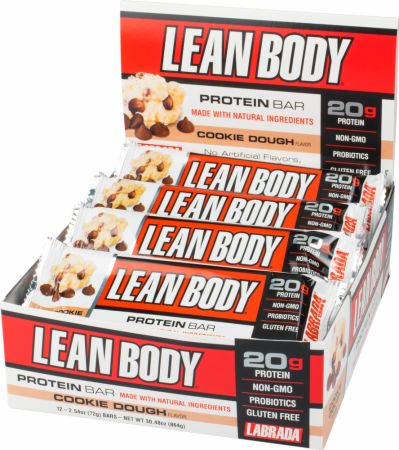 Labrada
Lean Body Protein Bar
Protein Bar Made With Natural And Organic Ingredients
Each Protein Bar Contains 20 Grams Of Protein
Product Overview
LEAN BODY®
PROTEIN BAR
20G PROTEIN
NON-GMO
GLUTEN FREE
PROBIOTICS
DELICIOUS FLAVORS
MADE WITH NATURAL INGREDIENTS
"I always wondered, "What if we could develop a protein bar that was super clean, made with natural and organic ingredients and nothing artificial. A bar that you could eat anytime when you couldn't get your hands on whole foods; a bar that you could eat and still have a clear conscience, knowing you didn't blow your diet?"
It is a great pleasure to introduce the all-new Lean Body protein bar. Check out the ingredients, and the nutrition panel. It's why I call it "The Good for You Protein Bar"™
But don't stop there… Peel one open, and taste it. I hope that you will enjoy the new Lean Body protein bar as much as I do".
Lee Labrada
CEO & Founder of Labrada Nutrition
IFBB Hall of Fame
PEANUT BUTTER CHOCOLATE CHIP
Ratings & Reviews
By clicking the button above, you agree to entering the Bodybuilding.com Reviews section. Products in the Store are not intended to diagnose, treat, cure, or prevent any disease.
A good protein bar that is convenient and has good flavors thus far with a new option also available. I received the two flavors from a promotion in the forums and only incentive was free bar in exchange for honest review. Even though I try to limit whey consumption, due to an allergy, I do enjoy the easy option of a protein bar from time to time and this brand turned out to be something I would definitely consider in the future as an actual purchase. Convenience - Factor one, since it's a protein bar, is really the convenience. Most are but this one has the slight bonus in that one can enjoy it without heating up. Some bars I do like are not in this range of convenience because the particular ones are more edible when softer after a very quick time in the microwave. The Labrada, both flavors, were good enough that I didn't even try them microwaved. This is nice for on the go or on hot days in particular. Flavor - Obviously a big part of the review. I received one cookie dough and one peanut butter chocolate chip. Both were good with each having some similar points, the chocolate bits, and a couple flavor factors specific to their type. Cookie dough does have that bit of vanilla flavor to it that is reminiscent of cookie dough while the pbcc had more of the peanut butter flavor though in general the flavor is on the light side. The bars are not what I'd call chunky and there aren't many chips involved but they also include little rice crisps, which helps give a little variety in the consistency of the bars. Texture wise the bars are chewy with the hints of crisps and few bits of the chocolate added. And sweetness level is on the lower side for my taste buds, but then again I probably eat more sugar than one should on a cut or even maintaining but what can I say? I just have a sweet tooth. The taste, however, also got better as I was eating the bar. First bites weren't quite as impressive but soon got the gist and appreciated the flavors involved. Criticism: I did wish there were a little more of the chips in both bars. I don't need lots of chunks in a protein bar but like the one that in the flavor says chocolate chips, I would have enjoyed a little bit more in the individual bar. Overall rating is 7/10 for me as they aren't what I would call amazing or the best ever. It will be rare anything is a 10, and not common for a 9 from me. However, these did have a good taste and they are something I will buy in the future.
7Peanut Butter Chocolate Chip
7Cookie Dough
These have to be some of the best protein bars I've tried. Having recently discovered "crispy" protein bars, I thought I was done with their chewier counterparts. But I have to say, the texture and taste of these bars were amazing. They weren't overly chewy, but had a smooth consistency, with bits of crunchy pieces mixed throughout the bar. The flavor on the peanut butter chocolate chip was out of this world, and was definitely my preferred flavor of the two, although cookie dough was no slouch either. These bars are very filling, pack a nice 20g of protein, and an astounding 15g of fiber per bar. I would highly recommend these to anyone looking for a delicious, filling, macro-crushing protein bar.
10Peanut Butter Chocolate Chip
9Cookie Dough
My overall opinion is I could see other people liking these a lot, but they weren't a favorite for me. The flavors were pretty good, and I liked the chunky bits. The cookie dough did taste more like a healthy version of cookie dough, which wasn't bad, but wasn't completely cookie dough tasting to me. When I get protein bars it's usually primary as a protein supplement, so I do wish the macros were a little different leaving more room for protein. Usually I go for bars that are approximately 10g per 100cals, so if there was a bit more protein or the overall cals would have been lower, I would have liked that more. Though the carbs, and bit of fat do make for a good meal replacement, or energy bar. It is GMO, gluten, and artificial sweetener free, which isn't a pro or con for me, but objectively there are a lot of people looking for that. Also has probiotics which is a plus. The price is a positive as well, I think $2 a bar for something all natural is pretty good.
8Peanut Butter Chocolate Chip
7Cookie Dough
Very impressed with these bars. I love how they aren't full of artificial sweeteners and they still taste delicious. I really like the consistency of them. They are soft and east to bite into. My favorite part is the little chunks in them! Overall, these are one of my favorite protein bars that I have tried so far.
9Peanut Butter Chocolate Chip
8Cookie Dough
Loved both flavors, solid profile. Cant decide which flavor I liked the best out of the Cookie Dough and PB Choc chip. Both contain chunks of chocolate which is a win, win in my book. suggest you check these out if you are looking for a great tasting bar to help hit your macros.
10Peanut Butter Chocolate Chip
10Cookie Dough
† This price is the retail price for this product found at one or more retail websites in the last 30 days. The price may not include shipping cost, tax, sale or promotional prices, or discounts such as member pricing. Prices may change. Bodybuilding.com verifies this price every 30 days.
12 - 72g Bars
12 Servings | $2.08 Per Serving
What's in Labrada Lean Body Protein Bar
Serving Size 1 Bar (72g)

Servings Per Container 12

Calories

270

Calories From Fat

50

Amount Per Serving

% Daily Value *

Total Fat

6 g

9%

Saturated Fat

3 g

15%

Trans Fat

0 g

Cholesterol

5 mg

0%

Sodium

180 mg

7.5%

Potassium

160 mg

5%

Total Carbohydrate

33 g

11%

Dietary Fiber

15 g

60%

Sugars

4 g

Protein

20 g

40%

Vitamin A

0%

Vitamin C

0%

Calcium

7%

Iron

0%

Ingredients:

PlantSWEET® (Plant Based Soluble Fiber

, Organic Coconut Nectar

, Natural Flavors

, Organic Red-A Stevia)

, SUPERFOOD ENERGY® Protein Blend (Whey Protein Concentrate

, Milk Protein Isolate

, Whey Protein Isolate

, Casein

, Quinoa Powder

, Apple Pectin)

, Organic Glycerin

, Virgin Coconut Oil

, Almond Butter

, Dark Chocolate (Sugar

, Cocoa Liquor

, Cocoa Butter

, Soy Lecithin

, Vanilla)

, Whey Protein Crisps (Whey Protein Concentrate

, Rice Flour)

, Natural Flavors

, SUPERFOOD Gum Blend (Xanthan Gum

, Locust Bean Gum)

, Vitamin E Mixed Tocopherols

, Ancient Sea Salt

, Organic Reb-A Stevia

, Probiotic GanedenBC30 (Organic Inulin

, Bacillus coagulans GBI-30 6086)

Contains Milk, Almonds, Nuts, Soy (Lecithin).

Produced in a facility that utilizes dairy, soy lecithin, peanuts and treenuts.
* These statements have not been evaluated by the Food and Drug Administration. This product is not intended to diagnose, treat, cure, or prevent any disease.
---