Product Overview
Jamie Eason
Live Fit Combo
Healthy, natural nutrition plays a major part in helping you get leaner, healthier and more toned. I teamed up with Lee Labrada and the LABRADA NUTRITION team to develop my exclusive line of natural nutritional supplements for women.
My philosophy is to keep it simple, as natural as possible, and delicious. Try my Jamie Eason natural women's supplement stack today. It's what I use to stay in great shape… and now you can use the same products too!
Whey Protein Isolate
My Whey Protein Isolate shake not only tastes incredibly delicious, it's made with wholesome, natural ingredients. My philosophy is to keep it simple, as natural as possible, and delicious. Use Lean Body for Her® whey protein isolate as an excellent source of highly bio-available protein to recover and build lean muscle, support your immune system, and enjoy greater health.*" – Jamie Eason
25g of high-quality protein
3g of fat
Non-GMO
No artificial flavors, colors, preservatives, or sweeteners
No gluten or lactose
Learn More
Multi-Vitamin
Specifically formulated for women
100% Natural food based
Gentle on the stomach*
Veggie complex with digestive support*
Learn More
Anti-Bloat
Helps reduce exress water weight*
Acts as a natural cleansing formula*
Helps you feel more energized*
Easy on your system*
Learn More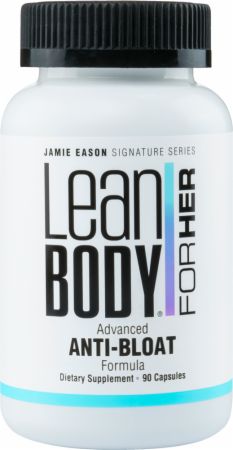 Krill Oil
Natural support for a healthy cardiovascular system*
Bolsters immunity*
Supports healthy brain function and nervous sysetm*
Provides joint support*
Learn More
Ratings & Reviews
Directions for Jamie Eason's Live Fit Combo:
Follow the directions on the products' label.
Warnings: Read the warnings on the products' label.
* These statements have not been evaluated by the Food and Drug Administration. This product is not intended to diagnose, treat, cure, or prevent any disease.