Kaged Muscle
Citrulline
, 200 Grams Unflavored
MICROPURE Citrulline, 200 Grams
100% Pure, Vegetable Fermentation, GRAS Approved, NO Fillers
Product Overview
FERMACEUTICAL™ GRADE
L–Citrulline is an amino acid that has been found to play an important role in nitric oxide (NO) metabolism and regulation. L-Citrulline is converted to L-Arginine in the body, leading to increases in both L-Arginine and nitric oxide. Increased production of nitric oxide promotes vascular dilation, which helps support normal oxygen and blood circulation throughout the body.*
Pharmacokinetic Advantages
The advantage of L-Citrulline is that it is not subject to any elimination by the liver prior to entering the bloodstream. Conversely, L-Arginine is subject to extensive elimination by the gut wall and liver.
The majority of L-Citrulline is converted to L-Arginine in the kidney.
Once in circulation, L-Arginine is readily converted into L-Citrulline and nitric oxide, which in turn serves as an L-Arginine precursor (see figure below).
conversion from
arg (L-arginine) to cit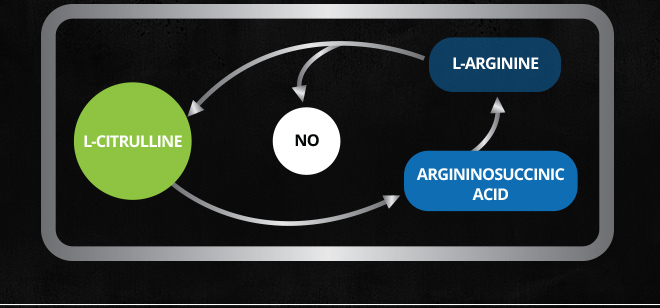 absorption of l-arginine and l-citrulline
Inside intestinal tract
Consumed in the urea cycle and in biosynthesis of other substances in liver
Reaches kidney through liver, biosynthesis of ARG in Kidney (75%)
ARG supplied to the whole body
*CIT ingestion enables effective supply of ARG to the whole body
roles of cit in the body
Influences on blood vessels: Actions via NO production, vasodilation, blood flow acceleration*
Ammonia detoxification: Action as a component of the L-ornithine cycle*
Antioxidant effect: An active oxygen radical scavenger (potent quencher of hydroxyl radical)*
** Citrulline Malate is mixed 1:1 (Malic Acid + L-Citrulline. basically, THE L-Citrulline is cut in half!
*** Most brands use Citrulline Malate 1:1 ratio due to cost (cheap) – 50% less per kg than pure L-Citrulline.
benefits of kaged muscle l-citrulline
fermentation derived vs synthetic
gras approved
dare to compare
our bcaas to the competition
Ratings & Reviews
What's in Kaged Muscle Citrulline
200 Grams

Unflavored

Serving Size: 2 g (approximately 1 heaping scoop)

Servings Per Container: 100

Amount Per Serving

% Daily Value

L-Citrulline (fermented)

2 g

†

† Daily Percent Value not estalbished

Other Ingredients:

None
Directions For Citrulline: As a dietary supplement, mix 1 scoop in your favorite beverage or protein shake twice daily.
Warnings: Consult your physician prior to using this product if you are pregnant, nursing, under 18 years of age, taking medication or have a medical condition. Immediately discontinue use and contact your physician if any adverse reactions occur. Keep out of reach of children. Store in a cool dry place away from excessive heat. Contents may settle during shipping. Sold by weight, not volume.
* These statements have not been evaluated by the Food and Drug Administration. This product is not intended to diagnose, treat, cure, or prevent any disease.
---