FUSION BODYBUILDING
Micro-Dry
, 36 Caplets
Caplet Designed for Contest Prep*
Diuretic Designed To Support Your Body Rid Excess Water*
Product Overview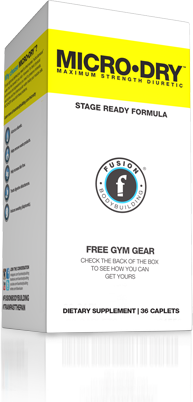 carl cheung
Canadian bodybuilder
STAGE-READY
The final stretch is here. After weeks of pouring your heart and soul into your contest prep, you're down to the final four days. You've done everything you could to get to this point, but now isn't the time to start coasting. The next few days will be critical, with every little detail counting towards your end goal. Because you know, your audience knows, and the judges certainly know: It's all about being your driest when you step onstage. When the difference between winning and losing comes down to millimetres, you need MICRO DRY™.*
THE SCIENCE BEHIND micro•dry
A Powerful Solution Supporting Your Goals.*
MICRO•DRY is a natural – yet incredibly powerful – diuretic that supports your body to help rid it of excess salt (sodium) and water.*
Proprietary Complexes Make MICRO•DRY One of a Kind
MICRO•DRY's THIN SKIN Complex contains a variety of natural ingredients including burdock root – a plant native to Europe and North Asia, Dandelion leaf - which also acts as a diuretic, Juniper fruit and Vitamin C.
The ANTI-CRAMPING Complex is just as essential to peak athletic performance. Magnesium, for example, helps promote strong bones, a strong skeletal system, a healthy metabolism, and more energy.* While some magnesium is naturally found in the body, supplementation is crucial since most of us aren't getting enough magnesium through our daily diet. The ANTI-CRAMPING Complex also contains potassium, which works with sodium to control the fluid in your cells.* With the help of magnesium, potassium is pushed into your cells and sodium is pushed out of your cells, helping to maintain a proper electrolyte balance and giving you the dry look you want.*
How does MICRO•DRY work?
MICRO•DRY is a natural – yet incredibly powerful – diuretic that supports your body to help rid it of excess salt (sodium) and water.*
Who should use MICRO•DRY?
MICRO•DRY has been formulated with competitive bodybuilders in mind, simply because of the high stakes associated with stepping onstage. After many weeks (usually 8 to 16) of grueling training and relentless dieting, it all comes down to how hard and defined a bodybuilder looks in front of the judges. Sure, size and shape are important. But someone who shows up soft or bloated won't stand a chance against someone who's hard and dry to the bone.*
I'm not a competitive bodybuilder. Can I still use MICRO•DRY?
Absolutely. While MICRO•DRY has been designed to meet the incredibly high demands of competitive bodybuilders, we recognize that not all bodybuilders will choose to compete. Some live the lifestyle because they want to continually better themselves, not because they're in it to win. Other athletes from different sports altogether – such as boxing, mixed martial arts, etc. – can also benefit from MICRO•DRY.* At the end of the day, it's not about what sport you play or what level you're at. It's about how shredded you want to become. MICRO•DRY is for anyone who wants to get rid of bloating, experience insane muscle definition and look his or her absolute tightest.* It's as simple as that.
What kind of events can MICRO•DRY help me prep for?
Along with bodybuilding shows and other sporting events, there are a ton of special "everyday" events where you can benefit from using MICRO•DRY.* Got a beach trip coming up? A wedding or party you want to look great at? A photo shoot you want to nail? These are just a few instances where MICRO•DRY can give you the extra edge you need in looking your best.*
Can MICRO•DRY help me lose fat?
Proper diet and exercise can do that. MICRO•DRY shouldn't be used as a method of permanent fat loss. If you're looking for a powerful, scientifically advanced fat burner, check out SUB-Q® instead.*
How do I take MICRO•DRY?
Healthy adults should take three caplets daily, or as directed by a health care practitioner. As advised with all of our supplements, make sure to read the entire label before use.
To all of us at FUSION BODYBUILDING, you're a Very Important Person. We want to thank you for making us part of your obsession. That's why we're giving you some free stuff. After all, we know that as a bodybuilder you pay and pay for every little gain. So it feels good to get something free every once in a while. On every FUSION BODYBUILDING supplement you will find a proof of purchase (the barcode) Simply collect and submit them to get your favorite FUSION BODYBUILDING gear.
TOWARDS FUSION BODYBUILDING GEAR.
Details on the product display carton.
Ratings & Reviews
What's in FUSION BODYBUILDING Micro-Dry
Serving Size: 3 Bullet Caplets

Servings Per Container: 12

Amount Per Serving

% Daily Value

Vitamin C (ascorbic acid)

500 mg

833%

Magnesium (magnesium citrate)

100 mg

25%

Potassium (potassium phosphate-dibasic)

100 mg

3%

Burdock (Arctium lappa) root 5:1 extract

1.2 g

†

Dandelion, leaf 4:1 extract (Taraxacum officinale)

1.2 g

†

Juniper, fruit 4:1 extract (Juniperus communis)

300 mg

†

† Daily Value Not Established

Other ingredients:

Croscarmellose sodium

, hypromellose

, magnesium stearate

, microcrystalline cellulose

, silicon dioxide

, polyvinyl alcohol

, macrogel/PEG

, titanium dioxide

, talc

, FD&C yellow #5 aluminum lake
Directions For Micro-Dry: Take 3 caplets daily in a single dose starting 4 days prior to event.
Warnings: Consult a health care practitioner prior to use if you are breast-feeding or if you have diabetes, liver or gallbladder diseases, and/or intestinal obstruction. If you are taking any other medications or natural health products, consult a health care practitioner prior to use. Do not use if you are pregnant or if you have a kidney disorder. Do not use if you are allergic to plants of the Asteraceae/Compositae/Daisy family. Hypersensitivity/allergy is known to occur, in which case, discontinue use. If symptoms persist or worsen, consult a health care practitioner. For occasional use only. If safety seal is broken or missing, do not use.
* These statements have not been evaluated by the Food and Drug Administration. This product is not intended to diagnose, treat, cure, or prevent any disease.
---