FlapJacked
Protein Pancake Mix
, 12 Oz. Buttermilk
Whey Protein Isolate Pancakes To Help Build Muscle
No Artificial Colors, Flavors or Additives for A Great Natural Taste!
Product Overview
BUTTERMILK PANCAKE & BAKING MIX
Whole oats, sweet cream buttermilk and coconut flour provide a mild buttery and slightly sweet, vanilla flavor in this mix. We fortify our products with Whey Protein Isolate and Pea Protein for a complete meal that keeps you feeling full. With only 200 calories per serving, our Buttermilk Mix modestly packs 20 grams of protein and 5 grams of fiber in each serving.
BANANA HAZELNUT PANCAKE & BAKING MIX
Made with whole oats and sweetened with banana, this pancake is loaded with potassium and fiber. Hazelnuts add healthy fats and are a rich source of potassium. With only 200 calories per serving, our Banana Hazelnut Mix is sweet and nutty with a mild banana flavor while modestly packing 20 grams of protein and 4 grams of fiber in each serving.
CINNAMON APPLE PANCAKE & BAKING MIX
Made using real apples, whole oats and coconut flour, these delicious protein pancakes are light and fluffy yet loaded with the flavors of cinnamon and apples. Each serving contains ½ teaspoon of cinnamon to help support blood sugar already in normal range* With only 200 calories, our Cinnamon Apple Mix packs a hearty 20 grams of protein and 5 grams of fiber in each serving.
CARROT SPICE PANCAKE & BAKING MIX
Made with whole oats and sweetened with carrot juice, spices and monk fruit, this pancake is bursting with flavor. We've fortified this fluffy flapjack with whey protein isolate, pea protein and packed it with real carrots for an extra bite. With only 200 calories per serving, our Carrot Spice Mix has a sweet, robust flavor while modestly packing 20 grams of protein and 5 grams of fiber in each serving.
HIGHER PROTEIN
Don't be fooled by serving size. Do the math, FlapJacked is the highest protein level per gram than any other pancake & baking mix on the market.
WHEY PROTEIN ISOLATE & PEA PROTEIN ISOLATE
We're giving you the best of both worlds while being gentle on your gut. We use a perfect blend of WPI and PPI that is gentler on your digestive system, provides a complete protein with no compromise on taste.
SWEETENED WITH FRUITS & VEGGIES
Lightly sweeten with fruits and veggies to give our mixes maximum flavor. We never use added sugar, artificial sweeteners, or artificial anything.
HOW MUCH IS A SERVING?
One serving is 53 grams (1/2 cup of dry mix). Once mixed with water or liquid of your choice, one serving will make approximately three 4" pancakes depending on how much water you use.
WHAT PROTEIN SOURCE DO YOU USE?
We proudly use whey protein isolate exceeding 92 percent protein, with very little lactose and fat. Whey is one of the purest and most efficacious forms of protein that is very quickly absorbed into the body and has a high concentration of branched-chain amino acids (BCAAs). We also use a non-GMO pea protein isolate containing 80 percent protein that is lactose-free, low in fat, high in BCAAs and easily digestible.
WHERE ARE YOUR PRODUCTS MADE?
Our products are proudly made in the USA, using 99% American ingredients. They are handcrafted and developed by a family owned business in Colorado.
ARE FLAPJACKED MIXES NON-GMO and GLUTEN-FREE?
All of our mixes are non-GMO (do not contain any genetically modified organisms). However, while we only use ingredients that naturally do not contain gluten, FlapJacked Pancake & Baking Mixes are not certified gluten-free.
WHAT OTHER INGREDIENTS DO I NEED?
Our mixes were designed not only for great nutrition but also for convenience. All you need is water and a griddle. You can use milk or any liquid of choice. Our favorite alternatives are almond milk or club soda.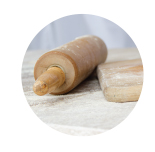 CAN I USE FLAPJACKED TO MAKE WAFFLES?
Yes, you can make waffles! We suggest you add an egg in place of some of the water and decrease the amount of liquid overall. (You also add 5g protein!) See instructions on the back of the package.
CAN I USE FLAPJACKED FOR BAKING?
Yes, you can substitute your basic flours for FlapJacked in most recipes. FlapJacked has developed many recipes from doughnuts, banana bread and cookies to casseroles and pizza crust!
Ratings & Reviews
What's in FlapJacked Protein Pancake Mix
12 Oz.

Buttermilk

Serving Size: 1/2 Cup (53g)

Servings Per Container 6

Amount Per Serving

Calories

200

Calories from Fat

30

% Daily Value *

Total Fat

3.5 g

5%

Saturated Fat

1.5 g

8%

Trans Fat

0 g

Cholesterol

5 mg

2%

Sodium

350 mg

15%

Total Carbohydrate

23 g

8%

Dietary Fiber

5 g

20%

Sugars

6 g

Protein

20 g

40%

Vitamin A

0%

Vitamin C

0%

Calcium

20%

Iron

8%

* Percent Daily Values are based on a 2,000 calorie diet. Your daily values may be higher or lower depending on your calorie needs

Ingredients:

Whole Oat Flour

, Buttermilk (MILK)

, Whey Protein Isolate (Whey Protein Isolate

, Soy Lecithin)

, Pea Protein

, Organic Coconut Flour

, Natural Flavor

, Baking Soda

, Baking Powder

, (Monocalcium Phosphate

, Sodium Bicarbonate

, Non-GMO Corn Starch)

, Salt

, Xanthan Gum

, Stevia Extract.
Directions For Protein Pancake Mix:
WHISK 1/2 cup mix (1 serving) with 1/3 cup cold water until well blended. Let sit for 3 minutes while griddle warms up. Batter thickens as it sits.
HEAT griddle to low heat (285-295 degrees F).
POUR batter into 3-4 four inch pancakes on lightly greased pre-heated griddle.
COOK until no more bubbles are forming in the center and edges look dry (about 3 minutes). Flip and cook until golden brown.
FOR THINNER PANCAKES: Add 1-2 tablespoons of water until a desired consistency is reached.
FLAVORFUL SUGGESTIONS: Add 1-2 tablespoons of mix-ins to the batter such as chocolate chips, fruit or nuts and cook as directed above.
* These statements have not been evaluated by the Food and Drug Administration. This product is not intended to diagnose, treat, cure, or prevent any disease.
---