EVLUTION NUTRITION
Probiotic
, 60 Veggie Capsules
Probiotic Formula for Digestive Support and Maintaining a Healthy Immune System*
Formulated to Support Digestive and Immune Health*
Product Overview


40 BILLION CFU OF CLINICALLY VALIDATED STRAINS

40 BILLION
CFU

DIGESTIVE
HEALTH*

IMMUNE
HEALTH*

4 PROBIOTIC
STRAINS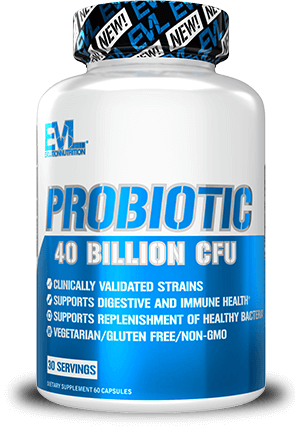 ADVANCED STRENGTH FOR DIGESTION* + IMMUNE HEALTH*
PROBIOTIC 40 BIL CFU
Evlution Nutrition®'s 40 Billion CFU PROBIOTIC combines the most powerful probiotic strains to help restore good bacteria in your digestive system and support a healthy immune system. The 40 billion CFU of shelf stable probiotics restores healthy gut flora to naturally help your stomach stay in balance. Plus, Evlution Nutrition®'s PROBIOTIC ingredients are tested to ensure purity, made in an FDA registered and inspected, and GMP certified facility to produce at the highest quality standards.*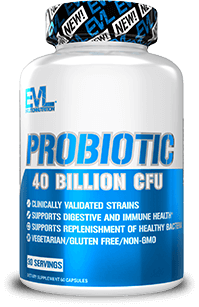 Boost Healthy Bacteria in the Digestive Tract*
4 Powerful Probiotic Strains
Immunity Support*
Made with Highest Quality Ingredients that Pass a Strict Supplier Audti Process
Made in an FDA Registered and Inspected Plant that is Certified for Good Manufacturing Practices
No Refrigeration Needed
Vegetarian Friendly

BETTER DIGESTION FOR BETTER BODIES*
Evlution Nutrition®'s 40 Billion CFU PROBIOTIC's formula is designed to support healthy bodily function, higher good bacteria levels for digestive support and immune health, and can be used by anyone from those just getting into fitness to competitive athletes*. Evlution Nutrition® PROBIOTIC's full spectrum formula helps your digestion stay in balance and supports your immunity and health goals.*
40 Billion CFU
Lactobacillus Acidophilus
Lactobacillus Plantarum
Baciullus Coagulans
Bifidobacterium Lactis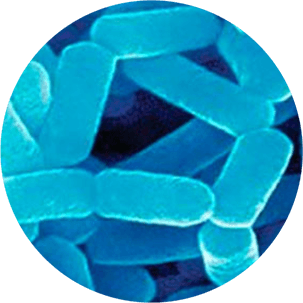 LACTOBACILLUS ACIDOPHILUS
Breaks down sugar into lactic acid in the small intestine. Can support healthy cholesterol and improve the overall health of your gut.*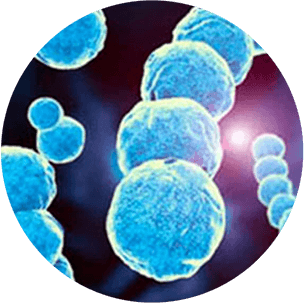 LACTOBACILLUS PLANTARUM
Beneficial bacteria that helps the digestive system and supports gut health to aid in vitamin absorption.*
BACCILUS COAGULANS
Unique PRODURA® probiotic strain that's shelf stable and protected by its natural spore coating that allows it to survive the stomach acids and be activated in the gastrointestinal tract where it can be most effective. Bacillus Coagulans supports the immune system, digestive system, and a balanced gut.*
BIFIDOBACTERIUM LACTIS
Supports healthy digestion and immune function, supports a healthy intestinal environment, and promotes a healthy response to exercise.*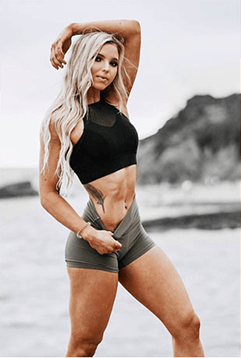 SUPERIOR DIGESTION* + IMMUNITY SUPPORT*
Elevate the number of beneficial Bifidobacteria and Lactobacilli in the gut, while also reducing harmful bacteria.*
Improve gut health, defend against the symptoms of digestive distress, and support a stronger intestinal barrier and absorption of nutrients from food.*
Boost the immune system health which may help the body stay healthy even through tough times.*

SOY-FREE

GLUTEN-FREE

DAIRY-FREE

NON-GMO

VEGETARIAN
MADE IN THE USA

CERTIFIED GMP
Ratings & Reviews
What's in EVLUTION NUTRITION Probiotic
60 Veggie Capsules

Serving Size 2 Veggie Capsules

Servings Per Container

30

Amount Per Serving

%DV

Proprietary Blend 40 billion CFU

†

Lactobacillus acidophilus, Lactobacillus plantarum, Baciullus coagulans (as ProDura®), Bifidobacterium Lactis

† Daily value (DV) not established

Other Ingredients:

Microcrystalline Cellulose

, Hypromellose (Veggie Capsule)

, Magnesium Stearate

, Silica
Directions For Probiotic: As a dietary supplement, take 1 serving (2 capsules) daily or use as directed by a physician or licensed nutritionist.
Warnings: Not for use by those with pre-existing medical conditions; those taking any medications or those under the age of 18. Keep out of reach of children and pets.
* These statements have not been evaluated by the Food and Drug Administration. This product is not intended to diagnose, treat, cure, or prevent any disease.
---