EFX Sports
Lyzme 5
, 90 Capsules
Stimulant based fat burning capsules to support weight loss*
Featuring Lyzme 5 ® to help metabolize lipids, taurine, caffeine theobromine & cayenne, each batch tested for purity*
Product Overview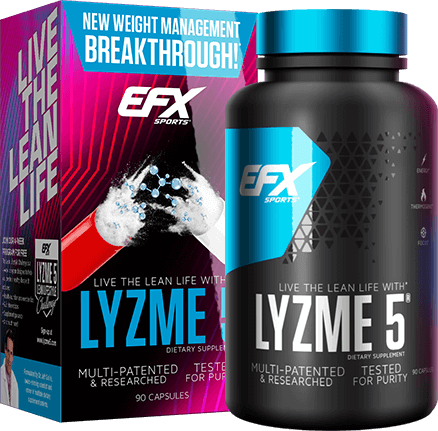 Discover more about all new weight management breakthrough Lyzme® 5
Not Just Another Fat Burner or Weight-Loss Formula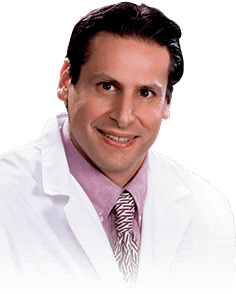 Formulated by Dr. Jeff Golini, award-winning scientist and owner of multiple dietary supplement patents.
"Lyzme® 5 is my best invention yet."

Fat Loss Support*
Energy*
Multi-Patented*
Tested For Purity*
Introducing The "Lipid Metabolizer"
Most weight management products rely heavily on thermogenic agents and stimulants to give the desired effects.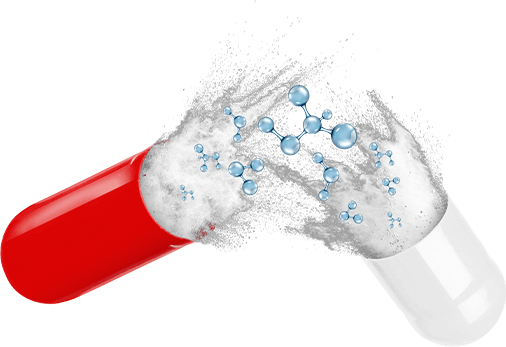 There Isn't A Magic Pill, But Thankfully There Is Lyzme 5
There isn't a magic pill for losing weight. That's why the lifestyle we advocate includes Lyzme 5®, plus healthy food choices and regular exercise. This combination represents the foundation of Live The Lean Life With Lyzme 5®.*
At EFX Sports® our mission is to develop innovative, responsible formulas that help athletes safely and legally reach their full potential. We ensure this by controlling from start-to-finish the complete manufacturing and testing process of every product, every time.
Our Executive Scientist and CEO, Dr. Jeff Golini Ph.D, is holder of multiple dietary supplement patents and patents-pending. Some of his more popular innovations include Kre-Alkalyn®, Karbolyn®, and the all-new Lyzme5® fat-burner.
Every Batch Of Every Product Produced By EFX Sports® Is Tested For Purity and Potency
Ingredients either Pass or Fail...and a 'Fail' is rejected and shipped back.
When you invest in EFX Sports products, you are putting your faith in the efficacy and purity of our ingredients, and the integrity of our brand. That's why we NEVER take that trust for granted.
From dock-to-dock, we own every phase and process to ensure that what's on the label is what's in the bottle... without question.

Phase 1 Testing
Incoming Raw Material Testing
Raw Material Identity
Purity
Heavy Metals
Microbial
Pathogens
Drug Screen for banned steroidal substances
Phase 2 Testing
During Production Testing
Cleanliness of equipment
Check mix for correct raw ingredients
Purity check to label claims
Phase 3 Testing
Finished Product Testing
Identity check of Finished Product
Purity for label claim
Microbial check
Pathogens check
Allergens in Finished Product
Heavy Metals check
Drug Screen check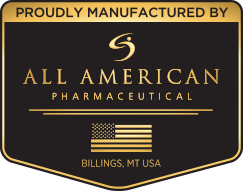 Ratings & Reviews
What's in EFX Sports Lyzme 5
Serving Size 3 Capsules

Servings Per Container

30

Amount Per Serving

% Daily Value

Lyzme 5®

1,000 mg

†

(trimethylammonium-methyl-glycine-methionine with nicotinic acid & folate)(Niacin)

50%

(Folic Acid)

20%

Taurine

350 mg

†

Caffeine

280 mg

†

L-Tyrosine

250 mg

†

Theobromine

160 mg

†

Beta Sitosterol Complex

70 mg

†

Cayenne (Capsicum annuum) powder (fruit)

30 mg

†

White Willow (Salix alba) extract (bark) (Standardized to 15% Salicin & Esters)

35 mg

†

Hesperidin Complex

25 mg

†

Ginger (Zingiber officinale) powder (rhizome)

25 mg

†

† Daily Value not established

Other Ingredients:

Capsule (Gelatin

, FD&C Red #40

, Titanium Dioxide)

, Magnesium Stearate

, Silicon Dioxide

, and Maltodextrin.
Directions For Lyzme 5: As a dietary supplement take three (3) capsules in the A.M., or 30 minutes before exercise
Warnings: This product contains caffeine and methylxanthines. In certain people, consumption of caffeine causes serious health effects, such as anxiety, palpitations, irritability, difficulty sleeping and stomach distress. Do not exceed recommended daily dose. Do not use this product if you are pregnant or nursing. For healthy adults 18 and over.
STORAGE: Keep lid tightly closed in a cool, dry place away from children.
* These statements have not been evaluated by the Food and Drug Administration. This product is not intended to diagnose, treat, cure, or prevent any disease.
---