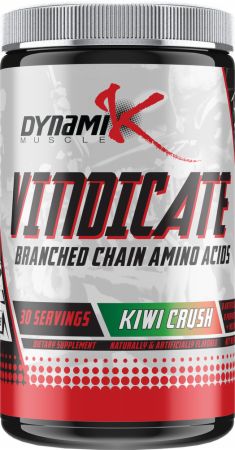 Dynamik Muscle
Vindicate
BCAA For Supporting Muscle Growth*
Also Includes Advanced Multivitamin Formula
Product Overview
Warning:

Advanced Formula
Branched Chained Amino Acids
Vindicate is your multi-purpose energy, strength, and recovery supplement.* Whether you're adding it to your water to drink throughout the day or taking it before, during, and after your workout you are insuring that your bases are covered for peak and optimal growth and recovery.* Vindicate is packed with multivitamins and BCAA's which are essential to health, muscle growth, endurance, and strength.*
Advanced Multivitamin Formula
Most of us are lacking somewhere in our diet. If it's not fruits and vegetables it's another micronutrient which could be robbing you of your gains. Don't let another day or week go by without maximizing your efforts in and out of the gym. Vindicate will eliminate the second guessing on your health and performance.
Increases Endurance
Do you ever wonder why a workout can start to feel hard after 30 minutes on one day, but easy on another? The answer almost always lays with your nutrition and hydration. By taking advantage of the all-day activation of Vindicate you are all but destroying the likelihood of tiring out mid-workout or even mid-day while at work or taking care of your family. Always be prepared.
Magnify Your Gains
You can either get to your goals in a month or a year, that's up to you. Most of us like to do it sooner rather than later.
Helps Reduce Soreness
By having an abundance of Branched Chain Amino Acids in the blood stream you are constantly feeding the muscle.* From top pro bodybuilders to new trainees in the gym, we all get sore after a workout. But for how long is truly dependent on how we treat our body in the minutes, hours, and days following. You can greatly reduce the pain and soreness inside the muscle by supplementing with Vindicate.* A saturation of BCAA's and vitamins will significantly reduce delayed onset muscle soreness (DOMS).*
Ratings & Reviews
Order & Save 50%
30 Servings
$1.33 Per Serving
What's in Dynamik Muscle Vindicate
Serving Size: 1 Rounded Scoop (8g)

Servings Per Container:

30

Amount Per Serving

%DV

Vitamin C (as Ascorbic Acid)

60 mg

100%*

Vitamin D3 (as Cholecalciferol)

400 IU

100%*

Vitamin E (as Tocopheryl Acetate)

30 IU

100%*

Vitamin K (as Phytonadione)

80 mcg

100%*

Thiamine (as Thiamine Mononitrate)

1.5 mg

100%*

Riboflavin (as Vitamin B2)

1.7 mg

100%*

Niacin (as Niacinamide)

20 mg

100%*

Vitamin B6 (as Pyridoxine Hydrochloride)

2 mg

100%*

Vitamin B12 (as Methylcobalamin)

6 mcg

100%*

Biotin

300 mcg

100%*

Pantothenic Acid (as d-Calcium Pantothenate)

10 mg

100%*

Magnesium

20 mg

5%*

Sodium

50 mg

2%*

L-Leucine

2.5 g

**

L-Isoleucine

1.25 g

**

L-Valine

1.25 g

**

L-Carnitine-L-Tartrate

1 g

**

L-Glutamine

1 g

**

* Percent Daily Values (DV) are based on a 2,000 calorie diet.

** Daily Value (DV) not established.

Other Ingredients:

Malic Acid

, Citric Acid

, Maltodextrin

, Erythiritol

, Natural & Artificial Flavors

, Silicon Dioxide.
Directions For Vindicate:
For an Amino Acid Boost: Consume one (1) scoop with 8oz of water first thing in the morning and/or between meals.
For Post-Workout Recovery: Take one (1) scoop with 8oz of water immediately after training.
Store in a cool, dry place away from light.
Warnings: KEEP OUT OF REACH OF CHILDREN. This product is intended to be consumed by healthy adults 21 years of age or older. This product is not intended as a sole source of nutrition and should be consumed in conjunction with an appropriate physical training or exercise program. This product is not intended to treat or cure any disease. Before using this product, seek advice from your pharmacist or physician.
* These statements have not been evaluated by the Food and Drug Administration. This product is not intended to diagnose, treat, cure, or prevent any disease.
---