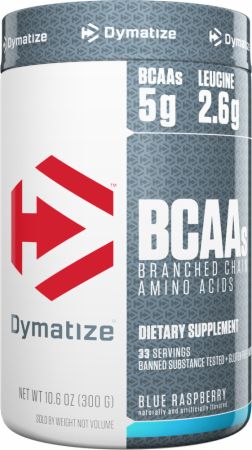 Dymatize
BCAA Complex 5050
Branched Chain Amino Acids!
100% Pure Grade For Maximum Strength & Absorption!*
Product Overview
Dymatize BCAA Complex 5050 is a maximum strength formula designed to provide a 5,050 mg complex of the pure free form amino acids L-Valine, L-Leuceine and L-Isoleucine in every serving. These three protein-sparing amino acids are known as the branched chain. The Branched Chain Amino Acids (BCAA's) got their name because of their unique branched chemical structure. All Branched Chain Amino Acids are essential amino acids, defined as, the body cannot make them from other compounds, they must be consumed in the diet.
It is a well known fact that amino acids are responsible for protein synthesis, hence the nickname "building blocks." In recent times, these BCAA's have been investigated for their potential anitcatabolic (preventing muscle breakdown) and anabolic (muscle building) effects.* Investigative studies have suggested BCAA's are an important component for effective muscle growth, muscle energy and recuperation.*
Ratings & Reviews
By clicking the button above, you agree to entering the Bodybuilding.com Reviews section. Products in the Store are not intended to diagnose, treat, cure, or prevent any disease.
I juste received it yesterday with my balanced hydratation to add some flavor and electrolyte to the bcaa for using as intra workout. First, they seem having change the label, no more ajipure logo to show they use fermented amino acid. I'm waiting a reply from dymatize to know if they use fermented or no more. The product itself is very clean, smell nothing, white fine clean powder. For now I used it with my hydratation product, so the taste was not bitter. no probleme with dissolution, mix with my shaker, few shake and everything was disapear with NO FOAM on the top. Give me good endurance during my workout. It's a good product and great value for the price ! UPDATE : I have try it with nothing to add taste.. and like it smell, it taste NOTHING ! nothing discusting or bitter. remember that i use a 24oz watter shaker. Perfect Product !
Very good taste. I offer this flavor over the lime flavor. Easy to sip on through out the day.

Great value but won't mix with a spoon, have to use shaker
Too many reviews discussing the "flavor" of an unflavored powder. This product works. End of story. If you're looking for cost-effective BCAAs in good protions, look no further. I'm an aspiring natural body builder, and when you can't rely on steroids or HGH to get the gains, you look to the stuff that works - BCAAs and by the buckets. This will amplify your protein synthesis and it will taste like chalk. Guaranteed. Take a scoop with every meal, every protein shake and during your workout - if you don't see results, that's on you.
Great product, you can see the results within weeks. The bad thing about this BCAAs is the taste. It tastes pretty bad, would prefer some flavored version. But the bright side is that you are going to see the results, wait and see.
Very solid BCAA product here! Great ingredient list, good doses of the essential amino acids, with no unnecessary filler which is nice to see. I loved using this product intra workout, definitely a nice refreshing product to drink during workouts. The blue raspberry flavor is great too! Not too overpowering or tart like others which is great too. Overall a solid BCAA product!

Very good product. Great taste. Awesome chocolate flavour. Dissolves pretty easy. Versatile to use. Worth the money!

One of my fastest weight gain product, Thanks

As i have got this and not yet completely used.Eventhough my observations are taste s very good mixability s awesome consuming the shake with proper diet and workout daily surely shows a good result. interest to do these things s esssential.thats it
Use it during and after workouts. Mixes well in the shaker with no aftertaste. I recommend it and am going to be trying more flavors
† This price is the retail price for this product found at one or more retail websites in the last 30 days. The price may not include shipping cost, tax, sale or promotional prices, or discounts such as member pricing. Prices may change. Bodybuilding.com verifies this price every 30 days.
300 Grams
33 Servings | $0.60 Per Serving
What's in Dymatize BCAA Complex 5050
Serving Size: 1 Scoop (9g)

Servings Per Container:

33

Amount Per Serving

% DV

L-Leucine

2.53 g

*

L-Isoleucine

1.26 g

*

L-Valine

1.26 g

*

* Daily Value not established.

Other Ingredients:

Erythritol

, Citric Acid

, Natural and Artificial Flavors

, Malic Acid

, Spirulina Blue Extract Powder (Color)

, Sucralose

, Acesulfame Potassium

, Soy Lecithin.

Contains: Soy.
Directions For BCAA Complex 5050: As a fast acting, easily digested Branch Chain Amino Acid dietary supplement, Mix 1 rounded teaspoon with your favorite liquid beverage, protein shake or meal replacement.
Consume 1-3 servings daily with or before each meal. For best results, use as part of a low-fat diet and exercise program and consume extra water whenever training.
* These statements have not been evaluated by the Food and Drug Administration. This product is not intended to diagnose, treat, cure, or prevent any disease.
---