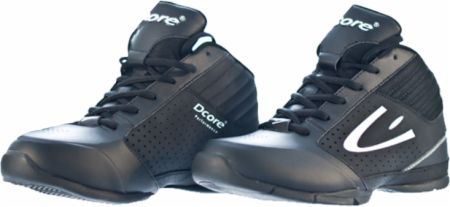 Dcore
Performance Fitness Shoe
, Black 8.5
Stable And Supportive!
Designed For High Performance And Heavy Lifts!
Product Overview
Performance Fitness Shoe
Stable and supportive gym shoe for heavy lifts!
Performance Fitness Shoe
is designed for high performance and heavy lifts. Stable sole that ensures stability and weight distribution when lifting weights. Mesh elements for optimal comfort and breathability.
Weight distribution and stable base
Breathable mesh elements
Semi high instep for ankle support
Ratings & Reviews
Performance Fitness Shoe
Overall Rating
8.9
11 Ratings
Verified Buyer Rating
9.0
7 Ratings
By clicking the button above, you agree to entering the Bodybuilding.com Reviews section. Products in the Store are not intended to diagnose, treat, cure, or prevent any disease.
Bought these shoes a couple months ago and I'm very happy with them. I wasn't sure if the shoe would fit. So I simply measured my foot and ordered that size (10 inch foot so I ordered a size 10 shoe). And to my surprized when I tried on the shoe after it arrived it was a snug fit. Really comfortable for squats and such.
Was this review helpful?
Report
Typically I don't bother to write reviews but I have had great success with these shoes. They are extremely comfortable and allow for better balancing when performing heavy lifts. Overall, I would suggest them to anyone looking to improve their lifts.
Was this review helpful?
Report
I just purchased these shoes a couple of weeks ago and I am very satisfied so far! They are extremely comfortable and provide excellent support during heavy lifts. The fit is snug so if you are between sizes go up one (ex. Size 10.5 get 11). I purchased these over the Adidas PowerLift and New Balance Maximus because of the added ankle support. Enjoy!
Was this review helpful?
Report
A very stable training shoe. If your foot is a bit bigger than the regular size, take one size more; there is no tolerance. High quality for that price. I bought one pare for me and one for my trainings buddy.
Was this review helpful?
Report
These shoes are really great and have helped me lift, however they do not look that great and a bit bulky. However, they do the job and help with squats.
Was this review helpful?
Report

This is a very comfortable shoe that made my heavy lifting safer. The shoe feels wide at the bottom but provide good support at the ankle. I definitely recommend this product.
Was this review helpful?
Report
Shoes are great! Very useful for the gym and exercice in home like tapout or insanity.
Was this review helpful?
Report

I love this shoes. For years I used to train in regular Tennis shoes, not long ago a friend at the gym s****ested me to get lifting shoes. So I did my research and I decided to get Dcore shoes and after three weeks I can say that it was a great decision. I am able to go lower on my squats, which I wasn't able to do wearing tennis shoes, I really like the hard sole, it provides great stability for deadlifts, bend over barbell rows, bend over lateral raises and it certainly makes a HUGE difference while working out my calves. Since the sole is hard and stiff I can literally stand on my fingertips while pushing the weight up and on the lower part of the move I feel calf stretch that I have never felt before.
Was this review helpful?
Report
Regular sport shoes. Yes, it's rather good, but I didn't found any special fitness and/or bodybuilding features like shank support. More over, these shoes have no airing at all.
Was this review helpful?
Report

I like this shoe. the size is correct and quality is good
Was this review helpful?
Report

The sizing of the DCORE Shoe is not like the normal shoe sizing is way smaller. The 8 1/2 US = 40 EU Ordered one pair online and i was surprised that the size was 2 sizes smaller. When i tried to send it back to the US, the shipping will cost me $100 and Bodybuilding.com will not pay for this as they said they are not responsible.
Was this review helpful?
Report