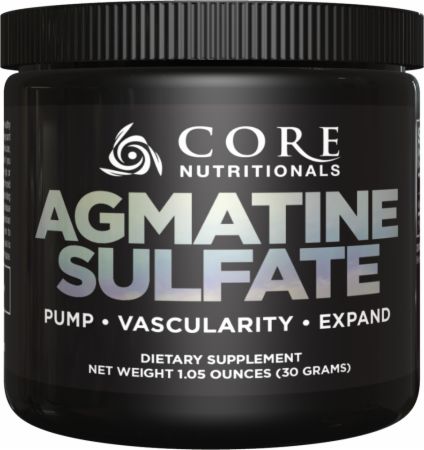 Core Nutritionals
Agmatine Sulfate
, 30 Grams Unflavored
Highest Purity Available
Support Bloodflow And Vascularity*
Product Overview
pump/vascularity/expand
Agmatine Sulfate has been suggested to help:
Increase nitric oxide metabolism.*
Support local bloodflow.*
Act through a novel nitric oxide pathway.*
In need of a pump, but bored of all the standard players? There are only so many variations on arginine, after all. If so, Core Nutritionals has you covered. Agmatine sulfate is one of the most interesting, and coveted, supplements to hit the bodybuilding market in years – but it also comes with a massive, very critical catch. And that's purity. Not all agmatine sulfate is the same, and the purity can vary wildly from product to product. Core Nutritionals has you covered there, too. (Of course we do!). Our Agmatine sulfate has the highest available purity and is manufactured only according to the strictest standards.
Science
Agmatine is part of a group of compounds known as polyamines, alphatic amines which support multiple physiological roles in tissue growth and differentiation, body weight increments and intracellular signaling. The most well-studied and known polyamines are putrescine (PUT), spermidine (SPD), and spermine (SPM) and agmatine. Agmatine itself is naturally produced in the body by the breakdown of arginine. Paradoxically, the studied effects of agmatine not only appear to mimic those of its parent compound arginine, but in many cases, surpass it. These effects include supporting localized bloodflow (better plasma delivery), dilation of the vasculature (expanding of blood vessels), and increased nutrient delivery.*
Ratings & Reviews
30 Grams
60 Servings | $0.27 Per Serving
What's in Core Nutritionals Agmatine Sulfate
Serving Size: 1 scoop (500 mg)

Servings Per Container: 60

Amount Per Serving

% Daily Value

Agmatine Sulfate

500 mg

†

† Daily value not established.
Directions For Agmatine Sulfate: Take 1-3 scoops (500-1500 mg) per day with food. For best results, take 30-60 minutes before your workout.
Warnings: This product is only intended to be consumed by healthy individuals 18 years of age or older and is not recommended for pregnant or nursing women. Before using this product, consult with your physician, especially if you take any prescription or over the counter medication or if you have any pre-existing medical condition including but not limited to: high or low blood pressure, cardiac arrhythmia, stroke, heart, liver, kidney or thyroid disease, seizure disorder, psychiatric disease, diabetes, difficulty urinating due to prostate enlargement or if you are taking a MAOI (Monoamine Oxidase Inhibitor) or any other medication. Discontinue use and consult your physician if you experience any adverse reaction. Discontinue use 2 weeks prior to surgery. Do not exceed recommended serving. Do not use if safety seal is broken or missing. Keep out of the reach of children. Store in a cool, dry place.
* These statements have not been evaluated by the Food and Drug Administration. This product is not intended to diagnose, treat, cure, or prevent any disease.
---