Cellucor
C4 Ultimate Shred
Pre-Workout & Fat Burning Powder for Pumps, Energy, Focus and Fat Loss Support*
6g Citrulline Malate, 3.2g Carnosyn® & 300mg Caffeine in Every Serving, Advanced Formula with Patented Ingredients
Product Overview
Super-Charged Shred
Meets Ultimate Performance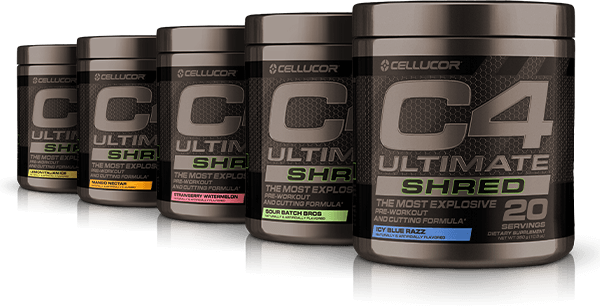 Unveil Your Ultimate
Whether you're carving a block of marble or chiseling your own physique, you need the right tool to make a masterpiece. When it comes to burning fat, leaning out, and getting more from every workout, C4 Ultimate® Shred is that tool. With a revolutionary fat-loss formula built on top of the world's most explosive energy core, it's a fat-burning pre-workout unlike anything on the market. In other words, it's the super-charge your shred has been looking for.*
Take a look at the key factors that make C4 Ultimate Shred.
Powerful Key Ingredients
Ultimate Shred
Capsimax® Cayenne Extract
This extract is a well-known, well-studied thermogenic that helps mobilize fat for energy production. With every serving of C4 Ultimate Shred, it burns roughly as many calories as a one-mile run.*
DygloFit™
Patented, clinically studied weight-loss ingredient that's an all-natural extract of the Dichrostachys Glomerata fruit.*
Oliginol®
The highly absorbable extract of lychee fruit and green tea, which has been shown to support lipolysis (the breakdown of fats) by enhancing thermogenesis. It also supports nitric oxide production and peripheral circulation.*
BioPerine®
Patented extract from black pepper fruit that helps to support healthy absorption of nutrients.*
Ultimate Energy
Caffeine (300mg)
Caffeine is a well-studied stimulant that has numerous energy, performance, and even fat-loss benefits.*
TeaCrine®
Tetramethyluric acid, or theacrine, is an alkaloid structurally similar to caffeine. Preliminary human study results suggest that the body doesn't adapt to TeaCrine as quickly as it does to caffeine, therefore prolonging tolerance.*
Rauwolfia
This plant extract may act similarly to yohimbine, and its effects are amplified when paired with caffeine.*
Ultimate Pumps
Citrulline Malate (6g)
A precursor to arginine and nitric oxide production, 6 grams of citrulline may support an increase in nitric oxide levels. It supports the ultimate pump, especially when paired with arginine. Note that 6 grams is the entire scoop size of some pre-workouts. In C4 Ultimate, it's just the pump foundation.*
Nitrosigine®
Shown to significantly increase arginine and nitric oxide levels for up to 3 hours.*
Ultimate Performance
CarnoSyn® Beta-Alanine (3.2g)
A full, clinical dose of this patented form of beta-alanine supports muscular endurance. Beta-alanine can sometimes produce a harmless skin-tingling sensation.*
Betaine Anhydrous (1.5g)
Helps maintain cellular electrolyte balance and promotes hydration.*
Ultimate Focus
AlphaSize® A-GPC
Supports an increased mind-muscle connection in the gym.*
Zembrin®
Supports positive mood and cognitive function.
Huperzine A
A nootropic that may support memory, learning, and concentration.*
Taurine (1g)
Helps support mental performance when paired with caffeine and B vitamins.*
A Legacy of Excellence
We've been pioneering, building, and perfecting pre-workouts longer than most brands have been in sports nutrition. For nearly a decade, the C4 family has led the pre-workout category with explosive energy and performance, the best flavors, clinically studied ingredients, and cutting-edge formulas.*
We're obsessed with research, improvement, and results. We're innovators and leaders, and we're not new to our work. We have a legacy of building the best, most effective pre-workouts available.
We can comfortably say, without a doubt, that the C4 Ultimate line is the strongest series of pre-workouts we've ever created.*
The C4 Ultimate line is the culmination of a decade of hands-on work in the pre-workout space. We're not talking about building a product in a matter of months. C4 Ultimate Shred combines everything we've learned over years of study and real-world product development to deliver a revolutionary fat-loss formula on top of energy you can feel, powerful pumps, muscular endurance, extreme focus, and peak performance. Consider C4 Ultimate Shred a masterpiece from pre-workout craftsmen.*
Clinically Studied,
Patented Ingredients
No matter how big the scoop size or how revolutionary it claims to be, a great pre-workout starts with best-in-class ingredients used in effective doses. Since ingredients are not created equal, patented ingredients are important for multiple reasons, particularly because they're backed by quality manufacturers who rigorously test and research their products to ensure efficacy and safety.
Patented ingredients are the best in their categories, or they're so novel that they're complete category-creators. C4 Ultimate® Shred's cutting-edge blend of Capsimax® Cayenne, Oligonol®, clinically studied DygloFit™, and Bioperine® will help you achieve extreme definition.*
Feel the Burn of a One-Mile Run
The amount of Capsimax® in every serving of C4® Ultimate Shred has been clinically shown to boost metabolism and can help to burn the same amount of calories as running 1 mile.
The Ultimate Formula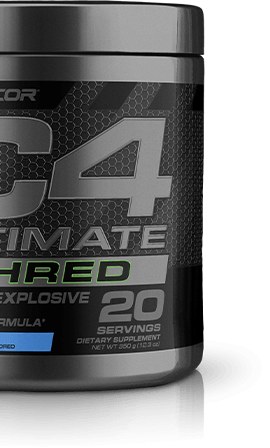 Creating the perfect pre-workout for people who demand nothing less than the best from themselves and their supplements has been no easy task. It's taken us years of work, the best ingredients from around the globe, and a consistent commitment to innovation, formulation, and product development.
We're proud to say that the formula powering each serving of C4 Ultimate Shred delivers an ultimate experience on every level: the ultimate in fat-loss, energy, pumps, endurance, performance, and focus. This is not a pre-workout for the weak or weekend warrior. C4 Ultimate Shred has been engineered for athletes, lifers, and lifters who aren't afraid to work, sweat, and hustle for their next best.*
The C4 Ultimate Shred formula delivers the explosive energy and performance you love from C4, plus a powerful combination of fat-burning fuel, nootropics, mood enhancers, pump amplifiers, and endurance support to push you to your ultimate limit.*
The Cellucor Difference
Every tub of C4 Ultimate Shred is the result of rigorous testing and research to ensure you get the highest-quality product possible, without compromise.
Our commitment to the following areas makes Cellucor stand above the pack:
Flavor
We put every flavor of C4 through 100s of flavor tests. Seriously. And we don't settle. If a flavor doesn't measure up, we move on. We're dedicated to making the industry's best-tasting products, and nothing less will do.
Ingredients
We utilize an industry-leading evaluation method when working with ingredient suppliers, and we conduct additional stability testing on our raw ingredients to make sure our formulas have great physical stability. We also visit our key ingredient suppliers directly so we know exactly what we're putting in products, and we're very selective about working with only the best partners. (The same is true with our packaging.)
Product Development
Our in-house product development team has years of research and expertise, and a true passion for sports nutrition. We don't rely on a single person's opinion to build product. We have a team of world-class formulators who evaluate, debate, and discuss the latest research before we even put a formula down on paper. Add our incredible relationships with the world's best ingredient manufacturers, internal testing, athlete feedback, and years of leading the industry, and you get a development process that's second to none.
Commitment to Customers
We're committed to your results. At the end of the day, C4 Ultimate Shred is your product. If you don't like it for any reason, we'll gladly refund or replace it. We're here for you.
Ratings & Reviews
What's in Cellucor C4 Ultimate Shred
Serving Size 1 Level Scoop (17.5g)

Servings Per Container

20

Amount Per Serving

%DV

Calories

0

Total Carbohydrate

1 g

<1%**

Sugars

0 g

†

Vitamin C (as Ascorbic Acid)

250 mg

417%

Niacin (as Niacinamide)

60 mg

300%

Vitamin B6 (as Pyridoxal-5-Phosphate)

1 mg

50%

Folic Acid

500 mcg

125%

Vitamin B12 (as Methylcobalamin)

70 mcg

1,167%

Calcium (as Calcium Silicate)

103 mg

10%

Citrulline Malate

6

g

†

CarnoSyn® Beta-Alanine

3.2

g

†

Betaine Anhydrous

1.5

g

†

Nitrosigine® Inositol-Stabilized Arginine Silicate

1.5

g

†

C4® Ultimate Shred & Thermogenic Matrix

1.334

g

†

N-Acetyl-L-Tyrosine, Caffeine Anhydrous (300mg), DygloFit® (Dichrostachys glomerata) fruit extract, Velvet Bean (Mucuna pruriens) seed extract, Capsimax® Cayenne (Capsicum annuum) fruit extract, Oligonol® Lychee fruit and Green Tea extracts, Theacrine (as TeaCrine®), Gingever® Ginger (Zingiber officinale) root extract, AlphaSize® A-GPC (Alpha-Glyceryl Phosphoryl Choline), Zembrin® (Sceletium tortuosum) aerial parts extract, Rauwolfia vomitoria root bark extract, Huperzine A [from Toothed Clubmoss (Huperzia serrata) aerial parts extract]

Taurine

1

g

†

Bioperine® Black Pepper (Piper nigrum) fruit extract

5

mg

†

** Percent Daily Values (% DV) are based on a 2,000 calorie diet.

† Daily Value not established.

Other Ingredients:

Calcium Silicate

, Natural & Artificial Flavors

, Silicon Dioxide

, Acesulfame Potassium

, Malic Acid

, Sucralose

, Polydextrose.

, FD&C Blue #1.

CONTAINS: Tree Nuts (Lychee Nut)
Directions For C4 Ultimate Shred: Take one serving (1 level scoop) of C4 Ultimate® Shred, mixed with 10-12 fl. oz. of water 20-30 minutes before training.
Warnings: THIS PRODUCT IS ONLY INTENDED TO BE CONSUMED BY HEALTHY ADULTS, 18 YEARS OF AGE OR OLDER. Do not use this product if you are pregnant or nursing. Before taking this product, consult a licensed, qualified, health care professional, especially if you are taking any other dietary supplement, prescription drug or over-the-counter medication, or if, you suspect you have or have been treated for, diagnosed with or have a family history of, any medical condition, including but not limited to: high or low blood pressure, diabetes, anxiety, cardiovascular, psychiatric or seizure disorders, cardiac arrhythmia, stroke, heart, liver, kidney, or thyroid disease, or difficulty urinating due to prostate enlargement. This product contains caffeine and Sceletium tortuosum (Zembrin®) and should not be used in combination with other products containing caffeine or Sceletium tortuosum (Zembrin®) or stimulants from other sources, including but not limited to, coffee, tea, soda, or other dietary supplements and medications. Do not use this product continuously for more than 8 weeks. Discontinue use 2 weeks prior to surgery. Immediately discontinue use and contact a medical doctor if you experience any adverse reaction to this product. Do not use if safety seal is broken or missing. Store in a cool, dry place. KEEP OUT OF REACH OF CHILDREN. This product is sold by weight, not volume. Some settling of powder may occur during shipping and handling, which may affect density of powder. This product contains the servings indicated when measured exactly by weight. Some individuals may experience a harmless tingling sensation, which is attributable to Beta-Alanine. USE ONLY AS DIRECTED.
* These statements have not been evaluated by the Food and Drug Administration. This product is not intended to diagnose, treat, cure, or prevent any disease.
---