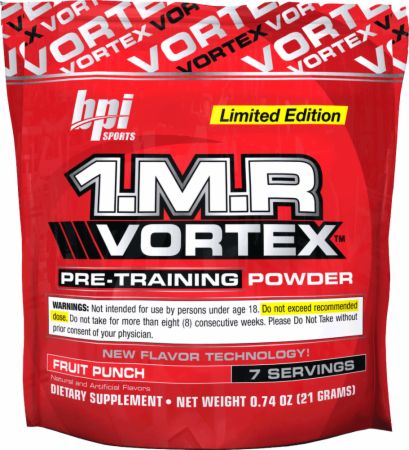 BPI Sports
1.M.R Vortex
, 7 Servings Fruit Punch
Aggressive Pre-Workout Powder for Long Lasting Energy*
Formulated to Enhance and Intensify the Quality of Your Workout*
Product Overview
ultra concentrated
intense energy!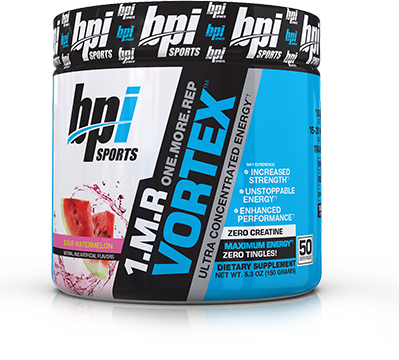 The Game Changing
Pre-Workout*
May Experience:
Increased Strength*
Unstoppable Energy*
Enhanced Performance*
Maximum
Energy*
Increased
Strength*
What Is 1.M.R VORTEX?
1.M.R VORTEX is an extreme pre-workout supplement designed to enhance your endurance, focus, and overall performance in the gym. The 1.M.R VORTEX formula has been compounded and engineered with unique ingredients formulated to intensify the quality of your workouts, increase your strength, and boost mental and motor activation.*
Why Is 1.M.R VORTEX Better?
With 1.M.R VORTEX, you're getting sustained hydration and mental clarity allowing you to go harder in the gym by increasing the length of time until the onset of fatigue. This extreme pre-workout supplement is designed to enhance overall performance in your workouts through enhanced strength, focus, and energy.*
More Explosive

Workouts*
All the power, energy, and focus
you need in 1 single scoop!
Make Your Training A
Little Sweeter!
This is what I take!
the #1
lean muscle pre-workout stack!
Ultra Concentrated Powerful Energy*
Lean Muscle Building & Recovery*
Increased Mental Focus*
Enhanced Athletic Performance*
Ever feel sluggish during a workout? Unmotivated? Sore from yesterday's workout?
THE #1 LEAN MUSCLE PRE-WORKOUT STACK is your fix. 1.M.R VORTEX will provide you with an ultra concentrated dose of intense energy to train hard and improve performance in the gym. This powerful formula also provides enhanced mental focus, promotes strength and power and can even help with weight-loss. You need more than just energy to build the lean, shredded
physique you've been working towards though, so make sure to pair The Best Selling BEST BCAA with it! Featuring the special Oligopeptide-Enzymatic Technology BCAAs for faster absorption into your muscles, you kick start the muscle building process and prevent muscle breakdown during your workout. Pairing these BEST BCAAs with the added CLA Matrix, will allow your body to burn stored body fat for fuel, increase endurance, and promote recovery. This is crucial to building lean muscle and promoting increased strength.*
If you want to support intense energy, extreme focus, improved performance, increased lean muscle mass and to prevent muscle breakdown...
the only combo to turn to is 1.M.R VORTEX AND BEST BCAA!*
Ratings & Reviews
By clicking the button above, you agree to entering the Bodybuilding.com Reviews section. Products in the Store are not intended to diagnose, treat, cure, or prevent any disease.

Mild energy. Cherry lime: 5/10. Snow cone: 1/10
In fact it is good - I used two packs of this product .. really wonderful .. the first hour after using it I feel the strength of the carry - gives me a strong push - then my body starts to relax - I recommend it - I loved it
I really like BPI - their BCAA's are a great product but this one is a miss. It doesn't mix well, and I didn't feel like it gave me the boost I was expecting. Kinda a bummer.
Very disappointed with this product. I LOVE their BCAA's! however this pre-workout is a total let down. I do get a little energy, but nothing crazy; definitely no "pump". The taste is horrible and the worse part is that you can't drink the whole thing because it doesn't dissolve properly. It is very gritty and it feels like you are drinking sand. No wonder it was on SALE, now I'm stuck with two containers of this unpleasant pre-workout. There's no doubt that JYM is by far the best pre-workout I have taken.
Mix-ability-2 Flavor-5 Pump-4 Very gritty. So gritty you can't drink the entire thing without gagging and it doesn't stay down well. Didn't get much of a pump with this product. Focus was pretty good but overall this product is a bust. BPI is a great company and I love some of their other products (Best Pre-workout and Best BCAA), unfortunately 1.M.R Vortex isn't a good one at least for me.

This really gets my energy levels up, keeps me alert and awake. I've given this and 8 due to its mixability is pretty poor. Really good boost though.

The artic ice is the nastiest flavor you guys came up with, and it doesn't give as much energy per scoop. Fruit punch rocks, why isn't that in stores...?

It didn't feel anything. No pump no energy boost. It just s.....t also i tried universal shock therapy and its same like that one s...t . Tomorrow i will try other brand(True GRIT). Best one is Belgium made BE Sports Nutrition Alfa one pre-workout.

Mild energy. Cherry lime: 5/10. Snow cone: 1/10
The Sour Watermelon and Sno-Cone flavors of this pre-workout taste good and get the job done! Love it!
7 Servings
$1.00 Per Serving
What's in BPI Sports 1.M.R Vortex
21 Grams

Fruit Punch

Serving Size: 1 Scoop (3 grams)

Servings Per Bottle:

7

Amount Per Serving

DV

Niacin (as nicotinic acid)

20

mg

100%

FULL SPEED VORTEX™ MATRIX (Proprietary)

1,705

mg

*

Glycerol (as glycerol monostearate) (* DV), Indigofera pulchra (aerial) (* DV), Caffeine (as caffeine anhydrous) (* DV), White leadwort (root) (* DV), Securinega (Securinega suffruticosa) (leaf and root) (* DV), Yohimbe (Pausinystalia yohimbe) (bark) (* DV)

*Daily Value (DV) not established.

Other Ingredients:

Citric Acid

, Natural And Artificial Flavors

, Sucralose

, Malic Acid

, Acesulfame K

, Silica

, Maltodextrin

, FD&C Red No. 40
Directions For 1.M.R Vortex: USE ON TRAINING DAYS ONLY. PLEASE BEGIN WITH ONE SERVING (1 SCOOP) TO ASSESS TOLERANCE LEVEL BEFORE PROGRESSING TO TWO FULL SCOOPS. Take one (1) serving (1 scoop) approximately 15-30 minutes prior to training, blended into 6-8 ounces of cold water or beverage, or as suggested by a qualified healthcare practitioner. Important Note(s): Do not exceed two (2) servings (2 scoops) in a 24 hour period. Avoid eating food or drinking a protein shake within an hour after consuming 1MR VORTEX™. To avoid sleeplessness, do not take within four (4) hours of bedtime. Taking 1MR VORTEX™ with food, or on a full stomach, may diminish its effects.
Warnings:
Not intended for use by persons under age 18. Do not exceed recommended dose. Do not take for more than eight (8) consecutive weeks. This product should not be taken by pregnant or lactating women. Get the consent of a licensed physician before using this product, especially if you are taking medication, have a medical condition, or thinking about becoming pregnant. KEEP THIS PRODUCT AND ALL SUPPLEMENTS OUT OF THE REACH OF CHILDREN.
Caffeine warning: The recommended serving of this product contains approximately as much caffeine as two cups of coffee. Do not consume caffeine, or combine with synephrine, including but not limited to coffee, tea, soda and other dietary supplements or medications containing phenylephrine or caffeine. Too much caffeine may cause nervousness, irritability, sleeplessness, and occasionally rapid heartbeat. Discontinue use if you experience dizziness, severe headache, rapid heartbeat or shortness of breath.
Caution: 1MR VORTEX™ contains the B vitamin niacin. Niacin may cause temporary flushing, tingling, skin reddening, and sensations of heat, especially if taken on an empty stomach. This is a common reaction.
* These statements have not been evaluated by the Food and Drug Administration. This product is not intended to diagnose, treat, cure, or prevent any disease.
---