Product Overview
Proudly supports first responders & nurses with Bodybuilding.com and ID.me. Verify Here

A good night's sleep is key to your overall health — and your goals in the gym. Without proper sleep, your body can't repair itself. Signature ZMA is a patented blend of zinc, magnesium, and B6. Clinical research has shown that this ZMA blend, when given to trained athletes before bed, may support improvements in sleep quality, strength, power, and testosterone levels.[5]* Zinc and Magnesium both also play vital roles in hundreds of bodily functions necessary to performing your best while Vitamin B6 supports their absorption.*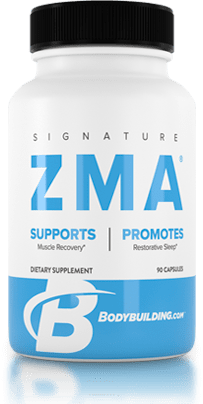 ZINC
Zinc is important to countless processes in the body, including immune function[3,4] and protein synthesis[4].* Thanks to your high-intensity training, sweating and insufficient zinc intake, athletes like you may have lower stores of zinc in the body —so supplementing is often necessary just to meet the basic zinc requirements, let alone optimal levels for peak performance.*
Magnesium
Magnesium helps regulate factors that are especially important for active individuals: protein synthesis, muscle and nerve function, blood glucose control, and blood pressure regulation[1-3], just to name a few. It's required for energy production and contributes to the structural development of bone. When it comes to athletic performance, magnesium supports nerve impulse conduction, muscle contraction, and normal heart rhythm[3].*
Vitamin B6
Vitamin B6 in coenzyme form is involved in more than 100 enzyme reactions in your body, mostly concerned with protein metabolism[1]. It's also key to this ZMA blend because helps your body to absorb zinc and magnesium more effectively.*
REFERENCES:
Sandstead HH. Understanding zinc: recent observations and interpretations. J Lab Clin Med 1994;124:322-7.[PubMed abstract]
Institute of Medicine, Food and Nutrition Board. Dietary Reference Intakes for Vitamin A, Vitamin K, Arsenic, Boron, Chromium, Copper, Iodine, Iron, Manganese, Molybdenum, Nickel, Silicon, Vanadium, and Zinc. Washington, DC: National Academy Press, 2001.
Solomons NW. Mild human zinc deficiency produces an imbalance between cell-mediated and humoral immunity. Nutr Rev 1998;56:27-8.[PubMed abstract]
Prasad AS. Zinc: an overview. Nutrition 1995;11:93-9.[PubMed abstract]
Brilla, L. R. and Conte, V. Effects of a Novel Zinc-Magnesium Formulation on Hormones and Strength. Journal of Exercise Physiology online. 3 (4): 2000. A signature is a promise. A symbol of your identity. Your mark on the world. In 1999, Bodybuilding.com was founded on a single promise: Trust. It's who we are and it's in our blood. Our Signature line is built on the same promise. Every product is no-BS, transparent, filler-free, and formulated with effective doses of research-backed ingredients you can trust. We create the highest quality supplements, so you can focus on leaving a mark of your own.
TOTAL TRANSPARENCY
Signature products are formulated with high quality ingredients at effective doses that we're proud to share with you. We don't hide anything in a "proprietary blend", so you always know exactly what you're putting into your body.
EFFECTIVE DOSES
An effective dose is the amount of an ingredient that has been shown to deliver results. Some supplement brands add a sprinkle of an ingredient just so they can say it's in the product. Signature supplements always include enough to get the job done.
RESEARCH-BACKED INGREDIENTS
Trendy, flash-in-the-pan ingredients come and go. But time-tested, gym-proven ingredients are what you need to help you achieve your fitness goals. That's what you'll find in Signature products because that's what works.
SHOP ALL SIGNATURE PRODUCTS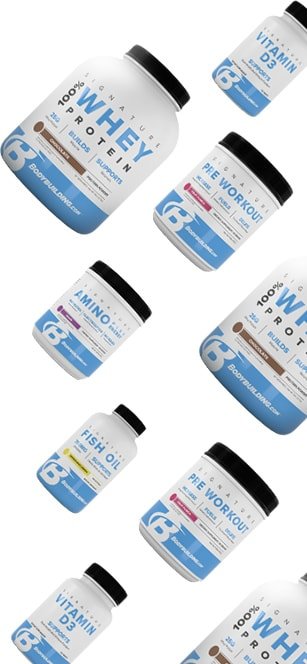 Ratings & Reviews
What's in Bodybuilding.com Signature Signature ZMA
90 Capsules

Serving Size: 3 Capsules

Servings Per Container:

30

Amount Per Serving

% Daily Value

Vitamin B6 (As Pyridoxine HCl)

10.5 mg

618%

Magnesium (As Magnesium Aspartate)

450 mg

107%

Zinc (as zinc mono-l-methionine and zinc aspartate)

30 mg

273%

Other Ingredients:

Gelatin

, Rice Flour

, and Magnesium Stearate
Directions For Signature ZMA: Take 3 capsules daily for men and 2 capsules daily for women. Take 30-60 minutes before bedtime, preferably on an empty stomach.
Warnings: Consult your physician before using this product if you're taking any medications or are under a physician's care for a medical condition. Not for use for those under the age of 18 or women that are pregnant, trying to get pregnant or nursing.
* These statements have not been evaluated by the Food and Drug Administration. This product is not intended to diagnose, treat, cure, or prevent any disease.
---