Bodybuilding.com Signature
Signature Workout Performance Stack
,
Potent Energy and Recovery to Max Out Your Gym Sessions*
Featuring Bodybuilding.com Signature Products
Product Overview
This expertly assembled stack delivers the pre-workout energy you need and the pumps you want.* Afterwards, make the most of all that work with protein to fight muscle breakdown and boost recovery.* And every Signature stack saves you money!
SIGNATURE
PRE WORKOUT
A good pre-workout is more than a megadose of stimulants. Signature Pre-Workout includes ingredients that promote intense pumps and growth while battling fatigue, so you can work out harder and longer.*
SIGNATURE
BCAA
Branched-chain amino acids are the most important essential aminos for muscle repair, growth, and increased performance.* It's also great for all-day sipping to contribute to keeping your body in a more anabolic state.*
SIGNATURE
100% WHEY PROTEIN
Whey protein promotes muscle growth, counteracts muscle breakdown, and supports your workout recovery. Ours combines three hard-hitting types of whey into one powerful blend.* It's also delicious! A signature is a promise. A symbol of your identity. Your mark on the world. In 1999, Bodybuilding.com was founded on a single promise: Trust. It's who we are and it's in our blood. Our Signature line is built on the same promise. Every product is no-BS, transparent, filler-free, and formulated with effective doses of research-backed ingredients you can trust. We create the highest quality supplements, so you can focus on leaving a mark of your own.
TOTAL TRANSPARENCY
Signature products are formulated with high quality ingredients at effective doses that we're proud to share with you. We don't hide anything in a "proprietary blend", so you always know exactly what you're putting into your body.
EFFECTIVE DOSES
An effective dose is the amount of an ingredient that has been shown to deliver results. Some supplement brands add a sprinkle of an ingredient just so they can say it's in the product. Signature supplements always include enough to get the job done.
RESEARCHED-BACKED INGREDIENTS
Trendy, flash-in-the-pan ingredients come and go. But time-tested, gym-proven ingredients are what you need to help you achieve your fitness goals. That's what you'll find in Signature products because that's what works.
SHOP ALL SIGNATURE PRODUCTS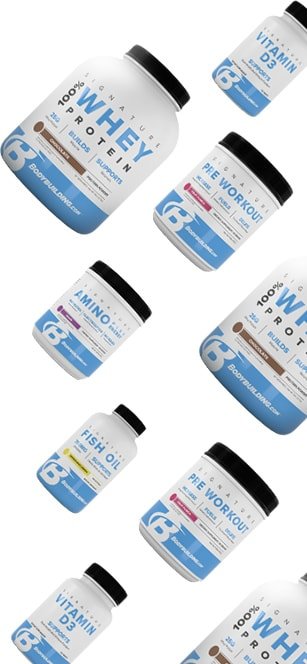 Ratings & Reviews
Directions for Signature Workout Performance Stack:
Follow the directions on the products' label.
Warnings: Read the warnings on the products' label.
* These statements have not been evaluated by the Food and Drug Administration. This product is not intended to diagnose, treat, cure, or prevent any disease.