Bodybuilding.com Signature
Signature Amino Plus Energy
, 30 Servings Watermelon Lime
Amino Acids and Caffeine for Energy, Focus, and Recovery*
Use Pre- or Post-Workout
Product Overview
Proudly supports first responders & nurses with Bodybuilding.com and ID.me. Verify Here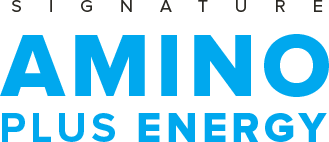 Amino acids help stimulate protein synthesis and reduce protein breakdown.* Our formula provides a serious dose of BCAAs (5 grams!), plus caffeine and electrolytes. Sip this refreshing beverage pre-workout to fuel your training, post-workout to speed muscle recovery, or anytime your day could use some energy.*
2:1:1 Branched-Chain Amino Acids (BCAAs)
Made up of three essential amino acids — leucine, isoleucine, and valine — BCAAs promote growth and recovery.* A 2:1:1 ratio delivers more muscle-building leucine.*
Green Tea
Supplementing with caffeine has been shown to increase focus and improve workout performance. This natural caffeine source also contains metabolism-boosting EGCG.*
Electrolytes
Electrolytes replenish your hydration stores, which helps support muscle function during your workout and prime your body for the next round.*
Carnosyn® Beta-Alanine
Beta-alanine acts as a buffer between fatigue-promoting lactic acid and your muscles by producing carnosine, which keeps lactic acid in check during intense workouts.*
L-Arginine
L-Arginine contributes to your body's production of nitric oxide, a vasodilator. When your blood vessels are dilated, your body is better able to circulate oxygen and other nutrients to muscles.*
Taurine
This amino acid can help reduce muscle fatigue during exercise.* A signature is a promise. A symbol of your identity. Your mark on the world. In 1999, Bodybuilding.com was founded on a single promise: Trust. It's who we are and it's in our blood. Our Signature line is built on the same promise. Every product is no-BS, transparent, filler-free, and formulated with effective doses of research-backed ingredients you can trust. We create the highest quality supplements, so you can focus on leaving a mark of your own.
TOTAL TRANSPARENCY
Signature products are formulated with high quality ingredients at effective doses that we're proud to share with you. We don't hide anything in a "proprietary blend", so you always know exactly what you're putting into your body.
EFFECTIVE DOSES
An effective dose is the amount of an ingredient that has been shown to deliver results. Some supplement brands add a sprinkle of an ingredient just so they can say it's in the product. Signature supplements always include enough to get the job done.
RESEARCH-BACKED INGREDIENTS
Trendy, flash-in-the-pan ingredients come and go. But time-tested, gym-proven ingredients are what you need to help you achieve your fitness goals. That's what you'll find in Signature products because that's what works.
SHOP ALL SIGNATURE PRODUCTS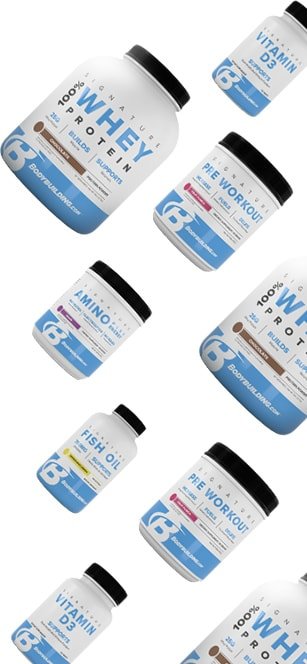 Ratings & Reviews
What's in Bodybuilding.com Signature Signature Amino Plus Energy
30 Servings

Watermelon Lime

Serving Size: 1 scoop (10g)

Servings Per Container: About 30

Amount Per Serving

% Daily Value

Calcium (as calcium chloride)

25 mg

3%

Magnesium (as magnesium oxide)

27 mg

7%

Chloride (as sodium and calcium chloride)

208 mg

6%

Sodium (as sodium chloride)

105 mg

4%

Potassium (as potassium citrate)

130 mg

4%

Valine

1 g

†

Isoleucine

1 g

†

Leucine

3 g

†

Arginine

500 mg

†

Caffeine (from caffeine anhydrous and green tea extract)

100 mg

†

CarnoSyn® Beta-Alanine

750 mg

†

Taurine

500 mg

†

Green Tea Extract (50% Catechins 25-30 EGCG 12-15% Caffeine)

100 mg

†

† Daily Value not established

Other Ingredients:

Citric Acid

, Malic Acid

, Natural and Artificial Flavor

, Sunflower Lecithin

, Acesulfame Potassium

, Sucralose

, FD&C Red No. 40.

Processed in a facility that also processes milk, soy, and egg.
Directions For Signature Amino Plus Energy: Shake well before each use. Add 1 scoop to 10 ounces of cold water and mix thoroughly. Sip this refreshing beverage pre-workout to fuel your training, post-workout to speed muscle recovery, or anytime you could use some energy.*
Warnings: Some individuals may experience a harmless tingling sensation that is caused by beta-alanine. Consult your physician before using this product. Not for use by those under the age of 18 or by women who are pregnant, trying to become pregnant, or nursing, or those who are sensitive to caffeine. Do not consume caffeine from other sources while taking this product as too much caffeine may cause nervousness, irritability, sleeplessness, and rapid heartbeat. Do not exceed 4 servings within a 24-hour period.
* These statements have not been evaluated by the Food and Drug Administration. This product is not intended to diagnose, treat, cure, or prevent any disease.
---