Alpha Lion
Goatein Whey Protein Isolate
, 1.76 Lbs. Chiseled Chocolate
Ditch the carbs, fat, and lactose of whey and crank up protein synthesis with ultra-filtered Goatein whey protein isolate.*
Alpha Lion WPI uses Velositol to drastically help increase muscle protein synthesis and filters out many of the carbs, fat, and lactose in whey to give you a higher protein percentage and better absorbing beast of a whey protein isolate formula.*
Product Overview
Proudly supports first responders & nurses with Bodybuilding.com and ID.me. Verify Here
Meet The New

G.O.A.T
Whey Protein Isolate
25 Ultra-Pure Grams of Cold Flow Micro-Filtered Whey Protein Isolate
2x Muscle Protein Synthesis with 2000mg Velositol®*
Improves Protein Digestion with 250mg AminoGen®*
Increases Protein Absorption with 50mg AstraGin®*
Accelerate Muscle Recovery & Growth*
Stomach-Friendly Delicious Flavors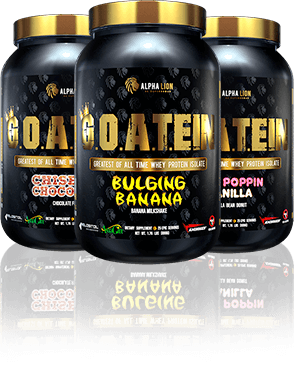 Why
G.O.A.T.EIN

is the G.O.A.T

Most protein powders suck. Some are okay. But there is only one G.O.A.T.

Every scoop of G.O.A.T.EIN is packed with the "Four Pillars of Greatness" to ensure you're receiving the greatest post-workout experience necessary to maximize muscle growth.*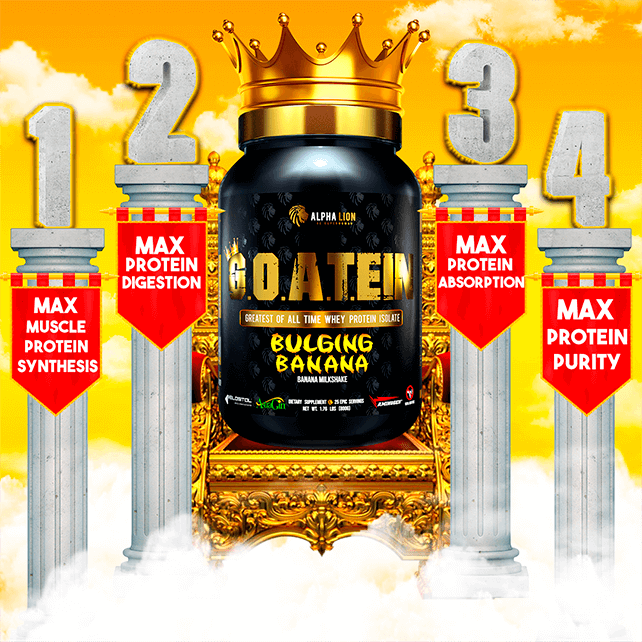 Pillar 1:
Maximum Muscle Protein Synthesis with Velositol®*

With a clinical dose of 2000mg of Velositol®, you'll experience 2X the muscle protein synthesis than with whey protein alone. This means faster, more efficient muscle growth.*
Pillar 2:
Maximum Protein Digestion With Aminogen®*

Aminogen® is a patented blend of digestive protease enzymes designed to improve protein digestion and increase amino acid levels absorbed from dietary protein.*
Essential and branched chain amino acids, are released in greater amounts when protein is digested with Aminogen®.* Thanks to Aminogen®, gains will sprint to your muscles faster than you used to sprint to the nearest bathroom with your ex-protein powder.
Pillar 3:
Maximum Protein Absorption with AstraGin®*

AstraGin® dramatically increases amino acid absorption, more specifically intestinal leucine absorption—the anabolic X Factor for muscle growth.*
Prepare to spend less time ripping farts and more time getting ripped!
Pillar 4:
Maximum Protein Purity*
Not all whey isolates are created equal.
G.O.A.T.EIN's greatness stems from Glanbia's Provon® 290 SFL undenatured protein, cultivated through a cross-flow microfiltration process, giving you 25 heaping grams of the cleanest, smoothest protein in the world per serving. Not 25 grams of crap.
How is
G.O.A.T.EIN

So Pure?

The protein in G.O.A.T.EIN undergoes a rigorous cross-flow microfiltration process to ensure the highest protein purity in every scoop. How does this work?

Without treating this like a science class, cross-flow microfiltration is an intense manufacturing process that utilizes ceramic filters to strip away all the fat, lactose, and other unnecessary materials stopping you from maximizing gains. So all you're left with is protein.

When you experience G.O.A.T.EIN for the first time, you WILL notice the insane difference in both smoothness and purity.

And this WILL make your stomach and your muscles very, very happy.
You Deserve
Premium
We don't need to discuss all the garbage protein powders out there. Ain't nobody got time for that. You deserve better, and that's why G.O.A.T.EIN has three patented ultra-premium ingredients packed into every scoop at MAXIMUM doses.


Leave The

Gas
In The Past!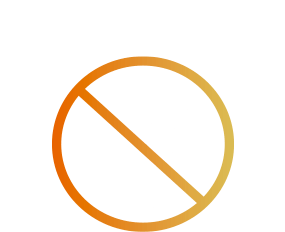 G.O.A.T.EIN's ultra premium formula was crafted to give the closest possible fart-free experience.*
Say goodbye to the days of losing that beautiful romantic prospect who stopped talking to you because you farted so badly she almost passed out. It's time to get gains, not gas!*
Stomach-Friendly
Delicious

Flavors
Many protein powders taste exactly like their indulgent dessert flavors because they're just as unhealthy—loaded with sugar alcohols and other senseless ingredients to sacrifice actual results for temporary taste.
G.O.A.T.EIN comes in three super smooth, light, classic flavors that go easy on your stomach after you go hard in the gym. Deliciousness will no longer run rampant on your digestive system.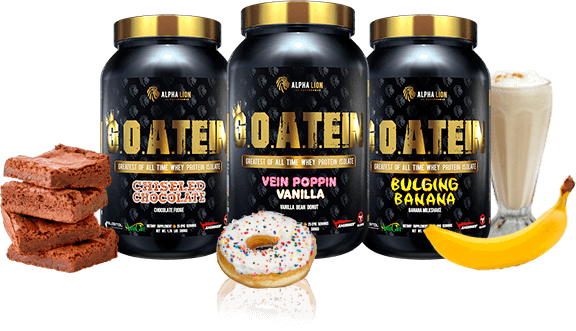 What's

Not
In G.O.A.T.EIN
Only cowards hide behind magical "blends" in their formulas that are simply marketing excuses for underdosed ingredients and ineffective products.
We take pride in our Full Label Disclosure, so you see EVERY ingredient inside, which means: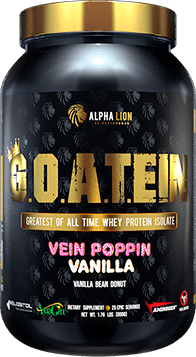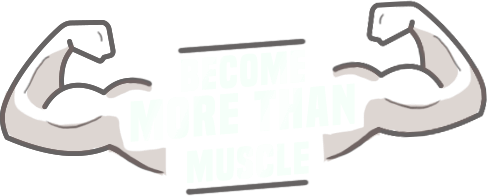 Beyond producing premium supplements, giving back is the driving force of Alpha Lion.
Through our partnership with Vitamin Angels, every Alpha Lion order placed on BodyBuilding.com provides a year's supply of lifesaving vitamin A on your behalf to one child at risk of malnutrition.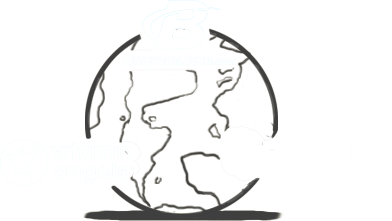 Your gains are also helping make the world a better place!
Ratings & Reviews
What's in Alpha Lion Goatein Whey Protein Isolate
Serving Size 1 Scoop (32g)

Servings Per Container

25

Amount Per Serving

% Daily Value

Calories

116

Total Fat

1 g

<1%*

Saturated

0 g

**

Cholesterol

5.6 mg

<1%*

Sodium

67 mg

2.5%*

Potassium

128 mg

3.5%*

Total Carbohydrates

2.7 g

<1%*

Dietary Fiber

1 g

<1%*

From Sugar

1 g

**

Chromium (as Chromium Histidinate and Picolinate)

1,000 mcg

833%*

Protein

25 g

50%*

Whey Protein Isolate: Provon ®290 SFL (Instantized Whey Protein Isolate 90% delivering 25g of Complete Protein) (Cross-flow microfiltration process. Instantized with Sunflower Lecithin)

28 g

**

High Amylopectin Starch (Waxy Maize) (from Velositol®

2,000 mg

**

Aminogen® (Protease Enzymes)

250 mg

**

AstraGin ® (Astragalus membranaceus (root), Panax notoginseng (root))

50 mg

**

* Percent daily values are based on a 2000 calorie diet

** Daily percent value not established

Other Ingredients:

Natural & Artificial Flavors

, Xanthan Gum

, Sucralose

, Acesulfame Potassium

Contains Milk.

This product is manufactured in a facility that processes other products which may contain dairy, wheat, nuts, fish, and eggs.
Directions For Goatein Whey Protein Isolate: Add 1-2 scoops (32g-64g) to 6-12 ounces of water or your favorite drink. (Except tequila!)
Warnings: Not for use by individuals under the age of 18 years. Do not use if you are pregnant or nursing. Do not exceed recommended serving. Exceeding recommended serving may cause serious adverse health effects. Discontinue use or call a physician or licensed qualified healthcare professional immediately if you experience any adverse symptoms. Keep out of the reach of children.
* These statements have not been evaluated by the Food and Drug Administration. This product is not intended to diagnose, treat, cure, or prevent any disease.
---