AllMax Nutrition
Glutamine 3000
, 150 Capsules
Contains 3000mg Glutamine Per Serving to Support Muscle Recovery*
Gluten-Free With Every Ingredient & Lot Lab Tested
Product Overview

Fermentation Derived Glutamine
Increases Recovery*

Fermentation Derived Glutamine Capsules
The highest-quality, fermented Glutamine is now available in a convenient, easy-to-take capsule. Glutamine is the most abundant amino acid found in muscle tissue. During times of stress, including exercise and athletic events, Glutamine is one of the first amino acids to be oxidized.
Supplementation with Glutamine may help to support muscle Glutamine levels, prevent muscle tissue breakdown and increase recovery.* It plays a role in the metabolism of protein while strengthening the immune system and supporting recovery. This important amino acid can help with the removal of lactic acid and prevent DOMS (Delayed Onset Muscle Soreness).* ALLMAX Glutamine uses Glutamine crystals made from a natural fermentation process. This state-of-the-art process creates a unique, purified and isolated Glutamine ideal for supplementation. It is the most abundant amino acid found in muscle tissue.
What Is Glutamine?
Glutamine can be naturally found in beans, poultry, fish and dairy products. It is one of the most abundant amino acids in the body and is called a conditionally essential amino acid, meaning that the body is able to manufacture Glutamine on its own, but during times of extreme stress (such as following an intense workout), the body is not able to produce enough and may benefit from supplemental Glutamine.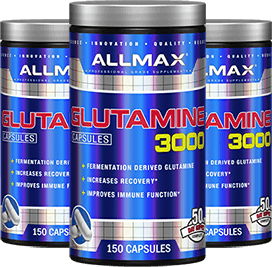 Diminish Muscle Catabolism
Glutamine also helps to diminish catabolism caused by an increase in the stress hormone cortisol, which is elevated during exercise.* A recent study conducted on the effects of glutamine on the muscle found that it may assist with the process of action of cortisol's interference with muscle protein synthesis and repair.* This study shows that glutamine can provide an anti-catabolic effect. It can minimize the amount of muscle breakdown and can be particularly helpful when consumed after working out, when catabolism is at its peak.*
Increases

Protein Synthesis and Nitrogen Retention.*
Glutamine is the most abundant amino acid in muscle tissue and has recently been shown by research to support HSPs (Heat Shock Proteins). Aside from its well-known ability to help exercise recovery, it also helps support recovery by increasing HSPs.* It has also been shown to speed post-workout recovery by increasing the absorption of key electrolytes.
The Allmax Difference
Manufactured with the purest raw ingredients at a manufacturing facility. ALLMAX Nutrition fermentation derived Glutamine provides recovery after training and enhances the immune system, which can be compromised during intense exercise.* ALLMAX uses only the purest raw ingredients and is not heated or chemically treated.
Ratings & Reviews
What's in AllMax Nutrition Glutamine 3000
Serving Size 3 Capsules

Servings Per Container

50

Amount Per Serving

% Daily Value

L-Glutamine

3,000 mg

†

† Daily Value not established.

Other Ingredients:

Gelatin (Bovine)

, Magnesium Stearate

, Silica
Directions For Glutamine 3000: Take 3 capsules with water or juice upon waking and Pre (and/or Post) Workout, or on non-training days, take 3 capsules after a meal.
Warnings: Do not use if you are pregnant or breastfeeding, have a medical condition or are taking prescription medications. Consult a healthcare practitioner before use. May result in weight gain. Not intended for use by those under 18. KEEP OUT OF REACH OF CHILDREN. Store in a cool, dry place.
ALLERGEN WARNING: Produced in a facility that also handles Milk, Soy, Egg, Tree Nut, Peanut, Fish, Crustacean and Shellfish products.
* These statements have not been evaluated by the Food and Drug Administration. This product is not intended to diagnose, treat, cure, or prevent any disease.
---