AllMax Nutrition
Aminocore Natural
Contains 8g of BCAAs per serving in ideal 9:6:5 ratio to support endurance and muscle recovery*
No artificial colors or dyes and naturally sweetened with stevia
Product Overview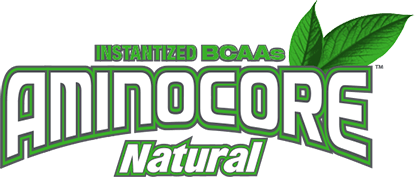 Naturally Supports Lean Muscle*
No Fillers, Zero Non-BCAA Aminos
100% of Vitamins B3, B6, B9 & B12
Naturally Refreshing Taste!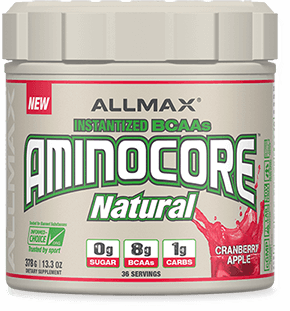 Are BCAAs the best supplement you can take?
AMINOCORE Natural has all the same great benefits as our popular AMINOCORE BCAAs but now naturally sweetened with Stevia! AMINOCORE Natural uses only all natural color and flavoring and is an easy and refreshing way to get the muscle-building power of protein into your workout! With our new patent pending SCOOP-LOCK™ system with ERGO-LID™ packaging! Never lose your scoop again and you never have to go digging through your BCAAs to get it.
Natural sweetener, natural color & natural flavor!
AMINOCORE Natural Sweetened with a pure and natural extract of Stevia root to achieve a delicious and refreshing BCAA drink with zero artificial sweeteners. AMINOCORE Natural has taken the best part of the most effective BCAA formula on the market and made it completely free of artificial color and flavor with zero preservatives, fillers or additives. AMINOCORE Natural is even free of soy (a common allergen). Many BCAAs on the market use Soy to make their BCAAs mix more easily, not ALLMAX, we've used Sunflower.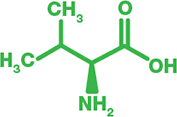 Valine
C5H11NO2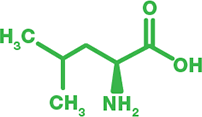 Leucine
C6H13NO2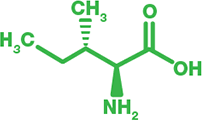 Isoleucine
C6H13NO2
BCAAs (Branched Chain Amino Acids – Leucine, Valine and Isoleucine) are one of the most effective supplements you can buy. BCAAs improve and maintain your muscle tone like nothing else. Having more muscle than fat creates the most ideal physical shape. A greater degree of lean muscle mass elevates your metabolism and in doing so can increase the rate at which you burn through calories.*
AMINOCORE Natural has a whopping 8,180 mg of BCAAs! That's right, over 8 grams of BCAAs in a single serving. Perfect for consumption during your workout to drive up anabolic impact, or away from the gym when you can't get your protein in and you need to prevent the catabolic breakdown of muscle tissue and increase protein synthesis.*
All BCAAs are not created equal!
When you're comparing one BCAA to the other, look closely at the formula – does it include Glutamine passed off as real BCAAs? In contrast, the AMINOCORE Natural label shows you precise BCAA amounts. Glutamine has its place, but it is not a Branched Chain Amino Acid. AMINOCORE Natural includes 8,180 mg of real BCAAs, not glutamine. AMINOCORE Natural is a 9:6:5 ratio BCAAs. AMINOCORE Natural contains additional highly bioavailable B-vitamins not only enhance the anabolic environment, they help to release additional metabolic energy.*
Most people who train hard don't understand why they can't grow like they should. Every serious bodybuilder knows the tried and-tested impact of large dose BCAAs. Packing on serious lean muscle is a matter of reversing the body's natural tendency to break down muscle (catabolism). BCAAs signal the body to build muscle and when taken at the right time, can increase the anabolic effect.*
Aminocore Natural Features Scoop-Lock™ Technology!
Together we can put an end to the scourge of Scoop Loss. Gone are the days of digging through your supps to get your scoop. SCOOP-LOCK is ergonomically designed to lock your scoop into place the first time and every time! And it's right there at the top of your AMINOCORE Natural when you open it!
Scoop-Lock is also available on all ISOFLEX, ALLWHEY Gold, ALLWHEY Classic, HEXAPRO and CASEIN- FX products and it's only from ALLMAX. Look for the rugged new Ergo-Lid™ on ALLMAX products with Scoop-Lock™ inside!
The best mixability, delivery & absorption
AMINOCORE Natural has INSTACLEAR; a cutting-edge solubility technology to BCAA dosage administration. Until now, delivery of a pure 9:6:5 ratio BCAA powder in a potent research directed level (8,180 mg), ideal for anabolic activity, was next to impossible. Aside from being a Premium Grade BCAAs, our INSTACLEAR™ process FLASH-FREEZE-DRIES our BCAA powder to create a truly soluble and easily-mixed BCAA drink that absorbs in a truly liquid form.
AMINOCORE Natural has a taste that is truly exceptional. With absolutely no bitterness or aftertaste commonly found in BCAA drinks, you will love your workout even more with ALLMAX AMINOCORE Natural in your shaker cup!
Ratings & Reviews
What's in AllMax Nutrition Aminocore Natural
Serving Size 1 Scoop (10.5 g)

Servings Per Container

36

Amount Per Serving

% Daily Value

Calories

5

Total Carbohydrates

1 g

<1%∆

Sugars

0 g

†

Vitamin B3 (As Niacin)

20 mg

100%

Vitamin B6 (As Pyridoxine HCI & Pyridoxal-5'-Phosphate [P5P])

2 mg

100%

Vitamin B9 BioB9™ (As Folic Acid & 5-Methyltetrahydrofolate)

400 mcg

100%

Vitamin B12 (As Methylcobalamin)

6 mcg

100%

AMINOCORE™ BCAAs [45:30:25]

8,180 mg

†

L-Leucine 45%

L-Valine 30%

L-Isoleucine 25%

∆ Percent Daily Value based on a 2,000 calorie diet.

† Daily Value not established

Other Ingredients:

Citric Acid

, Natural Flavors

, Malic Acid

, Stevia Leaf Extract (Reb. A 97%)

, Tartaric Acid

, Natural Color [Red Beet Root (Beta vulgaris, root) Powder]

, Lecithin (Sunflower).

ALLERGEN WARNING: Produced in a facility that also handles Milk, Soy, Egg, Peanut, Tree Nut, Fish, Crustacean and Shellfish products.
Directions For Aminocore Natural: Take 1 scoop of AMINOCORE™ NATURAL during weight training or any ahtletic event. On non-training days, AMINOCORE™ NATURAL can be taken anytime on an empty stomach. Mix 1 scoop (10.5 g) into 17 oz (500 ml) bottle of water or a tall glass of water (2 cups). Stir, swirl or shake gently until mixed.
Warnings: Use only as directed. Not recommended for persons under 18 years of age unless prescribed by a healthcare professional. People sensitive to Vitamin B3 (Niacin) may experience flushing of the skin that is generally mild and transient. Do not use if you have any pre-existing medical conditions; if you are chronically ill; if you are pregnant or breastfeeding; taking prescription medication or over-the-counter drugs. Discontinue use if you experience any adverse reaction. Store in a cool, dry place away from direct sunlight. Do not use if inner seal is broken. Keep out of reach of children and pets.
* These statements have not been evaluated by the Food and Drug Administration. This product is not intended to diagnose, treat, cure, or prevent any disease.
---