Stephanie EchoHawk: What's In Your Fridge?
If you think having kids means nutrition has to take a backseat, you haven't met figure pro and mom of six Stephanie EchoHawk!
Stephanie EchoHawk is a four-time nationally qualified figure competitor and a busy mom of six. Seriously! So yeah, she's no stranger to juggling her responsibilities with her passions, and her fridge is a reflection of that. This elite athlete knows all the tricks to mastering a busy schedule. In a fridge where prepped meals of chicken and broccoli and baggies of celery sit alongside the temptation of ranch dressing and pizza, Stephanie holds strong.
What's In Your Fridge?
Stephanie EchoHawk
Watch the video - 4:07
Pull up a chair, leave your excuses at the door, and take a peek into the fridge of this buff momma!
Q
What's your reason for choosing almond milk rather than dairy?
For one, it's naturally lactose-free, which is important because I'm lactose-intolerant. As a bonus, unsweetened almond milk is also low in carbs, with less than 1 gram per cup, and has no sugar. Compare this with dairy milk, which has 12 grams in a single serving!
It's easy for me to get protein from other sources, so I don't worry almond milk having less protein. That's part of the beauty of following an "if it fits your macros" approach.
Your "breakfast of champions" of almond milk, chia seeds, and oatmeal sounds like a great way to start the day. What's your favorite recipe for overnight oats?
I love blueberry overnight oats. Here's how I make it:
Blueberry Overnight Oats: Ingredients
---
Vanilla Almond Milk
1/3 cup
---
Blueberry Greek Yogurt
6 oz.
---
Blueberries (Fresh or frozen)
6
---
---
Pudding Mix (Sugar-Free Vanilla)
1 tbsp
---

---
Just let that mixture sit in a mason jar overnight, and it's an easy, portable meal.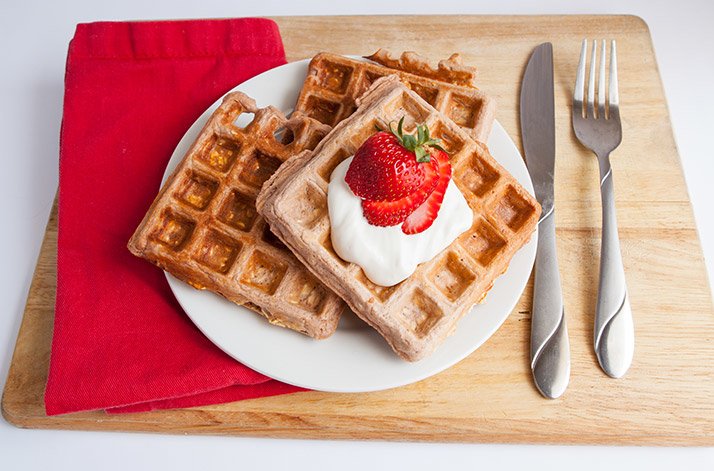 When I'm looking for something a bit heartier, I make protein waffles. Here's what's in them:
Protein Waffles: Ingredients
---
---
---

Sweetener (Sugar-free)
to taste
---
Cinnamon (or berries)
to taste
---
I throw that batter in the waffle iron, let the waffles cool, and put them in the fridge. I'll eat them cold, but you can also heat them up and add some sugar-free syrup. They also freeze great!
You seem like a proponent of drinking your veggies. How do you keep from losing out on fiber?
For fiber, blend, don't juice! Blended veggies retain their fiber, while a juicer filters it out. I also like to add coarsely ground flax seed into my oatmeal or hot rice cereal to get my 25-30 grams of daily fiber.
Your freezer's stuffed to the brim with frozen goodies. What's one of your favorite meal-prep hacks?
Always consider the state your meal will be in when you're ready to eat. When prepping my chicken and rice, I always add one tablespoon of chicken stock before freezing. This helps my chicken stay moist even after it's thawed.
How do you prevent freezer burn in your frozen meals?
The best way to prevent freezer burn is to limit the food's exposure to air. I let my food cool to room temperature, then immediately put it in the freezer. I always rotate my frozen foods, too, putting my newly prepped food in the back and bringing any older food to the front.
I take the next day's foods out of the freezer each night and let them thaw in my fridge, decreasing the warm-up time and keeping the taste and texture fresh.
Aside From Condiments Like Hot Sauce, How Do You Spice Up Common Meals So That They Don't Become Old And Boring?
I use Flavor God seasonings to flavor my foods. My favorites are Pizza, Taco Tuesday, Bacon Lovers, Garlic Lovers, and Lemon and Garlic. I usually don't cook with it, but I use it to spice my food up after reheating. That way, I can change things up on a daily basis and choose whatever flavor grabs me at the time.
For my sweet potatoes, I usually use pink sea salt to taste, but to change it up I sometimes sprinkle cinnamon on instead.
With Six Kids To Share Food With, How Do You Maintain Balance Between Their Pizza And Ranch And Your Celery And Spinach?
I'm not as tempted by everyday food as I am by sweets, but for me, it's all about mind over matter. If I pick up treats or make a birthday cake, I just eat my meal-prepped food first, make sure I drink my water, and then think about the long term. I know that I won't achieve my goals if I don't stay strong.
Plus, I don't like the way I feel when I eat unhealthy foods. I also try to limit the junk food my kids eat. They're pretty good at eating a lot of the same foods I eat. In fact, some of them beg for tilapia!
Fat-Free Reddi-Wip And Jello Sounds Like A Great Treat. Any Other Low-Calorie Dessert Options?
Another favorite "healthy treat" for me is making a BCAA slushy. I put ice, water, and two scoops of ErgoAmino+ in my NutriBullet, mix it up, and enjoy. It really helps to satisfy my sweet tooth.
Shop Recommended Products