Bodybuilding.com Featured Podcasts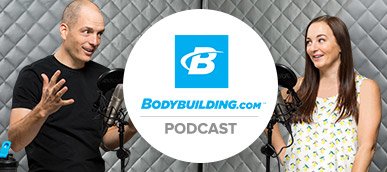 Subscribe to The Bodybuilding.com Podcast for fresh and intriguing viewpoints and advice on trending fitness topics. New episodes released every other Friday.
Podcast Archives (No Longer Current)
Pro Bodybuilding Weekly
PBW breaks down all the action from Dallas following the 2011 Europa Supershow. The event's champion Toney Freeman stops in to discuss a contest prep strategy that allowed him to turn his 45 year old body into a championship physique.
Pro MMA Radio Show
UFC on Fox, UFC 134 Preview and Matt Hamill—Latest recap of the UFC on Fox deal as well as a preview of UFC 134. Also, In our Toe To Toe segment, recently retired UFC Light Heavyweight Matt Hamill comes back to Pro MMA Radio with his trainer, Duff Holmes.
Awesome Muscles(TM) Series
Playing "The Exercise Factor". Welcome to Awesome Muscles, where you learn about the best training and nutrition scientific breakthroughs, and approaches, directly from your favorite fitness expert, Daniel Gastelu.
Fitness Business Radio
Playing "Frank Mastromattei Interview". Subscribe to the Fitness Business Radio podcast with hosts Dave DePew & Tom Perkins on your iPod or computer. Get the inside scoop on the business end of the fitness industry!
Fitness Cure
Playing "Jennifer Thomas Interview". The cure for the common couch potato and a no-B.S. guide to getting in shape, by Maria Kang!
Fitness & Nutrition Radio
Playing "Jack LaLanne Interview". Listen in as distinguished Dave DePew interviews the top minds in the fitness industry, and treats special nutritional topics as well. Fitness and nutrition insights aplenty!
Living Beautiful Radio
Playing "Arnold Recap With Cynthia James". Quenching the appetites of the modern-day, multi-faceted woman, with your hosts, Dr. Z. Catherine Navarro and NPC Figure Competitor Nancy Di Nino!
MANformation Talk Radio
Playing "Values of Men". The MANformation Talk Radio Show presents effective strategies that will help transform you into the MAN you really want to be. It is personal development for men; it is about men; it is about our life issues and experiences as men.
Max-Out Radio
Industry interviews, recipes, and training & nutrition news from nutritionist and Bodybuilding.com writer, Mike Roussell!
MyBodyBeats
Playing "Valerie Waugaman Interview". Professional workouts and interviews of IFBB professionals, by Cory & Nikki Canty!
Natural Bodybuilding Radio
Playing "Champs of the 2010 ABA NAs". The mission John has for his radio show is simple to bring as many health experts, trainers and natural Body Building Champions to you, his audience, to learn from so that you will be the very best you can be naturally!
Performance Nutrition Show
Playing "Doctors & Entrepreneurs". Welcome to Performance Nutrition, with your hosts Dr. Jose Antonio and IFBB Pro Carla Sanchez! Each week, Jose & Carla interview the coolest names in the fitness and sports industries.
The "O" Show
Playing "Modeling & Photographers". Modeling tips from photographer Walt Ostarly and model Gina Ostarly! Dedicated to all you crazy MySpace modeling fans out there! Walt & Gina Ostarly are off the hook!
Uncensored BB Secrets
Just ask Marc David, the Beginner's Expert! Subscribe to Marc's Podcast on your iPod or portable MP3 player. Get beginner's training and nutrition tips - uncensored - that many people miss!
What I Want Fitnesscast
Our first video podcast! Watch and listen as personal trainer Mike Causadias shows you how to work out!
Other Podcast Links
External Podcast Websites
External Podcast Directories
Related Links