Parmesan-Crusted Baked Cod
Serve up a fresh flavor your family is sure to love with this easy-to-make recipe!
When it comes to whipping up a clean dinner, you can't go wrong with a fresh catch. When you're sick of chicken and over beef, fish is the perfect skinny supper. Not really into that fishy flavor? Don't worry, the mild taste of cod might be just what you're looking for.
When prepped the Skinny Mom way, this low-calorie fish comes in at under 200 calories per fillet while still packing in 27 grams of protein. Don't be scared away by the panko breading or parmesan crust, either. Even with its crunchy coating, this dish only has 4 grams of fat and 6 grams of carbs.
Plus, that parmesan-and-panko coating is tasty enough to lure in any fish-wary kiddos you may have! Pair it with some broccoli and a baked potato, and you've got a perfect muscle-building dinner.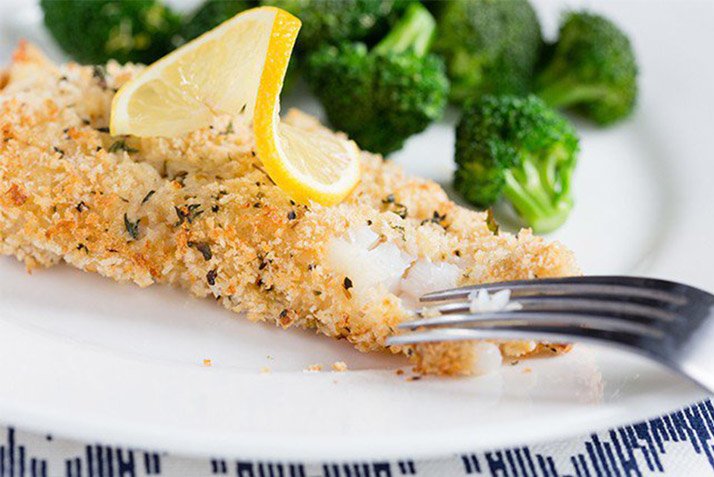 Ingredients
Skinless cod fillets, fresh or frozen
4 (4 oz. each)
---
White whole-wheat flour
1/4 cup
---
---
---
---
Panko breadcrumbs
2/3 cup
---
Grated parmesan cheese
1/4 cup
---
---
---
---
---
Directions
Preheat the oven to 425 degrees F. Line a baking sheet with foil, and place a wire cooling rack on top of it. Place the prepared baking sheet in the oven to preheat.
Pat the fillets dry with a paper towel and season them with salt and black pepper.
In a shallow dish, stir together the flour, salt, and black pepper.
In a second shallow dish, whisk together the egg and egg whites.
In a third shallow dish, stir together the panko, parmesan cheese, dried oregano, basil, and thyme.
Dredge each fillet in the flour, shaking off any excess. Dip the fillet in the egg wash, allowing the excess to drip off.
Gently press the fillet into the breadcrumbs.
Spray the tops generously with cooking spray.
Carefully remove the preheated baking sheet, and place each fillet sprayed-side down on the cooling rack. Spray the other side with cooking spray.
Bake for 16-18 minutes, or until just cooked through.
Nutrition Facts
Serving size: 1 fillet
Recipe yields: 4 servings
Amount per serving
Calories 174