No-Bake Peanut Butter Oatmeal Protein Bars!
Later, granola. Next time you're craving a clean, on-the-go treat, reach for these delicious no-bake peanut butter protein bars instead.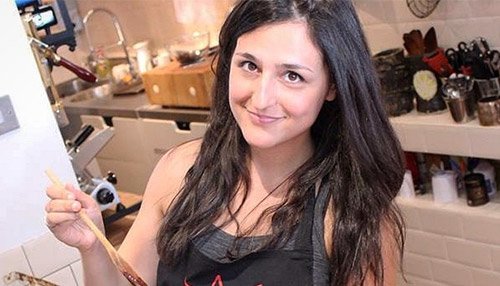 Vital Stats
Name: Anna Sward
Occupation: Author & Founder of Protein Pow
Website: Proteinpow.com
Book: 'Protein Pow(d)er: The Cookbook'
If you like oats, peanut butter, and protein, these bars will set your heart on fire! They're a cross between blondies and cookie dough, and needless to say, they taste absolutely sublime! The best part? They're actually good for you.
These bars contain no butter or hydrogenated oils, no cane sugar, and no shelf-extending preservatives that make supermarket-ready bars last as long as possible. These babies are fresh and delicious. They're also nearly as easy to make as the box brand and require no baking at all!
All you do is mush up a bunch of ingredients together, press them onto a bread pan, and leave the mix to set overnight. Open the fridge in the morning and you'll wake up to a bunch of yummy bars to enjoy for breakfast, pre- or post- workout, or simply as a snack at work or school.
I added some freeze-dried raspberries on top of my bars, but feel free to use anything else you want—chopped nuts, dark chocolate chips, coconut flakes, or other dried fruit. Anything goes! You can play around with your nut butters too, and use almond or cashew instead of peanut butter.
If you can't tolerate nuts, you can even use seed butter! Sunflower seed butter, for example, is delightful in these bars.
Just make this recipe yours, and enjoy it!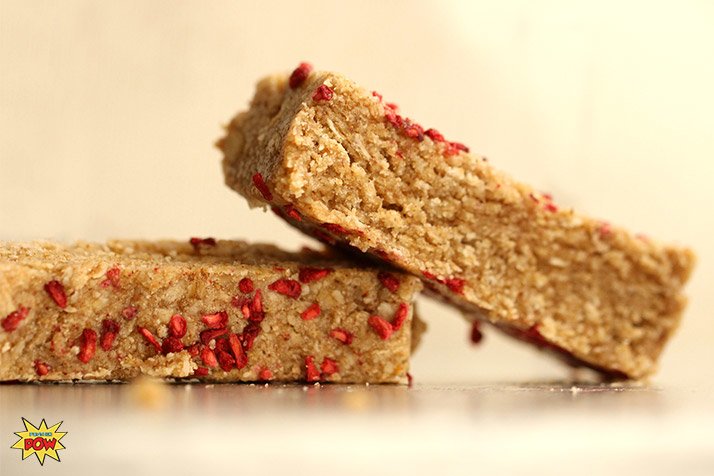 Ingredients
Gluten-free (or regular) rolled oats:
1 cup
---
---
---
---
---
---
Freeze-dried raspberries:
1 tsp
---
Directions
Toss all ingredients except raspberries into a bowl. Mix using your hands until you get a soft dough.
Press your dough into a silicone bread pan.
Top with freeze-dried berries or your topping of choice. This is optional, but lovely.
Let it sit in the fridge overnight. Slice into bars the next day.
Nutrition Facts
Serving size: 1 bar
Recipe yields: 10 servings
Amount per serving
Calories 100