Jennifer Nicole Lee's Holiday Survival Guide
The holidays are full of joy, but don't let all that cheer overfill your belly. You're invited to JNL's healthy holiday celebration: fun, fit, and no fat allowed!
Hey Bodybuilding.com! It's JNL here bearing a sackful of holiday treats. But these aren't gut bombs in shrink wrap and metal tins; they're healthy treats. It doesn't make sense to sit around the dinner table giving thanks for good health and prosperity, only to dig in to foods that will bankrupt your health and potentially make the next big family gathering somebody's funeral.
Instead, give thanks for good health and fitness, and then eat in a way that promotes both!
It's not easy. Being a mom and a wife, I know the holidays can be full of joy! But the hectic holiday season spanning from Thanksgiving to New Year's Day is also the high-calorie season. The added stress and calories from shopping, celebrations, parties, and events can leave you feeling bloated and zapped of energy. Too often these days, 'tis the season to gain weight.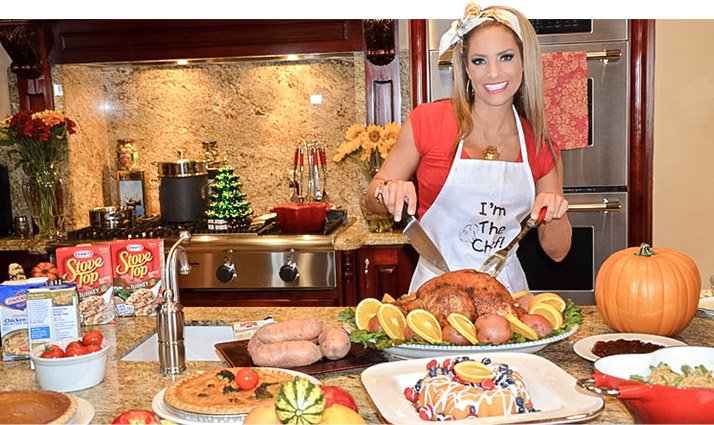 "It's not easy. Being a mom and a wife, I know the holidays can be full of joy!"
In recognition, I developed a complete lifestyle program to help you enjoy the holidays—even savor your favorite seasonal dishes and meals—while still maintaining your fitness goals.
Being an author and a foodie at heart, I take great pleasure in creating recipes that allow you to satisfy your taste buds in ecstasy while keeping your waistline in check. Below are some of my best holiday meal ideas, perfect for Thanksgiving or any of your winter holiday feasts! I have taken staple meals of the holiday and tweaked them to make them as healthy as I could.
These recipes are taken from my cookbook, "Fun Fit Foodie!"
Healthy Green Bean Casserole
Around our household, healthy eating and cooking is a family affair. My sons Jaden and Dylan love to help me prepare beans by snapping them in half, and this is one of their favorite sides.
This isn't the no-mess, super-easy recipe of yore, but it is low in fat and high in flavor. To go one step farther, substitute 1/2 pound of fresh green beans for frozen.
Simply snap them into 1-inch lengths and blanch the beans for 1-2 minutes in boiling water. Refresh under cold water and spread in the baking dish.
Ingredients for onion topping
---
onion
1 large thinly sliced
---
---
Ingredients for sauce and green beans
---
---
---
---
onion
1 small finely chopped
---
---
---
---
---
---
---
---
Directions
to make topping
Heat oil in a large non-stick skillet over low heat.
Add sliced onion and cook, stirring occasionally, until tender and golden, about 30 minutes. Set aside.
Preheat oven to 350 degrees. Spread breadcrumbs on a baking sheet and toast, stirring once, until lightly browned, 5-to-10 minutes. Set aside.
to make sauce
Combine milk, peppercorns, bay leaf, and nutmeg in a medium saucepan and heat over low until steaming.
Remove from heat, let stand for 5 minutes, and then strain into a measuring cup. (Discard peppercorns and bay leaf.)
Meanwhile, heat oil in a large saucepan over medium heat. Add chopped onion and cook, stirring often, until golden, 3-to-4 minutes.
Add mushrooms and garlic and cook, stirring, until tender, 3-to-4 minutes.
Sprinkle flour over the vegetables and cook, stirring, for 1 minute.
Slowly pour in the milk, whisking constantly. Bring to a boil, stirring.
Reduce heat to low and cook, stirring, until thickened, about 1 minute.
Remove from heat. Whisk in sour cream, salt and pepper.
---
Nutrition Facts
Serving Size

Amount per serving
Calories 180
STUFFING WITH FRESH CRANBERRIES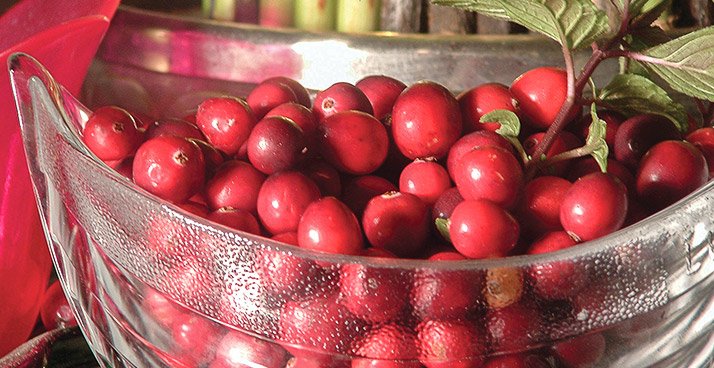 Ingredients
whole wheat bread cubes
4 cups
---
---
---
---
---
---
---
cranberries
1/2 cup chopped
---
---
---
Directions
Preheat oven to 400 degrees.
In a large skillet, sauté the chopped celery and onion in the chicken broth until tender.
Remove from heat. In a large bowl, combine the bread cubes, chopped parsley, tarragon, paprika, nutmeg, chopped cranberries, water chestnuts and chopped apple. Stir in the sautéed onion and celery, and any remaining broth.
Spray a 2-quart baking dish with non-stick spray. Spoon mixture into the dish. Cover. Bake at 350 for 20 minutes. Uncover. Bake 10 more minutes. Serve hot.
---
Nutrition Facts
Serving Size

Amount per serving
Calories 150
Healthy Sweet Potato Casserole
My husband loves this one. It's so rich, creamy, and sweet, it tastes like a dessert!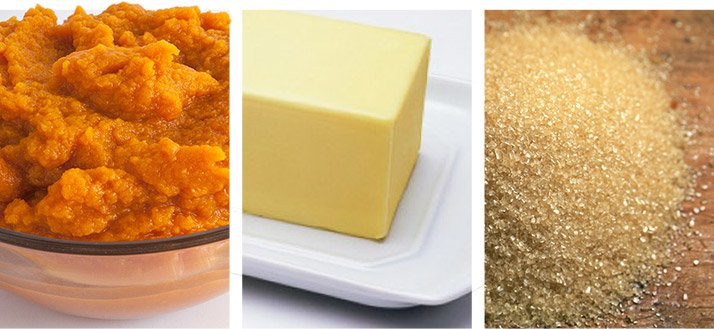 Ingredients
sweet potatoes
pealed and cut into 1/2 inch slices
---
---
---
---
---
---
---
---
Directions
Preheat oven to 400 degrees.
Place potatoes in a steamer basket over boiling water.
Cover pan and steam 10 minutes, or until tender. Drain and mash. Combine potatoes and ingredients in a bowl. Season with salt to taste.
Mix well and pour into 9-inch buttered pan. Combine remaining ingredients in a bowl and spread over sweet potato mixture.
Bake 30 minutes or until brown.
---
Nutrition Facts
Serving Size

Amount per serving
Calories 170
Low-Fat Pumpkin Pie
This is as healthy as I could get it! Pumpkin is super high in beta-carotene, so dig in and enjoy.
Ingredients
can solid-pack pumpkin
15 oz
---
condensed fat-free milk
14 oz
---
---
liquid egg substitute
1/2 cup
---
---
---
---
Directions
Preheat oven to 425 F.
In a large mixing bowl, combine the first seven ingredients; beat just until smooth. Pour into pastry shell.
Bake at 425 degrees for 15 minutes. Reduce heat to 350 degrees; bake 25-30 minutes longer or until a knife inserted near the center comes out clean.
Cool on a wire rack; store in the refrigerator.
---
Nutrition Facts
Serving Size

Amount per serving
Calories 290
Roast Turkey with Champagne-Infused Apricot and Cran-apple Stuffing
So darn good, it's hard to believe it's actually healthy for you! With a kick of pink champagne, the cran-apple and apricot stuffing is sure to be moist!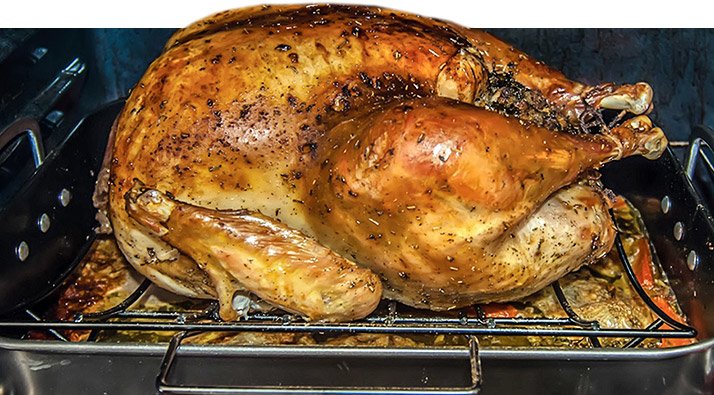 Ingredients
---
---
---
---
---
---
---
pink champagne
1 1/2 cups
---
cranberries
1/2 cup chopped
---
dried apricots
3/4 chopped
---
granny smith apple
3/4 cup
---
---
---
Directions
Place bread in a large bowl and set aside.
Melt the butter in a small saucepan over medium heat. Add the onion and garlic and sauté until translucent. Add the broth and champagne, and pour the mixture over the bread. Stir to make sure all bread chunks become soaked. Let stand for 15 minutes or until cool enough to handle. Squeeze the bread with your hands to make a thick paste. Add the dried fruit, herbs, pepper, and continue to work the mixture with your hands until well blended.
Preheat oven to 325°F (160°C).
Remove the neck and giblets from the turkey and set aside for gravy (see giblet gravy recipe).
Rub the turkey inside and out with the pepper mix.
Fill the body and neck cavities loosely with the stuffing. Fasten the flaps with turkey skewers.
Tie the legs together at the bottom using kitchen thread.
Place the turkey, breast side up, on a rack in a roasting pan. Roast for 12-to-15 minutes per pound, basting it often with pan drippings.
---
Nutrition Facts
Serving Size

Amount per serving
Calories 440
Help JNL! The Holidays are Here! How Do I Survive Them, and Get it All Done?
Time management is a science, and I like to believe that I have somehow mastered it! So, in order for you to set yourself up for serious holiday success, you must follow my top 10 list of tips below!
Delegate! Delegate duties to those who can help you! Don't micro-manage. Lean on your team to help you get it all done.
Shop online! You save time, money and even more importantly energy! Why fight your way to the mall and shop 'til you drop, when you can order and ship with one click on your laptop.
Send e-mail holiday cards. Cut half the time and spend no money sending your family and loved ones a personalized holiday greeting e-card, with your family's photo, or one of you dressed up in full holiday garb!
Focus on priorities! You won't be able to do it all, so be at peace with this, and accept it as fact. Going into the holidays with this mindset will make you more focused on what really matters, and help you accomplish objectives.
Exercise! Schedule your workouts like important business meetings you cannot back out of. Your body, mindset and your energy level will thank you for not skipping out!
Eat 5-6 meals, and get in your protein shakes. With so much to do, and not enough time to get it all done in, you may be tempted not to eat to save time.
Make "workout dates" with your fitness friends. Sick of all the food parties? Then plan a hard-core workout celebration with your fitness besties to keep all of you motivated during the "all you can eat" season.
Enjoy cocktails, but don't go overboard. Yes, eat smart and drink wisely. Limit your alcohol intake, so you don't end up looking like Santa Claus come New Years!
I'm wearing too much fabric! Try on your swimsuit, bikini and even your favorite skin-tight jeans for added motivation. Sometimes the cold weather will make us forget about our spring clothing. We hide extra pounds in sweaters and knits. So once a week, try on your favorite "less fabric" outfits!
Last, don't make your holidays miserable. Yes, you may gain a tad bit of weight, but don't go past the limit of say five pounds. Enjoy staying in the range of your ideal weight.
I hope my healthy holiday survival plan will help you enjoy your special time together with your friends and family, while allowing you to maintain and even achieve your fitness and weight loss goals!