Coffee and Pecan Protein Bread!
Looking for a new way to add some protein to your morning meal? Add a dunk-friendly treat to your cup of joe with this protein-rich recipe!
Vital Stats
Name: Anna Sward
Occupation: Author & Founder of Protein Pow
Website: Proteinpow.com
Book: 'Protein Pow(d)er: The Cookbook'
This recipe for protein bread was born out of two interrelated passions: a passion for coffee and a passion for bread—particularly bread topped with almond butter! It's one of my favorite things to have for breakfast before heading to the gym. I get my carbs, protein, and a nice little punch of caffeine to dip into my double espresso or large Americano! What's not to love, right?
I baked these mini breads in a loaf pan, but if you don't have one, don't worry. Muffin tins work just as well and allow you to make three personal-sized servings, which is great for spreading this guilt-free treat throughout your week.
Want to make this recipe even better? Frost each muffin with your choice of protein frosting. Just whip together your chosen flavor of casein, some Greek yogurt, and milk. Not only will you up the protein content of your dish, you'll also add an extra layer of creaminess and flavor pow!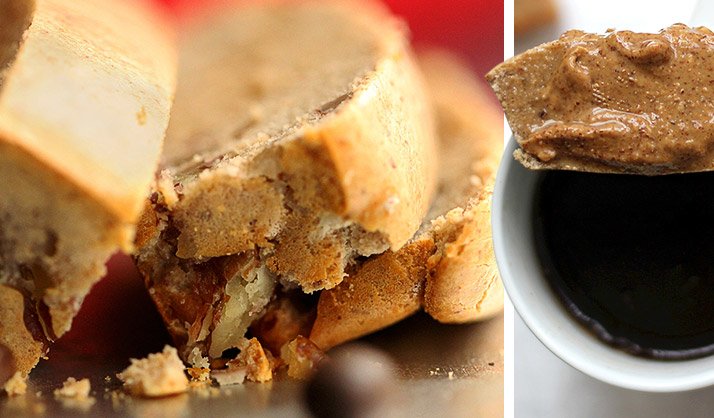 Ingredients
---
Almond (or cashew nut) butter:
2 tbsp
---
---
---
Brown rice syrup:
2 tbsp (or granulated sweetener for a lower-carb option)
---
Freshly brewed espresso:
2 tbsp
---
---
Chopped pecans:
1-3 tbsp (depending on desired taste)
---
Meal Plan Header
Blend all ingredients except for the pecans in a food processor. Add pecans after blending in order to retain the crunchy texture.
Bake at 320 F (160 C) for 10-15 minutes, being careful not to exceed the 15-minute mark. Check on the baked good after 8 minutes, especially if you bake the batter in muffin cups! As soon as a knife comes out clean, remove your treat from the oven.
Enjoy with almond butter on top, or if you're a fan of icing, with some protein frosting. Just be sure to let the bread cool before you add the topping.
Nutrition Facts
Serving size: 1/3 of a loaf or 1 muffin
Recipe yields: 3 servings
Amount per serving
Calories 261