Ask The Protein Powder Chef: Do You Have A Recipe For Protein Pumpkin Pie?
Nothing tops off a holiday feast quite like a sweet slice of pumpkin pie. This year, opt for the guilt-free, protein-fueled version from our Protein Powder Chef!
Q
I can't get enough of pumpkin this season! I'm specifically looking for a protein-based pumpkin pie. Do you have a recipe?
Whether it's Thanksgiving, Christmas, or a random autumnal Tuesday, nothing says holiday flavor quite like pumpkin pie! It's sweet, creamy, and always hits the spot. If it wasn't for that pesky saturated fat and three-digit-per-slice calorie count, pumpkin pie would be perfect! This year, it can be. Make your pie work for you with this protein-packed recipe. It's one of the easiest pie recipes you'll ever find, and it's totally foolproof.
You don't need to know anything about cooking to get this right. All you need is a bit of time, some basic ingredients, a blender, a baking pan, and an oven. Besides being easy, you know what else is really cool about this recipe? The macros! Each slice of pie packs 10 grams of protein and 3 grams of fiber and comes in at a cool 162 calories.
This is protein wizardry at its finest, and I fervently invite you to give it a shot. After all, what's the holiday season without pumpkin pie? Go all out and top it off with some frosting. We won't tell!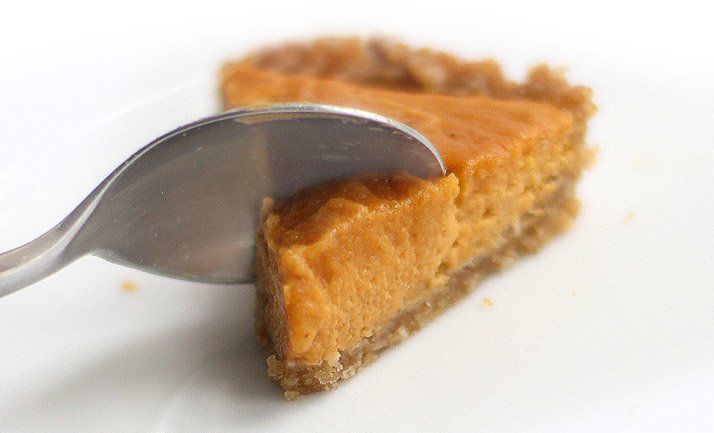 Note
If you want to make your pumpkin pies without crust—thereby removing most of the carbs and the fat—just bake the filling inside of silicone muffin molds for 35-40 minutes at 338 F (170 C). Let the muffins cool before uncasing them, and voila: crust-free mini pumpkin protein pies!
Still hungry? Check out more of my healthy, protein-packed, and delicious holiday recipes on my Protein Pow Holiday Recipes ebook!