Ask any fitness enthusiast about pre-workout supplements and you'll likely hear a tale about the first time they tried ProSupps' Mr. Hyde. This energy genie in a bottle has become the pre-workout for athletes looking for an extra edge—and, man, do they get that edge!
The company has since come up with some innovative ways to deliver its signature pre-workouts, Dr. Jekyll and Mr. Hyde, both of which you can now get in "powder-in-the-cap" portable pre-workout bottles. ProSupps also produces baked protein bars, baked protein cookies, stylish performance apparel, and a growing line of nutrition products.
Bodybuilding.com caught up with CEO T.J. Humphreys to talk new ProSupps products, expanding to a larger audience, and nutrition innovation. Spoiler alert: A new Mr. Hyde product is about to hit Bodybuilding.com: Stay tuned!
How did you meet Art Atwood and become involved with his business?
Art and I became friends many years ago when he owned a supplement line called Professional Supplements. At the time, I owned Lone Star Distribution, which distributed the Professional Supplements line.
For him, picking my brain was an opportunity to learn more about increasing his distribution through different retailers and wholesalers. For me, it was an opportunity to learn about bodybuilding and competing from a highly respected IFBB pro. We traded notes: He taught me how to be a competitive bodybuilder, and I helped him on the sports-nutrition side. We became such good friends that he even moved from Wisconsin to Dallas on my recommendation. He thought Dallas was awesome.
When Art passed away in September 2011, his family reached out to me. His sister noticed that my name came up in a lot of Art's journals. He loved to take notes about formulations and sales strategies, and he had mentioned my name numerous times.
When his sister searched for me, she found my magazine covers and bodybuilding shots, but she also discovered that I was involved on the business side as well. She asked if I was interested in helping to build her brother's brand. I was—very! So in January 2012, I bounced over to take the job as CEO of Professional Supplements.
How did Professional Supplements become ProSupps?
Before Art passed away, he was selling one product: Pure Karbolyn. Unfortunately, the company that made it decided to stop supplying it. So when we bought Art's old company, it was basically a startup with no real assets.
Brian Ikalina decided to join me in the new business venture. Several other guys were unhappy working for a company with a negative work environment, and we had worked together before and believed we could collaborate on developing exciting new products.
While we remained inspired by Art's life and his writings, we started from scratch with new, more modern concepts and ingredients—all new and exciting products. We just got down to work building a brand, creating the logos, the colors; We did it all!
We look forward to continued production of the best sports nutrition supplements—and to the development of more innovative products in the future.
That turned out to be a smart decision! So, what are your newest products?
Mr. Hyde Nitro X and Dr. Jekyll Nitro X are the newest versions of our trademark products. They both contain Nitrosigine, an element for pump that's clinically proven to help circulation and blood flow. Some of our other pre-workouts have Nitrosigine, but we noticed a major benefit when we combined it with the rest of the ingredients that have made Hyde and Jekyll so popular.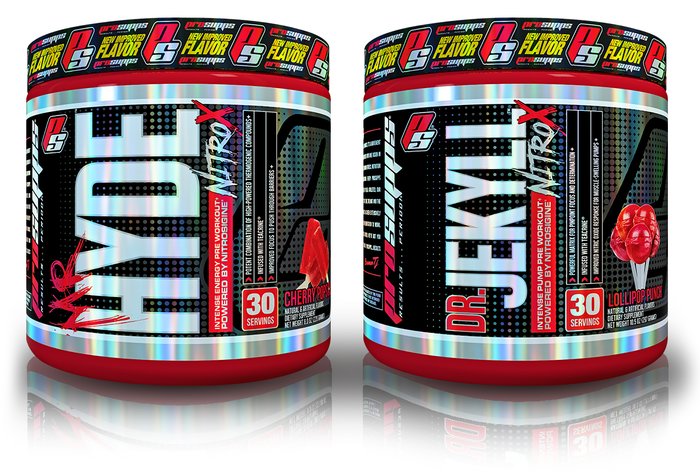 We also added TeaCrine to both products. TeaCrine amplifies these supplements' energy and focus components. I'm 47 and I train at night. I take two scoops of Jekyll and the TeaCrine gives me a Hyde-like effect without overstimulating me.
TeaCrine is the patented version of theacrine, a non-habit forming energy ingredient found in natural sources such as the kucha tealeaf and cupacu fruit. There've been a lot of clinical studies on the energy benefits of TeaCrine, and they all agree that it's a great ingredient.
This is the first time since we first rolled out Dr. Jekyll and Mr. Hyde five years ago that we've changed the formulation. We did a lot of beta tests within our staff, our athletes, and our ambassador community. The result of all that testing was the products we rolled out about two months ago.
About a year ago, we released Mr. Hyde Zero. We created this product for consumers who want a pre-workout that's free of artificial sweeteners and artificial colors, but has the same active ingredients as Hyde. You get the same performance impact, without the extra ingredients.
What is the difference between Mr. Hyde Nitro X and Dr. Jekyll Nitro X?
Mr. Hyde is a high-stimulant pre-workout. It has more than 400 milligrams of caffeine and 3 milligrams of yohimbe in every scoop.
Dr. Jekyll is a lower stimulant pre-workout that focuses more on pre-workout and pump. Mr. Hyde is used by those who typically require more of an energy kick to get going. Dr. Jekyll is used by folks who don't need as much of a stimulant base and are more focused on circulation and pump.
As the story goes, Dr. Jekyll is this prim, proper doctor society loves. When he whips up his special potion and drinks it down, he mutates into this beast, Mr. Hyde. The products are opposites in terms of stimulant base, but they're both very effective.
Which one you use just depends on your preference. If you need an earth-shattering kick in the butt in the morning before you go to the gym, you'll be rocking and rolling all day long with Mr. Hyde. If you train at night or for endurance like a lot of CrossFitters do, take Dr. Jekyll so you can sleep at night. It's got about as much caffeine in it as an 8-ounce cup of coffee.
What are Mr. Hyde RTG and Energy Shots? How are they different from each other?
What's exciting about the Mr. Hyde RTG is that we were the first sports nutrition brand that came out with a true pre-workout that's RTG—ready to go.
When you buy Mr. Hyde RTG, you're getting a single scoop of the same Mr. Hyde powder you get when you buy a 30-serving tub of it from Bodybuilding.com. Unlike other RTDs that are all liquid, we decided to isolate the powder from the liquid to maintain the integrity of the ingredients.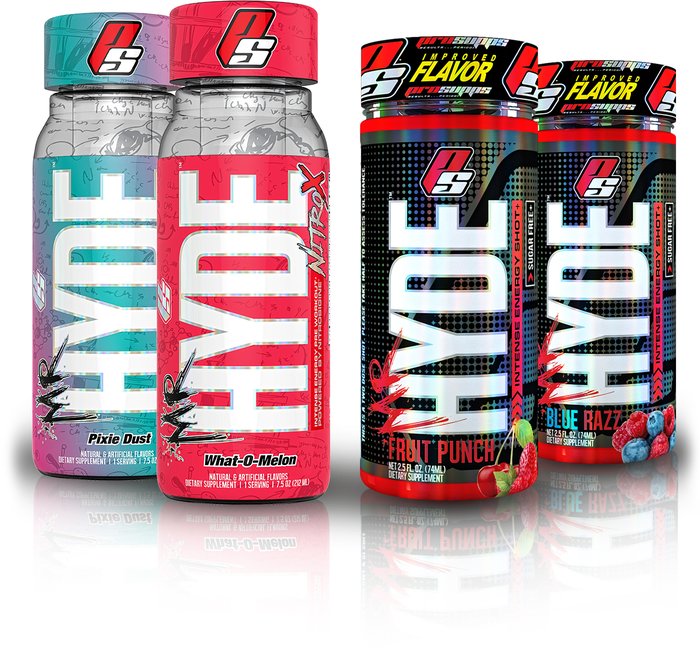 When creatine, beta-alanine, and other ingredients are pre-mixed, it doesn't take them long to degrade to the point of being useless. We wanted on-the-go consumers to get the true effect of Mr. Hyde, and the only way to really do that is to keep the powder away from the water. The powder is kept dry in a sealed, plastic cap underneath the cap in a bottle. The bottle already contains water, so all you have to do is peel the top off, close the lid, and shake the bottle to activate the pre-workout.
The Energy Shot has 400 milligrams of caffeine in each bottle, so it's the strongest energy shot on the market. What makes it different from the Mr. Hyde RTG is that it's just caffeine and B-Vitamins, so it's not an official pre-workout. The RTG powder-in-the-cap is a full-on pre-workout experience.
How do you balance transparency with the need to protect your flagship products' formulas?
It's important that we make the contents of any of our stimulant-based products totally transparent. If you're a performance athlete—and a lot of our customers are—you want to know how much caffeine and yohimbe are in your drink so you know how much to hydrate before an activity.
Art Atwood himself developed the formulas for other products, including Halotropin, a natural testosterone booster. That product has a proprietary blend, with very unique ingredients in very specific dosages. It's a fact of life in this industry that there are a lot of knockoff products that use very similar formulas to ours. ProSupps is unique because we make the formulas ourselves.
When you are looking for transparency, you want to know what you're putting into your body. That's why we invested in building our own manufacturing facility. Less than 5 percent of brands can boast that they have complete control over their manufacturing. I wanted to have those controls and safety benefits in place. I wanted to make sure we remain completely compliant in every aspect of the business. If you were to come to my facility in Allen, Texas, I could put you in a lab coat and walk you down the line to see your Mr. Hyde, Halotropin, Dr. Jekyll, or AminoLinx being made every single day.
AminoLinx, 30 Servings
Supports Muscle Tissue & Hydration!
ProSupps recently entered the protein food space with the launch of MyBar, MyBar Pro and MyCookie. Tell us about those products.
The thought behind creating MyBar and MyCookie was to create best-in-class products. We thought that if we were going to play in the bar space, we needed to develop a product that not only tastes great, but is within striking distance nutritionally of all the other bars in the market.
A lot of brands chase the extruded bar model. We didn't want our bars to look like that or have that texture. We went with a unique production process and released a protein bar that's baked. Those perfectly formed rectangles you get from the extrusion process are just not us. We wanted to make a bar that was unique to the space and tasted so good that people would seek it out time and time again.
MyCookie came out of the same kind of thought process. We wanted a cookie that, from a nutritional perspective, was superior to what our competitors offer. We just launched MyBar Pro, which is a larger bar with 30 grams of protein. It has only 4 grams of sugar, 340 calories, and it comes in six flavors—as does MyCookie. It's a meal-replacement type product. It's one of the only triple-layer baked bars on the market.
What types of products can we expect in the future from ProSupps?
We're getting ready to launch Hyde Power Potion, our 16-ounce carbonated energy drink with 350 milligrams of caffeine plus TeaCrine, Co-Q10, and B-vitamins. It's an energy drink with a purpose.
Last but not least, when did you partner with Roc Nation and why?
I ran into Michael Yormark, president of Roc Nation, two years ago. Roc Nation is a premier athlete and entertainer agency. They represent over 170 of the top entertainers and athletes in the world, from Beyonce to the Jonas Brothers.

So Michael and I shared some stories, and he told me at one point, "I love what you guys at ProSupps are doing." I wanted to partner with them because I've realized during the past 15 years I've been in this business that so many sports nutrition brands are narrowly focused on just the fitness space.
In reality, there is such a large consumer base that purchases sports nutrition products—It's not just hardcore bodybuilders and fitness enthusiasts. Nick Jonas practices jiu-jitsu and has been taking ProSupps for the last two years. Singers, dancers, and their audiences are the same way. They're hard-core athletes as well as entertainers, and supplements enable them to perform at their peak.
It's easy for brand owners to get too focused on our close circle of consumers. My goal of partnering with Roc Nation is to bring our brand to a larger audience. Roc Nation is an elite brand that partners with other elite brands like Adidas and Puma…and now with ProSupps. I wanted to bring our brand into that class of elite brands. Our world of sports-nutrition consumers is so much bigger than the men and women you see at the Olympia and Arnold Sports Festival. We want to serve everyone who needs us.