Optimum Nutrition has a long track record of producing stellar supplements that are effective, affordable, and popular with serious athletes and fitness fans. Honestly, everyone who has ever told someone they work at Bodybuilding.com has heard at least once, "Sure, I know you guys. That's where I buy my Gold Standard whey."  
So how do these time-tested products stand up today? Here's what our customers say about the three most popular Optimum protein products. They even shared some of their favorite not-so-secret recipes!  
Would we all be drinking post-workout protein shakes if Optimum Gold Standard 100% Whey hadn't come onto the scene? It's unlikely. It has been one of our top-selling proteins for nearly as long as Bodybuilding.com has been around and has racked up over 10,000 reviews and counting. The feedback we get again and again is simple: It's a well-made product at a fair price and is easily digestible.  
With 14 different flavors to choose from, you'll never run out of options. If you're looking for the top-rated flavors based on user feedback, the two flavors tied for first are Extreme Milk Chocolate and Mocha Cappuccino, each with average ratings of 9.1 out of 10.  
What the Community Says:  
 "I've used so many different brands. When it comes to price vs. quality, sure Optimum whey is the best one!" - wmdogan 
"The mocha cappuccino flavor is delicious. Mixes easily with a shaker cup. I've tried just about every brand on the market, and Optimum's whey never disappoints with perfect flavor and mixability." - Bjnichols 
"You'll love it, cause I do. Use a blender with either Double Rich Choc, Extreme Milk Choc or Mocha. 2 scoops whey, 5 grams of unsweetened cocoa powder, 12 g choc PBfit, 3/4 cup unsweetened almond milk, ice." - jamesyboyfit 
The Standard Has Been Set
With 24 grams of protein and a complete amino acid profile to aid muscle recovery and growth, Gold Standard 100% Whey protein is the meal replacement experienced lifters trust.*

 Whey protein's slower-digesting cousin, casein protein is a favorite among physique athletes and bodybuilders looking to hit an ambitious protein target or kill nighttime cravings. The thicker texture of casein makes it an ideal substitute for puddings and ice creams, and the overall feedback from customers is this is their go-to snack option to satisfy their sweet tooth and prevent muscle loss.  
What the Community Says: 
"Of all the supplements on the market, this is absolutely the best and the one that really works! And if for some reason you miss a workout or need to lay off for a while, continue taking this to help maintain the gains you've made. I never mix anything with this other than occasionally adding a dash of pumpkin pie spice to make it taste exactly like eggnog. I drink this while watching a bit of TV before bed and when I'm finished, I always feel a bit pumped. Jump into bed and off I GROW!" - rorinsmith
"Great in the evening, and to make a protein fluff." - Fabiano10 
"Very good protein, mixes well. I use this as an evening snack." - Sorgedb 
The Standard Has Been Set
With 24 grams of protein and a complete amino acid profile to aid muscle recovery and growth, Gold Standard 100% Whey protein is the meal replacement experienced lifters trust.*

This isn't your grandma's meal replacement. Each serving of Serious Mass offers up a whopping 1,250 calories, 50 grams of protein, and 250 grams of carbs, plus vitamins and minerals to give your body everything it needs to build muscle.* Made from both whey and casein, it was designed specifically to blend easily into milk or water without clumping.  
But how does it taste? According to thousands of reviews, this is one of the best-tasting and most effective weight gainers on the market. 
What the Community Says:  
"This is the best mass gainer I have tried. Great blendability. Been using it roughly twice a day between meals and the results are obvious. Starting about 4 months ago, I have now gained 10lbs and my goal of benching 225lbs x 20 has been surpassed to completing 21-rep sets now. I began at 13 reps. Overall body size has increased dramatically." - adamwatts0311 
"I've been taking this product about two months: 1 serving after my workout with creatine at 8am and the second serving around lunch time. And I must say, I've gained around 12 to 15lbs easily. But you have to put the work in!" - blackgod43 
"I'm very sensitive to proteins or mass gainers because the ingredients leave me sick for days while taking them. But ON products don't do that to me. And being a hardgainer, I need that few hundred to thousand extra calories in my diet. Taking this while on a solid diet and a solid workout routine has helped a lot to gain weight." - doloresjacob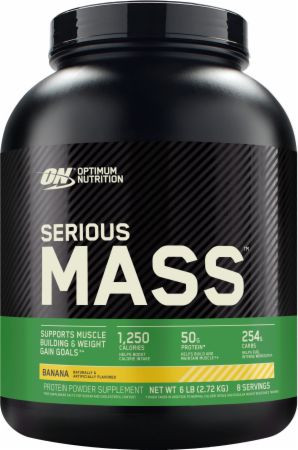 The Easy Choice to Build Size and Strength
Even for hardgainers, Serious Mass can be an effective solution for building muscle. Finally get the gains you've been chasing with a mass gainer that blends easily and tastes great.
Trying to decide which type of protein best fits your goals? The Complete Guide to Protein explains everything you need to know to make the best choice for you.  
*These statements have not been evaluated by the Food and Drug Administration. This product is not intended to diagnose, treat, cure, or prevent any disease.