I was craving tacos this week, but I needed something lower in carbs. Enter these taco-stuffed peppers! There's something so crave-worthy about juicy, taco-seasoned turkey tossed with sweet corn and black beans and smothered with melted cheese. Yum. This is definitely a meal-prep option I will be using again and again. Not only is it delicious, but it's pretty darned easy too!
These tacos keep great in the fridge for up to one week; just reheat them in the microwave for a couple minutes and enjoy. I don't recommend freezing them, however.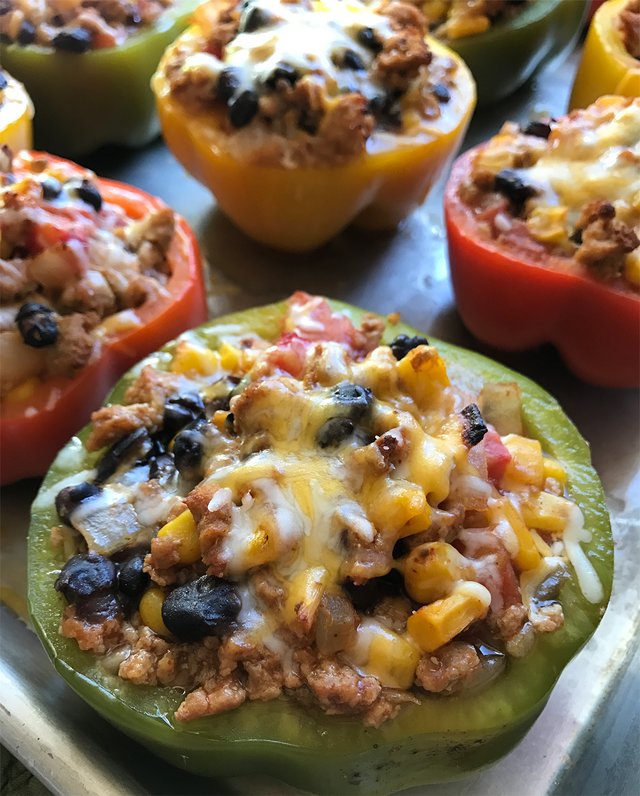 Ingredients
93% lean ground turkey 2 lb.
Onion, chopped, 1 cup
Taco seasoning, 6 tbsp (1 packet)
Water 1/2 cup
Tomatoes, diced, 1 cup
Black beans, drained and rinsed, 1 cup
Sweet corn, drained, 1 cup
Large peppers, assorted colors, 6
Reduced-fat Mexican cheese, shredded, 3/4 cup
Directions
Preheat the oven to 350 degrees F.
Brown the ground turkey and onion in a skillet over medium-high heat until no pink remains.
Add the taco seasoning and half a cup of water. Simmer the mixture for 5-10 minutes over medium-low heat.
While the taco meat simmers, wash six bell peppers, cut them in half across the center, and remove the seeds.
Transfer the meat from the skillet to a large mixing bowl. Add the black beans, sweet corn, and diced tomato, and stir to combine.
Arrange the pepper halves on a baking sheet, and divide the filling evenly between halves.
Bake the stuffed peppers for 30-35 minutes until tender.
Remove the peppers from the oven, top each half with a tablespoon of shredded cheese, and bake an additional 5 minutes until the cheese is melted.
Serve the tacos hot, or store them in the fridge up to one week, reheating in the oven or microwave.
Nutrition Facts
Serving size: 1/2 filled pepper
Recipe yields: 12 servings
Calories: 177
Fat: 6.3 g
Carbs: 15 g
Protein: 17 g