I never played regular sports in high school. I was the ROTC kid on rifle team. I always wanted the body that the cheerleaders, volleyball, and softball girls had, but I had no idea how to get it.
I have always had curves and a little more softness than other girls. In college, I gained a "freshman 20." After my best friend died in a car accident, my weight only got worse.
Toward the end of college I got a personal trainer and lost most of my college weight, but I still wasn't down to my high school weight.
After graduating college, I fell in love and got married. A year and a half later, we had a daughter. Life was beautiful, but my body was the total opposite.
What made you decide to change your body and your life?
I let my body go completely downhill. I kept telling myself, "Well, I just had a baby." When my daughter was 6 months old, I figured out that the "baby weight" wasn't just going to fall off and I couldn't use motherhood as an excuse.
I ballooned up to 186 pounds from my 128 high-school weight. I was still only 5-foot-3, but weighed almost 60 pounds heavier. I thought I was just going to have to accept my body the way it was, and there was nothing I could do to change the way I looked.


Then the fighter in me woke up. What was I thinking? I was in my twenties; I didn't need to accept anything. My body was mine! I could do with it what I wanted. It was time to show my body some love by taking care of it how it deserved.
As a mother, I wanted my daughter to grow up with a positive role model. I want her to be able to grow up in a healthy house and never think, "I don't want to look like my mother when I grow up." Every minute I spend in the gym staying healthy is time I earn with my family later in my life.
There are no excuses. I take my daughter to the gym with me and she plays in the daycare while I play with weights. She gets interaction with others while I get some time to focus on me and my goals. I have now lost more than 65 pounds and I'm a better mother and wife because of it.
I work out because I love my body and I want to take care of it, not as punishment for what it looked like in the past.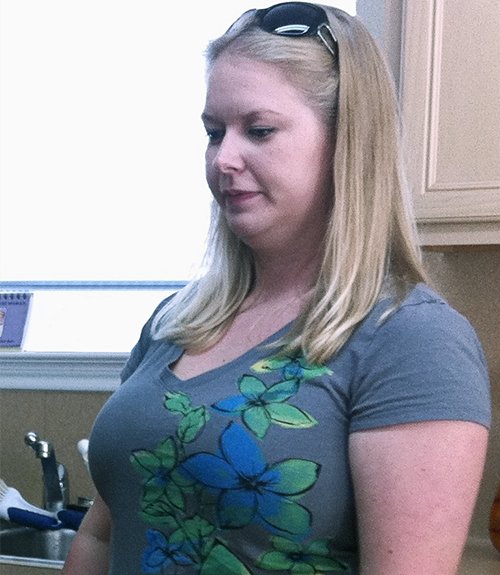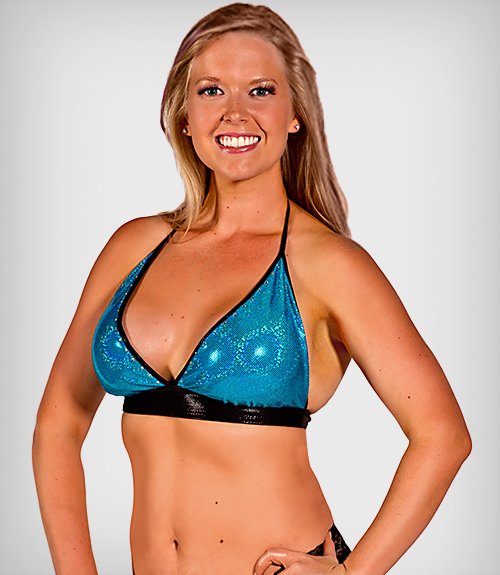 Did you have specific fitness goals at the beginning of your transformation?
I did not have specific fitness goals at the beginning of my transformation. All I knew was that I wasn't happy with how I looked and felt.
For the first five or six months of my new healthy lifestyle, I didn't realize all the changes that were taking place in my body. Luckily, I gathered all the courage I had and had my husband take a "before" picture of me. About six months in, I had him take new pictures. When we compared the two photos, we sat back in amazement at the changes that had taken place.
I now take pictures every month so I can see the constant changes. Taking progress pictures is one of the best ways to track progress because clothes and the scale don't always tell the whole truth. Once most of the "junk weight" has been lost, little changes are much more noticeable in pictures.

How has your transformation helped you grow?
Who would have thought that shrinking could help me grow? My transformation has helped me in so many ways. I am finally able to be my true self again. I have a ton of energy and love to dance whenever possible!
I am able to be the mother I have always wanted to be. I can run around with my kids and husband. I have more structure in my day and am able to accomplish much more than I could before.
I have confidence to do things I never thought I would ever be able to do. Even the little things that most people don't even think about—like wearing shorts—I can do with ease! For the first time ever, I feel comfortable wearing a bathing suit in the Texas heat. Let the fun begin!
What are some other successes you've achieved during your transformation?
Aside from losing 65 pounds, I can comfortably fit into a size two and I can finally execute a proper push-up! I made a goal list last year. One of them was to be able to complete 50 unbroken burpees by the end of the year. Looks like I need to revise my goal list because I completed 55 burpees in January.
One of the side effects that I didn't think about was how my jewelry would fit. My engagement ring now spins on my finger! Luckily, my wedding band is two sizes smaller, so it holds my ring on. Sometimes, it's those little things that matter the most.
Emotionally, I'm much happier. I can appreciate my body and I'm excited to get up each day to see what I can accomplish. Because of my transformation, I know that I never have to settle or accept anything.
My mother was an artist, so I grew up appreciating artistic creation. But I never realized that I could actually create my body. I love sculpting new muscles and manipulating how my body can look.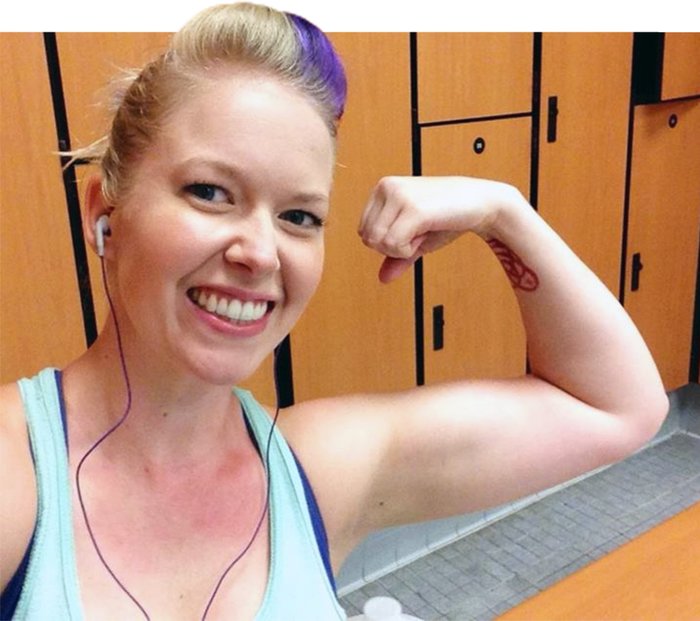 On an every-day level, I found so much motivation hanging in my closet. There were pieces of clothing that were rather tight, and I kept them in the back of the closet. They intimidated me. I was always afraid to wear them because I didn't want to find that they were still too tight. But when I finally mustered up the courage to try them on again, they were huge! That was a liberating experience.
Why should clothes or food have any power over how someone feels about themselves? I no longer give that power to food or clothes. I get to pick what I eat and I get to pick what I wear. Getting dressed is a lot more fun when you know everything you try on will fit.
What kept you motivated?
Through my entire transformation, a few things kept me motivated. Seeing constant changes in my monthly progress pictures always helps, but the biggest motivation for me is my family.
Knowing that I am earning my long life keeps me going. I have always worked for what I have, and being the proud owner of a long, healthy life is no different. Every time I work out, I know that I am earning time with my grandchildren.
I am earning the chance to attend my daughter's graduation and wedding day. I am earning a long and happy life with my husband. I am earning a healthy body that will allow me to do whatever I want for many years to come. I want to be an involved mother and grandmother, not merely an onlooker.
What struggles or challenges did you face? How did you overcome them?
Of course I had struggles and challenges during my transformation! As a mother and wife, how could I not? I had days when I didn't want to eat healthy. I had days when I didn't want to go to the gym. I had days that I questioned what I was doing. I could come up with 100 excuses not to be healthy and just go back to my old habits.
But that would mean I'd be allowing myself to accept being tired and unhealthy. I have a life to live. I have a family to make memories with. I have fitness people on my Facebook and Twitter feeds and pictures on my phone. I go to health expos and see people who motivate and inspire me. I keep motivational quotes around the house.
Excuses get you nothing. Progress never comes from excuses. I have to take charge of my own actions in order to change my current state. I have committed to my healthy lifestyle and nothing else is even an option.
What advice do you have for others trying to shape up?
Number one: stay consistent. No matter what, never give up. You don't have to lose 20 pounds in one month to be successful. Progress may be slow, but it is still progress. You don't have to even lose weight to be making progress.
Sometimes, progress is more than what the bathroom scale says. Your body fat percentage and your internal health cannot be seen on a scale. Keep pushing forward and keep looking for ways to ramp up your healthy lifestyle.
Look for new fun flavors to try and make healthy versions of your favorite foods. Never have a "cheat day." Instead, plan a "cheat meal" in advance and make it a social event so you have people to enjoy it with.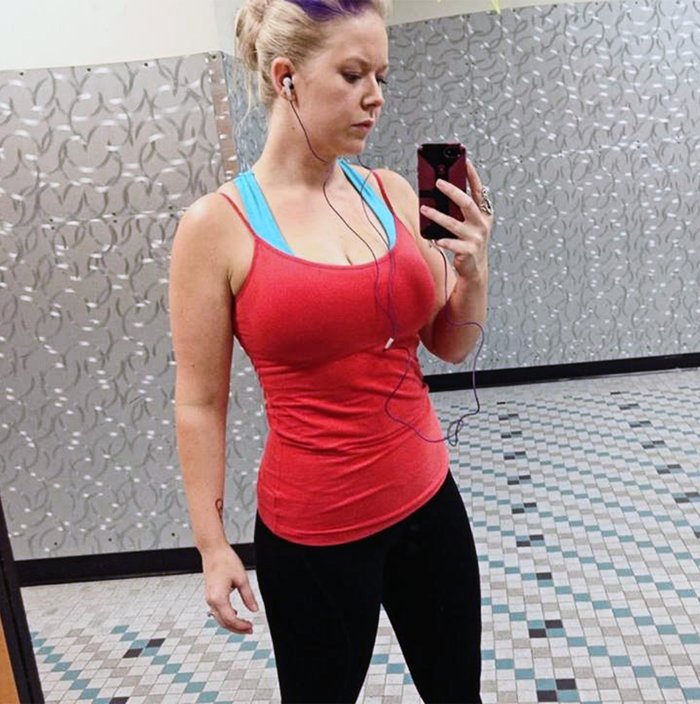 A lifestyle is not lived in one day. Start with small challenges, like just making it to the gym three days per week, and work up from there. Track your progress through food journals, monthly pictures and training journals.
Try new things all the time to keep your workouts fun and challenging. Enjoy your transformation and always be prepared. You are the main character in the story of your life.
Supplements
By using supplements, I was able to stay on track with my diet and workout program. Getting my diet, workouts, and supplementation perfect created a beneficial synergy that kept me on track and allowed me to achieve my fitness goals faster and more easily.
Supplements won't make up for a bad diet or laziness. But if everything else in place and you stay dedicated, they can certainly help you achieve your goals.
Protein Powder
I quickly realized that ProV60 would really help me streamline and simplify my entire nutrition plan. I often used it several times per day. It tastes good, it's low in calories, fat, and carbs, and it fit my nutritional needs perfectly.
Occasionally, I also used Lean Pro8. It has a terrific vanilla flavor, but is higher in fat and carbohydrates than ProV60. If you're looking to gain mass, it's a great product. In general, I preferred to get carbohydrates from fibrous vegetables and whole foods.
RTD
I love the taste of Lean Body On the Go. It's just so convenient! Whether I was traveling, working, or looking after the kids, I knew I was going to get my 25 grams of protein, vitamins and minerals every day without fail in 20 seconds flat. Twist, pour, drink, done. Love it.
EFA
Because I was more than 60 pounds overweight, I knew I was going to have to take good care of my health and joints while I undertook such an intense increase in exercise. So, I used EFA Lean.
I consider EFA Lean as absolutely one of my essential supplements. It helped to reduce joint inflammation and has great fat-loss benefits. EFA Lean is an all-round superstar supplement!
Fat Burner
One of the toughest parts of my transformation was sticking to the diet. I had my struggles. I'm a mother and wife with a job. I had days when I just didn't want to eat healthy foods.
Sometimes, resisting extra calories was just plain difficult. But I take Lean Body for Her Fat Burner every morning and it helps keep crazy cravings at bay while giving me an extra boost of energy for my morning workouts.
Raspberry Ketones
I recently started using raspberry ketones. The science behind the raspberry ketones is really strong and Labrada Nutrition has a very potent formula. I learned about them on "The Dr. Oz Show" and have now incorporated them into my daily vitamin regimen for the extra health and fat-loss benefits.
MRP
On occasion, I would also use the Lean Body For Her meal replacement packets. They're much easier to carry around than my big tub of ProV60. Lean Body for Her meal replacement tastes great and provides great nutrition. It was perfect for a change of taste and texture and I relied on it when I knew I wasn't going to be able to prepare a full meal.Protein Bars
For additional convenience, I loved the Rocking Roll Bars because of their incredible texture. They're the perfect treat if you feel like you just need to eat a candy bar.
If you're on the run, you can just throw it in your purse. Even better, a bar would provide another 20 grams of protein and a dose of healthy fats.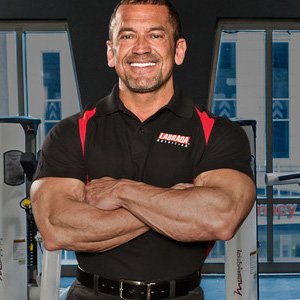 Build Your Own Lean Body in 12 Weeks!
Follow Lee Labrada's simple but effective Lean Body plan by joining BodyFit and unlock over 60 premium fitness plans from the world's best trainers, athletes, and experts. Sign up today!