Powerlifting is a sport of strength, but strength athletes have to be smart about their nutrition to maximize their performance and progress. Just ask USAPL powerlifter and Bodybuilding.com athlete Karina Baymiller. "I think there's a misconception that performance athletes—especially powerlifters—eat mostly junk," she says. "In reality, that couldn't be further from the truth."
You may not be able to wander over to Baymiller's house to verify that statement, but we have the next best thing: a video guide to what she stocks in her fridge! If you've ever wanted to see how a professional strength athlete eats, and what she does to keep her diet exciting day after day, this is your chance.
Q. It Looks Like You Enjoy Takeout Food A Few Times A Week. What Are You Best Healthy Hacks For Ordering Out?
In my home, we eat out a lot or order in several times a week. Since these are regular meals for me, I tend to stick to healthier options. Usually, that means a meal that includes veggies, lean meat, and a carb source. Here's a list of my go-to options for certain types of cuisine:
Breakfast: Egg white, veggie, ham, and cheese omelet with breakfast potatoes
Chinese: Chicken with mixed vegetables and white rice
Mexican: Chicken or steak fajitas with black beans and rice
American: Sirloin, veggies, and a baked potato
In The Video, You Mention Using Diet Coke To Replace Fat In Your Cupcakes. Awesome! Do You Have Any Other Food Hacks?
Another great hack for reducing fat and calories is to sauté veggies in chicken stock instead of oil. You can also use nonfat Greek yogurt as a substitute for sour cream (which also provides an added protein boost) In casseroles that call for cheese, sub half of it out for low-fat cottage cheese. That way, you get the cheesy flavor and added creaminess while cutting down on calories from fat.
Why Do You Prefer Cashew Milk?
I prefer cashew milk for the nutritional profile. It has 1/3 of the calories of dairy milk! I also really like the flavor and creamy texture compared to other nut milks.
Is There A Reason You Bake Your Sweet Potatoes Whole?
No reason in particular besides the ease of prep! There's nothing easier than taking a bunch of sweet potatoes, throwing them on a baking sheet, and leaving them to cook for an hour. When I prep white potatoes—I love Yukon Gold—I usually take the time to cut them into bite-size pieces and roast them.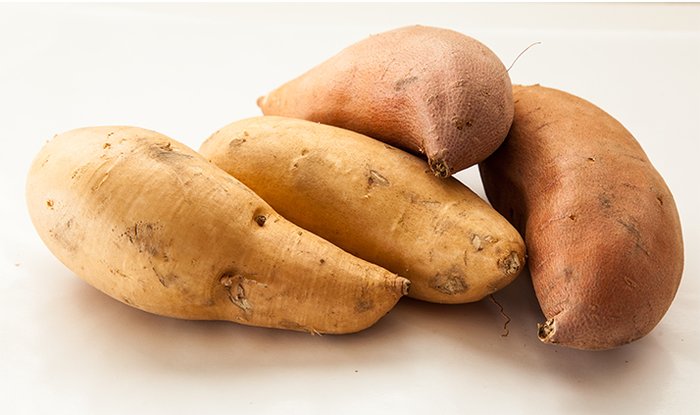 I Noticed The Cod And Chicken With Fajita Sauce In Your Fridge. Do You Rotate The Proteins You Cook On A Weekly Basis?
The proteins I eat always rotate depending on what's on sale and what I want to cook for the week. A few that I always have in rotation are:
Chicken breasts: Cooked in the slow cooker (whole, shredded or grilled)
Ground beef/turkey/chicken: Made into taco meat, formed into burger patties, or kept plain with salt and pepper
Cod: Baked or grilled
Top-round roast: Cooked in the crockpot and shredded
Sirloin steak: Broiled or grilled
You Seem To Prep A Lot Of Meals. How Do You Find The Time, And What Is The Best Time-Saving Meal-Prep Tip You Can Offer Someone New To The Idea?
I'm lucky in the fact that I work from home, so I'm able to prep with more ease than most. With that being said, running your own business and coaching clients takes up a large chunk of time, so I'm always looking for time-saving methods!
Anything that can be cooked in a slow cooker, baked in the oven, or simmered on the stove are my go-tos. That way, I can get work done and prep my food at the same time!