Meal prepping isn't for slackers. Just like it takes time, energy, and planning to commit to a fitness routine, you need to make the same commitment to meal prepping. With sustained effort and the right recipes, though, you can fast-track your success—without having to eat the same tired old chicken and broccoli day in and day out. Here are seven recipes to keep your taste buds—and your waistline—happy.
1. Egg and Veggie "Muffins"
These egg-and-veggie muffins are a high-protein, easily-transportable food that doubles as breakfast with a side of fruit and coffee, or as a grab-and-go snack between meals. If you use a standard muffin tin, you can make at least 12 muffins at a time, each of them a little bit different to keep your meals interesting.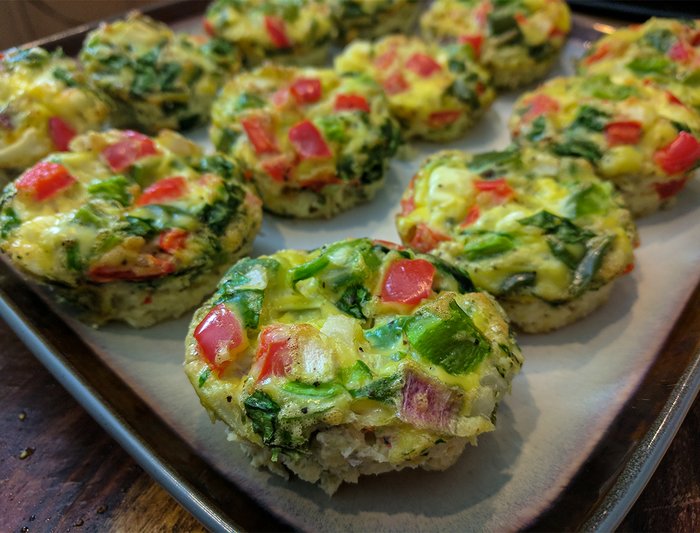 Optional Ingredients: Add only a small amount of each ingredient (about a tablespoon total) to each individual muffin tin.
2. Banana Chocolate Chip Overnight Oats
Overnight oats are an easy way to prep your breakfast for a week while ensuring a good dose of fiber, protein, and whole grains. You can easily adjust the additional ingredients for a variety of flavors, like replacing the chocolate chips with a tablespoon of peanut butter per jar, or switching out the banana slices for your favorite fresh berry.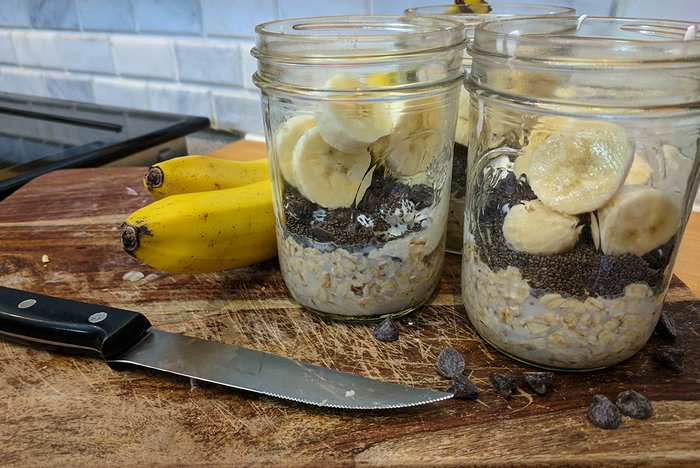 3. Mason Jar Spinach and Feta Salad
Salads can be tough to transport in traditional containers because greens get soggy when pre-mixed with dressings. But by layering salad ingredients in a Mason jar, you can keep your greens separate from the dressing to preserve their crispness for lunchtime.
Again, mix-and-match salad ingredients to your heart's content. Switch out the carrots and avocado for artichokes, roasted red peppers, and Kalamata olives. Use ranch dressing and layer your salad with black beans, corn, and cheddar cheese for a southwestern flair. You can even add sweet ingredients, like strawberries or grapes, or substitute kale or romaine lettuce for fresh spinach. Make sure any cooked ingredients are cool before adding to jar. Otherwise they will wilt the greens.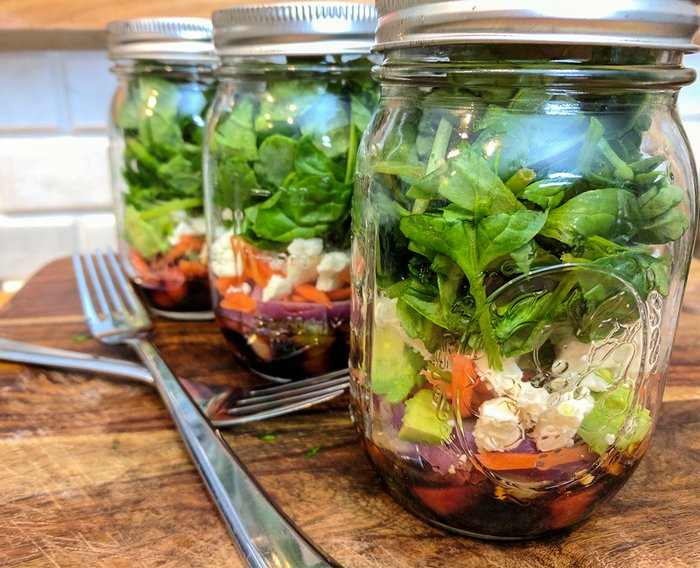 4. Ground Beef Fajita Bowl
Fajita bowls are nice because you can switch out the protein source based on what you have on hand. If you have extra chicken, use that instead of ground beef. Add or remove ingredients based on your personal preferences. If you don't like rice, try quinoa. Or if you want more fiber, add black beans.
Speed prep time by combining cook times with your other meals. For instance, when making your egg and veggie "muffins," add more peppers and onions to the skillet after the eggs are done so the veggies are ready to go for your fajita bowls. You can also pick up microwavable minute-rice packages from the grocery store and skip cooking rice the old fashioned way.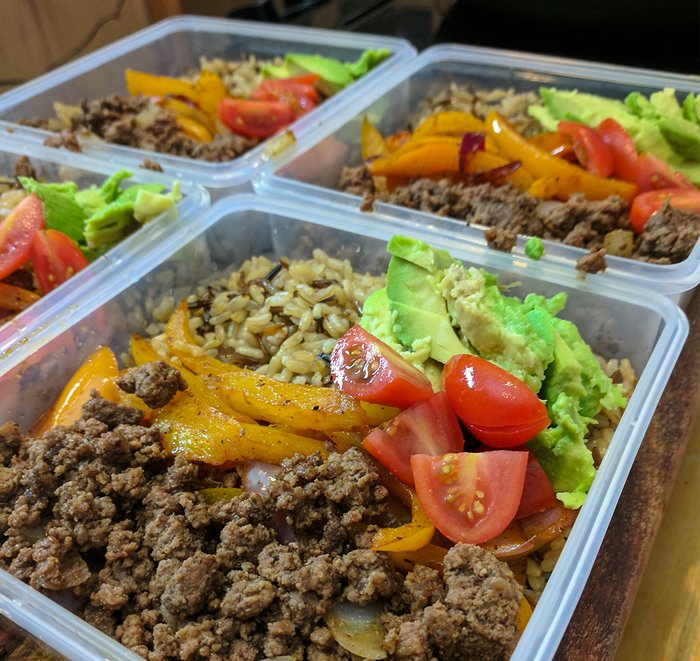 5. Sweet Potato, Beef, and Roasted Veggie Hash
Roasted vegetables and sweet potatoes are delicious and easy to make, adding a host of vitamins and minerals to your daily diet. Anytime you cook these items, make extras to use as snacks or as sides to protein-based meals. Make a little extra ground beef, too, for quick meals.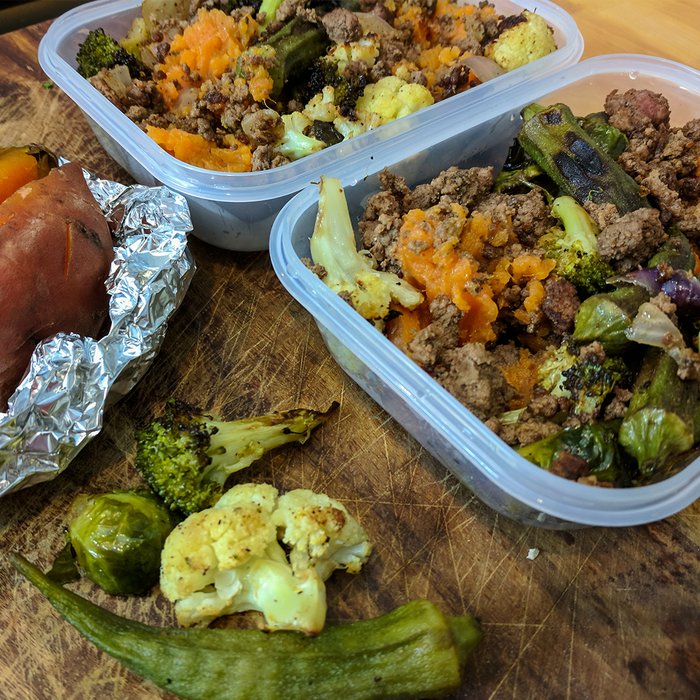 6. Poppy Seed Chicken, Asparagus, and Wild Rice
Chicken's a ubiquitous ingredient in the meal-prep world, so this list wouldn't be complete without a delicious chicken recipe. This one's about as simple and straightforward as they come, and it only takes 15-20 minutes to whip up.
Here are a couple tips: Reduce prep and cleanup time by purchasing asparagus spears that come in a microwave bag, and pull one of those precooked or microwaveable rice packages from the pantry.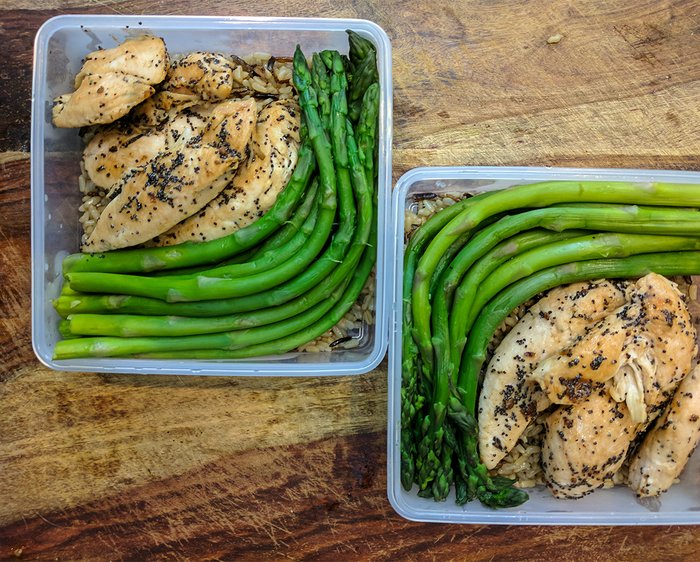 7. Peanut Butter Protein Energy Balls
This recipe is from Nikki Metzger, a Nike Master Trainer and the owner of BODI. These energy balls make a delicious midday energy boost or post-workout snack. Whip up a batch and pack a few in your cooler each day for those moments when your stomach starts to moan and groan.