Nothing looks less appealing than 30 Tupperware containers, all filled with chicken, broccoli, and sweet potatoes—especially when the only seasoning you've used on them is salt and pepper. Of course, prepping the exact same meal over and over again takes little thought, and it can be a whole lot faster to make a dozen copies of the same thing when you're short on time.
You may be surprised to learn that it doesn't take that much effort to vary the way you cook or the seasonings you use to make each meal different. And you'll be delighted to learn that one of the best ways to stay on your meal plan is to make each meal unique, interesting, and tasty.
Here are some suggestions to help you improve the variety of the meals you prepare ahead of time.
1. Stock Up on Ingredients
If you don't have a variety of ingredients on hand come meal-prep time, you're going to have a hard time whipping up a slew of tasty meals. The trick, of course, is to avoid buying ingredients that you just let go to waste. That's why the founder of Kitchen Karate, Casey Moulton, swears by shopping with a numbering system, rather than with recipes.
Essentially, Moulton figures out how many total servings of proteins, produce, and grains he needs for the number of meals he'll be prepping. From there he shops until he meets his number requirements, rather than shopping for specific food items. This frees him up to mix and match a wide variety of produce, proteins, and grains, as long as he's purchasing the correct total number of servings.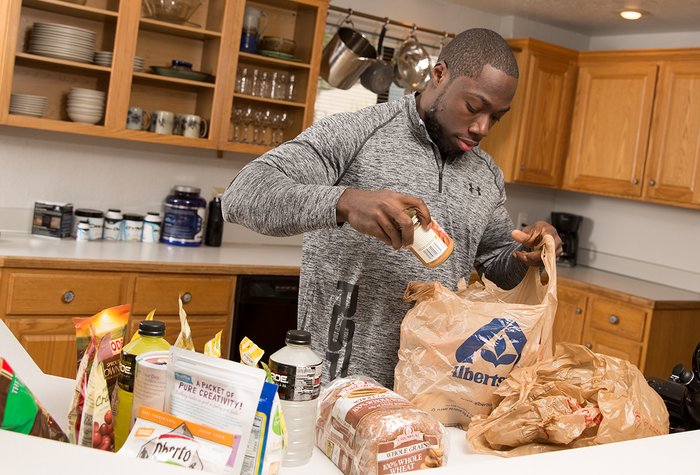 "With meats," Moulton says, "I make sure to get land, sea, and air. With vegetables and fruits, I make sure to get every color of the rainbow."
Once you've got a nice mix of ingredients on hand, it's much easier to vary your meals.
"There are only so many fresh ingredients available to you in the grocery store," Moulton says. "If you want to have different meals all the time, you need to get creative with your cooking."
2. Mix Up Your Seasonings
Even when ingredients are similar, you can make different meals just by adjusting the seasonings to give each meal a different flavor profile. Beef sliced fajita-style and flavored with cayenne, cilantro, cumin, jalapeno, and lime has a different zing than a steak prepared with jerk seasoning and topped with tropical fruits. If you're cooking up a batch of chicken breasts, don't season them all the same way. Pull out your spices and get clever with your flavorings.
Moulton says "the starting five" seasonings are salt, pepper, garlic, olive oil, and onions, but then you can mix and match based on the type of cuisine you want to eat. He offers the following top 10 seasonings of the 10 most popular world cuisines to help get your creativity flowing:
Caribbean
Coconut milk/flakes
Coriander
Curry
Hot sauce
Jerk
Lime
Oregano
Red pepper flakes
Rum
Tropical fruits
Italian
Balsamic
Basil
Fennel seeds
Oregano
Cheese (hard, grated)
Red pepper flakes
Red wine
Rosemary
Thyme
Tomato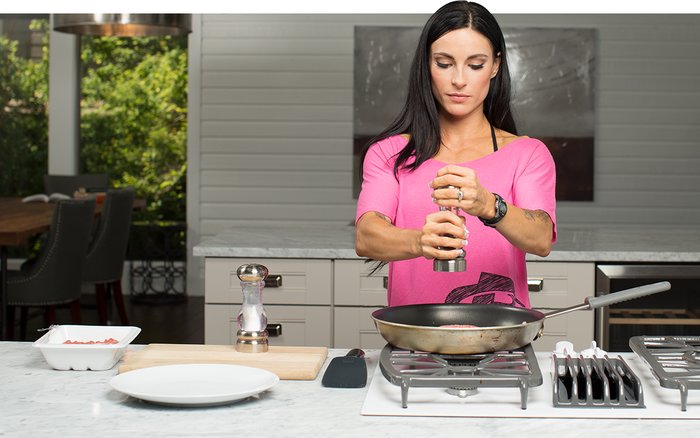 Mexican
Avocado
Cayenne
Cheese (soft, shredded)
Chipotle
Cilantro
Cumin
Jalapeno
Lime
Oregano
Tomato
Chinese
Chinese five spice
Chinese chili sauce
Cilantro
Ginger
Oyster sauce
Rice vinegar
Sesame oil
Sesame seed
Soy sauce
White pepper
French
Butter
Capers
Dijon mustard
Herbes de Provence
Marjoram
Rosemary
Sage
Tarragon
Truffle oil
White wine
Thai
Basil
Chili powder
Cilantro
Coconut milk
Curry
Fish sauce
Lemongrass
Mint
Peanuts/oil
Sriracha sauce
Indian
Cardamom
Coriander
Cumin
Curry
Garam masala
Ginger
Mint
Red pepper flakes
Turmeric
Yogurt
German
Allspice
Beer
Caraway seed
Cinnamon
Dill
Horseradish
Mustard powder
Sauerkraut
Sour cream
White pepper
Middle Eastern
Cardamom
Cinnamon
Coriander
Cumin
Lemon
Mint
Parsley
Red pepper flakes
Tomato
Yogurt
Moroccan
Cilantro
Cinnamon
Cumin
Ginger
Lemon
Olive
Paprika
Pistachio
Raisin
Turmeric
3. Cook Your Ingredients In Different Ways
Baked chicken tastes different than grilled chicken, which tastes different than roasted chicken, which tastes different than pan-fried chicken. If you're setting an afternoon aside to do all your cooking, go ahead and fire up a couple different cooking stations so you can prep your food in several ways. Fire up the grill and the oven, and maybe even prepare a pan for sautéing.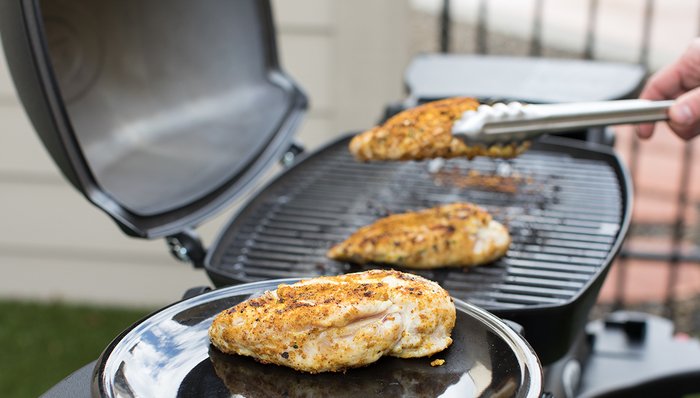 Moulton says the same approach works for vegetables. "Tomatoes are a great example," he says. "Raw tomato tastes and feels different than stewed tomatoes, which taste different than stewed and blended tomatoes."
Go ahead and steam some broccoli, but try roasting it, too. You can accomplish both tasks at the same time, but the results will taste substantially different. If you're baking some chicken, put a tray of broccoli florets with olive oil and seasoning in there too. All you need to get started are recipes designed to make prepping easy!
4. Piece Together Your Meals a La Carte
If you approach meal prep with an "a la carte" mindset, rather than a recipe mindset, all you have to do is prep individual ingredients, then piece them together in different ways.

Say you've cooked two servings of chicken, two servings of beef, and two servings of salmon. You've also prepared two servings of steamed asparagus, a serving of roasted Brussels sprouts, a baked sweet potato, and two servings of sautéed peppers and onions. You also have a variety of fresh, washed carrots, celery, berries, and citrus fruits on hand.
With this wide variety of separate ingredients, you can easily mix-and-match your prepared foods to create slightly different meals. It's a surprisingly simple and effective way to keep your prepped meals interesting and your taste buds happy!