Make protein the star of your dish with these recipes that meet your macros and calm your cravings. From burgers to curry, we've got your culinary cravings covered.
1. Lean Beef Enchiladas
I don't know about you, but I love Mexican food! These healthy enchiladas are filled with spiced ground beef, peppers, onion, and melty cheese. Yum! They're easy to make, low in fat, and gluten-free! I divided my enchiladas into airtight containers for a week's worth of meal prep. Convenient and delicious!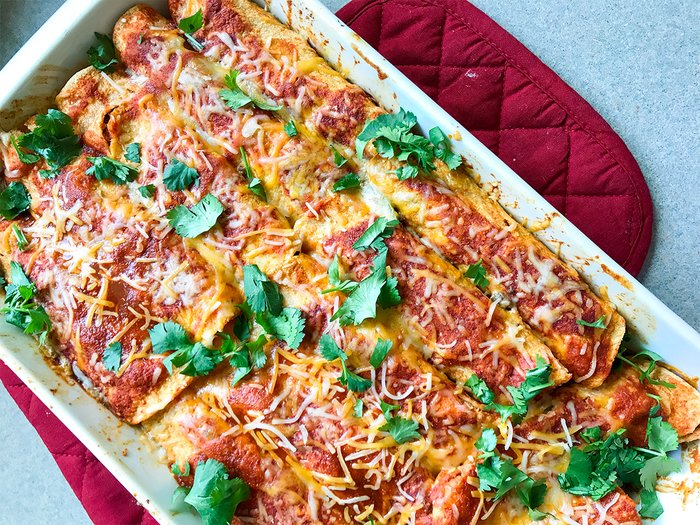 2. Greek Turkey (Or Chicken) Burgers
Looking for a flavorful, easy meal-prep option? These healthy Greek burgers are delicious and can be made with either lean ground turkey or ground chicken. I just love how the flavors of mint, oregano, lemon, and feta come together in a symphony of deliciousness! If you're not a fan of mint (like my hubby), feel free to leave out that ingredient. I serve this with broiled asparagus, corn on the cob, and my homemade tzatziki sauce. Yummy!
Whether you choose lean ground turkey or ground chicken, I don't recommend using anything leaner than 93 percent. Otherwise, your burgers will come out dry and dense. Also, when you combine the burger ingredients, don't over mix; combine only enough to evenly distribute the ingredients. You can also use seasoned bread crumbs in place of the rolled oats!

3. Thai Chicken and Vegetable Coconut Curry
Here's a meal prep idea for all you Thai fans! Thai cuisine happens to be one of my favorites, so I was quite happy with how authentic this simplified version of Thai chicken coconut curry came out. It's kind of a "cheater" recipe, in that I used Thai Kitchen red curry paste instead of dried chilies and all the individual curry spices. But hey, it tastes amazing and comes together easily, which is what I was after! I absolutely love this dish served over fragrant basmati rice. You could also use riced cauliflower for a low-carb version.
Two ingredients that are a must when making curry are fresh ginger root and fresh garlic cloves. I would advise against substituting dried spices here, but if you must, use one-eighth of a teaspoon of dried ginger powder and one-quarter of a teaspoon of garlic powder. It won't taste nearly as fresh or flavorful, but it'll get the job done.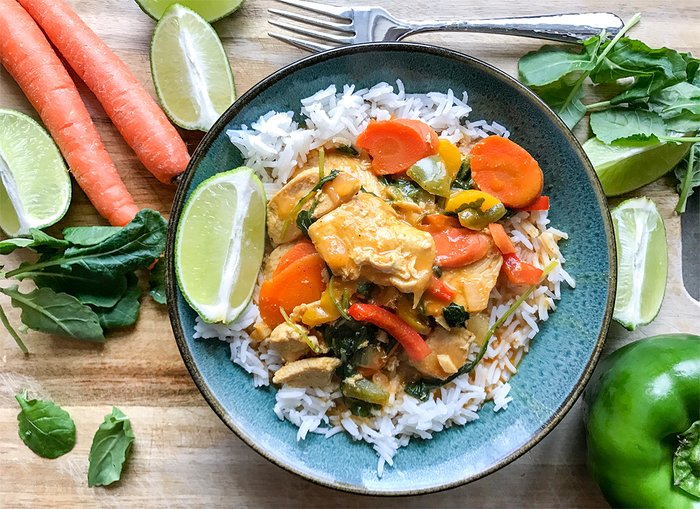 4. Hamburger Lentil Soup
This is my new winter favorite! I adapted the recipe from Food.com's Country Hamburger Lentil Soup, making it higher in protein and slightly lower in carbs. I also tweaked the seasonings a little to suit my taste.
The result is hearty and savory—perfect for when you want to curl up on the couch with a warm bowl of something tasty.