Although regular peanut butter is a common bulking ingredient, it's rarely used in post-workout shakes. The reason is simple: Peanut butter contains a lot of fat, which can slow digestion. Those critical minutes after a workout are the best time to replenish your muscles with the right nutrients, so slowing digestion with extra fat is not the ideal strategy.
To enjoy peanut butter in your post-workout shake—without sacrificing your refueling window—consider the alternative of powdered peanut butter. It has all the delicious flavor of peanut butter with a fraction of the fat. That makes low-fat powdered peanut butter like Better Body Foods' PBfit a game-changing ingredient for your post-workout shake.
Here are three quick nutrient-packed recipes that will satisfy your peanut butter cravings without holding up your recovery.
1. Green PBfit Smoothie

Rich in iron and calcium, spinach is a great post-workout food for adding more recovery-boosting nutrients to your meal. Chances are you're not thrilled about chewing through a plate of greens right after your workout, though, so adding a handful of spinach to your shake is an easy way to get what your body needs. Almond milk and superfood plant protein keep this recipe dairy-free and completely plant-based, while banana adds natural sweetness and potassium.
2. PBfit and Banana Protein Smoothie

This dairy-free, gluten-free, vegan recipe is an easy post-workout shake with only three ingredients. Using the PBfit Plus Chocolate adds extra richness without adding extra fat, while unsweetened almond milk keeps the sugar content low and the carbs minimal. Healthy enough to have for breakfast and easy enough for anyone to make, this smoothie rockets to the next level thanks to powdered peanut butter.
PBfit Peanut Butter Powder
Contains 9g of protein per serving to support muscle growth & recovery* 87% less fat and 1/3 the calories of traditional peanut butter*
3. Chocolate Banana PBfit Smoothie Bowl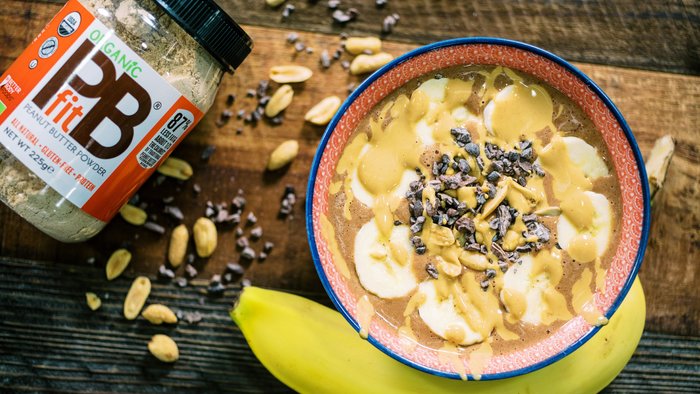 The only drawback to a post-workout shake is how quickly it disappears when you drink it, which is what makes this recipe such a treat. Packed with vitamins and nutrients to refuel your muscles, this simple recipe uses frozen banana and chocolate protein powder to add enough thickness that you can eat your smoothie with a spoon. It's dairy free and gluten free, but you can jazz it up with your favorite healthy cereal or chopped nuts for added flavor and crunch.