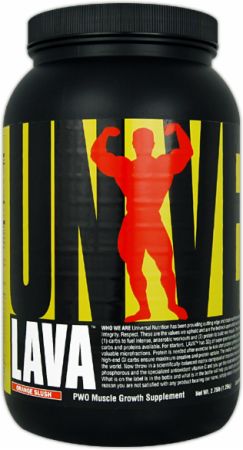 Click here to enlarge
25,000,000+
Orders Shipped
Fastest
Shipping
Lowest
Prices

24/7/365
Live Support

Largest
Selection
Product Overview
Bury your competition with
LAVA
. LAVA is an explosive product that will help you train for volcanic peaks and reach new muscular heights.* Nutritional researchers agree: Bodybuilders need carbs to fuel intense, anaerobic workouts and replenish valuable glycogen stores and protein to build rock-hard mass. Each serving of LAVA contains 32g of our proprietary GlycoCarb Complex
TM
(a tri-glycemic index carb matrix), 32g of our glutamine-enhanced, instantized whey protein (with peptide-rich microfractions) and 5.5g of our premium creatine (European-sourced). Open a bottle of LAVA now and get stoked.
5.5g Creatine Per Serving
Promote Strength*
Muscle Mass*
Enhanced Energy*
Increased Creatine Uptake*
Optimized Pre/Post-Training Formula*
Ratings & Reviews
By clicking the button above, you agree to entering the Bodybuilding.com Reviews section. Products in the Store are not intended to diagnose, treat, cure, or prevent any disease.